Kawasaki's New Ninja ZX-10R
Chaparral Motorsports
|
November 4, 2015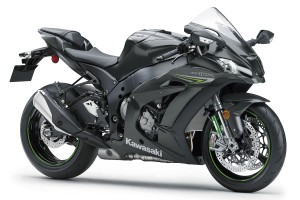 In early September, Kawasaki announced that it was releasing a hot new version of its Ninja superbike model - the ZX-10R - for the upcoming year. The new tagline "Get Closer" tantalized Ninja fans and journalists the world over with the promise that the new model wouldn't be an overhaul of the well-loved design that helped secure the 2013 World Superbike Championship for Tom Sykes, according to a statement by Kawasaki.

"With the new model we have [focused] our development resources on an overall engineering and performance improvement," commented Kawasaki's Project Leader, Yoshimoto Matsuda, in a statement by the company. "We are proud of the result; it means a significant advance in terms of both chassis and engine performance as well as providing the platform to introduce new, state of the art rider aids and other technology."

Those psyched up on the hype need wait no longer to find out the specs of Kawasaki's latest upcoming masterpiece. The new Ninja model was unveiled in Barcelona, Spain, at a special media event with the Kawasaki Racing Team. This is the brand's first major update to the Ninja model since 2011. With Jonathan Rea and teammate Tom Sykes present for the Spain announcement, Kawasaki has made certain their announcement did not go unnoticed to the crowd of avid Superbike fans and reporters.

Improvements From 2011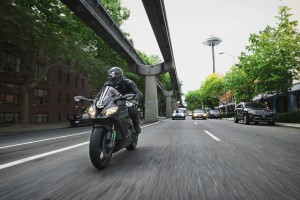 For all intents and purposes, the bike looks generally the same as previous models. It is understandable that the Japanese motor company wanted to retain the integrity of the Ninja, while improving low to mid-range performance only. This was all in an effort to generate more power and torque going in and out of turns. Among primary differences from older Ninja models are a far lighter cylinder head and crank, which Kawasaki promises will reduce the engine's inertia and thus let it spin far faster. A lighter crank also allows the bike to decelerate more quickly.

The engine also has new cams to maximize valve overlap, offering a balance of high-end power and torque. Pistons are shorter - and lighter - with thicker cylinder walls and an improved cooling system. The bike can now handle much higher levels of stored heat without risk of damage or loss of high-functioning performance on and off the track.

Intake and exhaust ports have been given a titanium alloy and high-level polish to optimize gasoline flow, and have also been widened and straightened to allow the exhaust chamber a faster purge. The airbox is larger too, allowing for greater efficiency in air intake.

Engine and Transmission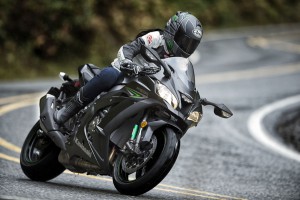 According to Kawasaki, the 2016 ZX-10R Ninja has a liquid cooled, inline four-stroke engine with a dual overhead camshaft. The engine is also built to include four valves per cylinder, 998 cubic centimeters of displacement and a 13.0:1 compression ratio. The Ninja's bore is 76 millimeters by 55 mm of stroke, even.

The 2016 ZX-10R has a six-speed transmission, and a Transistor Controlled Breakerless Ignition. The fuel system has four 47 mm Keihin throttle bodies with oval sub-throttles, complete with two fuel-injectors per cylinder.

Chassis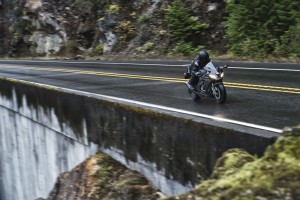 The basic frame of the 10R Ninja is made from aluminum. Total take is 25 degrees and trail is 4.2 inches. Overall body length for the bike is 81.7 inches, width is 28.1 inches and total height comes in at 43.9 inches. The rider sits 32 inches from the asphalt, with a bike ground clearance of 5.3 inches.

Wet, the bike weighs in at 443.2 pounds, including a full 4.5 gallon fuel tank. Wheelbase equates to 56.1 inches.

The Ninja ZX-10R superbike will be available commercially in Metallic Matte Carbon Gray or Flat Ebony color palates, with the above specs. The 2016 Ninja will be available with or without an included automatic breaking system.

[vehicle img="https://d1j5r50obvimnh.cloudfront.net/wp/wp-content/uploads/2015/10/2016-Kawasaki-ZX-10R-ABS-Left-Side.jpg" name="2016 Kawasaki Ninja ZX-10R ABS" url="http://vehicles.chaparral-racing.com/inventory/v1/Current/Kawasaki/Motorcycle/Supersport/2016-Ninja-ZX-10R/ABS--San-Bernardino-California---3558971"]



2016

Kawasaki

Ninja ZX-10R

ABS

Sport

4-stroke, 4 cylinder, DOHC, 4-valve, Liquid-cooled

998cc

76.0 mm

55.0 mm

13.0:1

DFI® with four 47mm Keihin throttle bodies with oval sub-throttles, two injectors per cylinder

TCBI with digital advance and Sport-Kawasaki Traction Control (S-KTRC)

6-speed

Sealed chain

43mm inverted Balance Free Fork, adjustable stepless rebound and compression damping, spring preload adjustability

Horizontal back-link with Balance Free gas-charged shock, stepless, dual-range (low-/high-speed) compression damping, stepless rebound damping, fully adjustable spring preload

4.7 in

4.5 in

120/70 ZR17

190/55 ZR17

56.7 in

Intelligent Braking (KIBS), Brembo dual semi-floating 330mm discs with dual radial mounted monobloc 4-piston calipers

KIBS-controlled, single 220mm disc with aluminum single-piston caliper

Aluminum perimeter

25.0° / 4.2 in

82.3 in

29.1 in

45.1 in

5.7 in

32.9 in

454.2 lb

4.5 gal

Electronic Rider Aids: Kawasaki Launch Control (KLCS), Kawasaki Intelligent Braking (KIBS), Kawasaki Sport Traction Control (S-KTRC), Kawasaki Engine Braking Control (KEBC), Quick Shifter (KQS)

12 Month Limited Warranty

Kawasaki Protection Plus: 12, 24, 36 or 48 months (optional)

[/vehicle]