Marc Marquez Wins Australian MotoGP
Chaparral Motorsports
|
October 22, 2015
Marc Marquez
took home his first-ever Australian MotoGP championship win after a brutal, four-way battle at Phillip Island.

Marquez: Born To Ride
[caption id="attachment_56759" align="alignright" width="300"]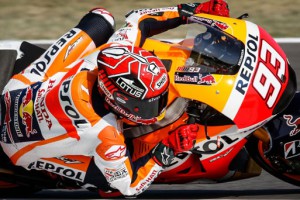 Marc Marquez 2015 MotoGP Phillip Island[/caption]

The 22-year-old Spaniard was truly born to bike. Marquez discovered his calling before he turned 5, and has since turned his passion into a career. Marquez's first professional experience came when he made the Donington podium in the 2008 World Championship, according to MotoGP. After a whopping 10 wins leading up to the 125 World Championship in 2010, the youngster was definitely starting to get global attention. Marquez has been resilient through several crashes and health complications, but has come out triumphant to become the youngest-ever premier class World Champion and first rookie to win the title in 35 years.

Now, he's also added the 2015 MotoGP Australian GP title to his list of accomplishments, and on his 50th career win at that.

The action took place under perfect conditions in Australia; Four racers clashed but only one walked away victorious.

Battle In The Outback
[caption id="attachment_56758" align="alignright" width="300"]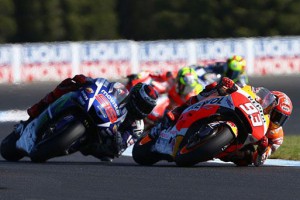 2015 Australian MotoGP - The Island Battle[/caption]

Championship leader Valentino Rossi, Andrea Iannone and current MotoGP Champion Jorge Lorenzo changed positions frequently, raging a fierce war that took place during a majority of the 27-lap race. Rossi started seventh, and made a valiant effort to make up for his unfortunate start by drafting Iannone up the pack, and ultimately placed fourth. Rossi met his Italian rival after Iannone collided with a local seagull face-to-face on the first lap, jumbling his start and causing him to fall back. The momentary incident didn't waver the Italian's resolve however, as he and Rossi shot up the pack. Iannone ultimately took third.

It wasn't until lap 18 that Rossi, Iannone, and Marquez caught the leader, Lorenzo. At that point, Marquez took a momentary point position before dropping back to fourth, allowing Rossi, Iannone and Lorenzo to hash it out in the final laps. Marquez never gave up however, and after a display of incredible skill and finesse, Marquez managed to make the final lap his masterpiece. Marquez shot 0.249 seconds ahead of Lorenzo from behind in the final turn and - in one swift motion - stole the victory for himself.

The Spaniard's hasty final lap, dubbed "a piece of artwork," turned out to be the quickest lap of the day.

"It was a really fun race - certainly one to remember," Marquez told reporters after the race. "At the end I overtook Iannone and Valentino and I had a great last lap; I don't know where I pulled that time out from, but it was what made the difference for us!"