Honda Neowing Leaning Three-Wheel Motorcycle Concept Revealed
Chaparral Motorsports
|
October 2, 2015
|
Last Updated: June 11, 2020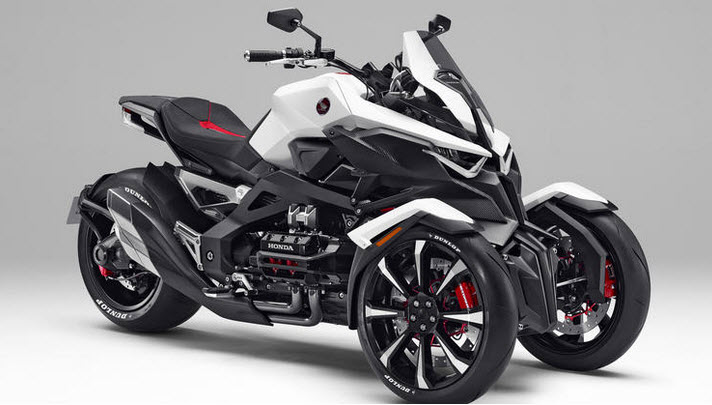 Honda Neowing
Is Honda joining Harley-Davidson, Polaris Slingshot and Can-Am Roadster Spyder in the trike market?
Maybe so. The Japanese motorcycle manufacturer, by some measures the world's largest motorcycle company, will be showing showing off a three-wheeled motorcycle at the Tokyo Motor Show, as part of an exhibit that will include several other two- and four-wheeled concept vehicles.
Honda plans to display an exhibit for the 44th Tokyo Motor Show 2015 featuring a motorcycle section. In the exhibit, the display is to feature several concept motorcycles including:
The Light Weight Super Sports Concept - a concept model for a next-generation super sport motorcycle, which was designed with the key phrase "strong presence" and features a look possessing a sense of speed that comes from its long nose and low crouching position
The NEOWING - a concept model for a three-wheeled sport hybrid motorcycle, which will realize both the excellent cornering feel equivalent to that of a large-sized motorcycle and excellent stability in low-speed ranges
The RC213V-S - a MotoGP-class racing motorcycle whose specifications were partially modified to run on public roads without compromising the ease of handling
The CRF1000L Africa Twin - which features outstanding performance for both on-road and off-road use and is scheduled to be introduced to the market before the end of 2015.
According to Honda, the Neowing sports an original linkage mechanism for its front wheels, revealing a radical new concept model aimed at the leaning three-wheeler segment.
Other notable concepts motorcycles include scrambler versions of the popular Grom. Honda will debut two new Grom Scrambler concepts at the Tokyo Motor Show later this month. The two concepts are actually based on the 50cc Honda Monkey platform as opposed to the 125cc Grom; the Monkey brand has a long history in Japan so it's an odd choice to adopt the relatively new Grom name here, according to Motorcycle.com
The concepts are powered by the Monkey's 50cc air-cooled Single, and like the Monkey, have the exhaust pipe running straight up before making a 90-degree turn towards the tail. Honda has yet to release any technical details, or describe plans for a production model.
Concept models:
Light Weight Super Sports Concept
EV-Cub Concept
Super Cub Concept
NEOWING
Concept CB
GROM 50 Scrambler Concept-One
GROM 50 Scrambler Concept-Two