Complete Your Motocross Riding Gear
Chaparral Motorsports
|
September 4, 2015
|
Last Updated: October 23, 2020
Do You Have All The Right Motocross Riding Gear To Keep You Safe?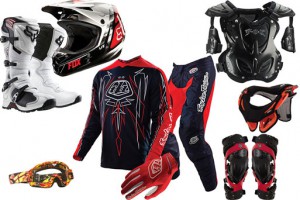 Once you get your dirt bike, you're likely itching to hit the trails as soon as possible. However, before you make the trip to the dirt hills, you seriously need to do an equipment check.
Motocross and dirt bike riding requires you to wear extra layers of protection as the ground can be unpredictable compared to riding on the road. This means you need the correct motocross riding gear to protect yourself. Before you go and hit the track, go through a complete run down of everything you'll need to start your dirt bike adventures:
1) Motocross Boots
One of the most important pieces of dirt bike gear (besides your helmet) is your motocross boots. If you don't have proper motocross boots, you leave your feet and ankles severely unprotected, as well as your shins. Boots for dirt bikes are specifically made with leather, plastic plates and sometimes steel toe and heels. These parts ensure your lower limbs are safe as they often come in contact with footpegs, dirt and other dangerous objects that could do serious damage without protection. Going without a proper pair of motocross boots could be one of the biggest mistakes you make.
2) Motocross Helmet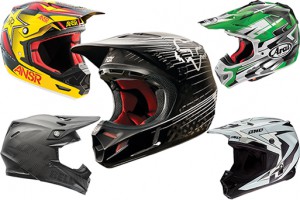 While boots protect your lower extremities, you need a helmet to safeguard your noggin. For dirt riders, the terrain is unpredictable and hills or ramps can send you airborne. Riding motocross without a helmet is about as nonsensical as it gets, so go ahead and start looking for the right helmet. Typically, you want a full-faced helmet that has a built-in sun visor and open face for goggles. Since dirt biking can get messy in a heartbeat, you want a dirt bike helmet that can withstand all the debris churned up from either your or another rider's bike. Ensure your helmet is DOT-certified and that it properly fits snug to your head.
3) Motocross Goggles Or Eyewear
Dirt bikes toss debris into the air pretty easily so you have to protect your eyes while on the track. It's smart to invest in a pair of motocross goggles that provide clear vision, but also fit well in your helmet. Goggles should fit tightly around your head, but still be comfortable on your face. Additionally, goggles should have plenty of ventilation to prevent fogging. This is a piece of motocross gear you don't want to skimp on.
4) Elbow And Knee Guards
It's important to protect your most vital spots on your body such as your joints. There are plenty of knee and elbow pad manufacturers that sell equipment just for motocross. This equipment will protect your joints from impact, debris and landings. Some pads are built into jerseys and pants, but there are separate pad options.
5) Motocross Jerseys And Pants
With different colors and styles available, dirt bike jackets, jerseys and pants can be as unique as any rider out there. Depending on the climate, you want motocross apparel that will breathe or have moisture-wicking technology to keep you cool and dry. You can always mix and match, so never feel like you have to buy complete jersey and pants sets.
6) Back, Neck And Chest Armor
For extra protection, you might want to invest in back, neck or chest body armor. This will give riders the most protection on crashes or any other impacts. Again, this equipment should be light enough not to weigh you down too much and allow you to breathe while riding.
7) Motocross Gloves
Every motocross rider needs a pair of motocross gloves to keep them protected. Debris often hits your hands while riding, which makes gloves all the more important. Additionally, it's easy to get sweaty while riding and gloves will help you keep your grip even on the hottest days.
It's important to have all these crucial pieces of motocross riding gear before your step on a dirt track.