Royal Enfield Production On The Rise
Chaparral Motorsports
|
July 9, 2015
[caption id="attachment_47599" align="alignright" width="300"]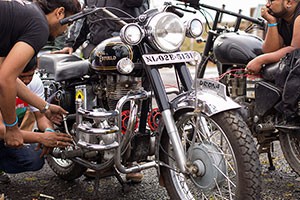 Royal Enfield Reunion East 2015[/caption]

Royal Enfield motorcycles recently made an announcement to increase its production line and start making more of their iconic street bike models throughout the next few years.

For many Indians, getting a Royal Enfield motorcycle, what is often considered the Harley-Davidson of India, was no easy task. The vintage-inspired motorcycle company has been manufacturing motorcycles since 1901 and claims to be the world's oldest motorcycle manufacturer, Forbes reported.

Even though the cheapest Harley-Davidson sold in India costs twice as much as Enfield's most expensive bike, many riders don't choose it specifically for the affordable pricetag, Hrishikesh Kathe, a now proud owner of a Enfield Thunderbird 500, said, according to the source.

"I've wanted an Enfield for the longest time because it was also my father's dream bike, but he couldn't afford it when he was young," Kathe added. "After buying it, I feel like I'm part of a big family."

The Royal Enfield brand has some British roots, and many avid vintage bikers can tell you that easily by looking at Triumph design compared to Enfield's.

Demand Continues To Rise For Indian Manufacturer
[caption id="attachment_47598" align="alignright" width="300"]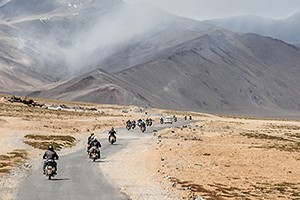 Royal Enfield bikes in action[/caption]

According to Forbes, while the nation's demand for motorcycles have significantly declined over the past few years, Enfield sales have gone up. In fact, total motorcycle sales were only 2.5 percent higher in 2104, compared to the previous year, while Royal Enfield sales jumped 70 percent. Even the company that owns the motorcycle company, Eicher Motors, has seen its stock prices climb by more than double in the last year.

Additionally, of the Eicher Motor's $1.4 billion in annual sales, the motorcycle unit makes up 70 percent of the net profits for the company.

"We've played a big role in creating India's leisure biking culture," said Siddhartha, an auto engineer for Eicher. "We know that customers buy our bikes with their hearts, with a trip to the Himalayas in mind."

Adding More Bikes To The Roster
[caption id="attachment_47600" align="alignright" width="300"]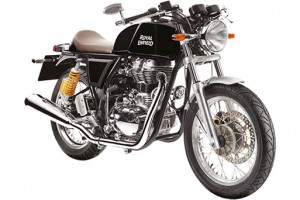 Royal Enfield Continental GT[/caption]

While the current range of Enfield motorcycles range from 346cc to 535cc, the company plans to release new models that will move that range to 250cc to 750cc, The Indian Express reported. The newest bike to be released by the manufacturer will be a touring adventure motorcycle, which would also be the first time the company offered something bigger than 535cc. Currently, the bike is being deemed the Himalayan, but the engine size is not expected to be more than a single-cylinder unit.

The Himalayan is expected to see a fatter rear tire and higher profile on the bike. According to Forbes, Enfield was once manufacturing 24,000 motorcycles each year, but current production rates are closer to 30,000 per month. The newest factory for Enfield opened in 2013 and can hit 450,000 units per year.

The last major launch from Enfield was its 2013 Continental GT, which kept a vintage style and café-racer look. With new production expected for the company, Enfield expects to get closer to 50,000 units per month in 2016.