The Basics Of Choosing A Motorcycle Jacket Fit For You
Chaparral Motorsports
|
July 1, 2015
|
Last Updated: May 8, 2020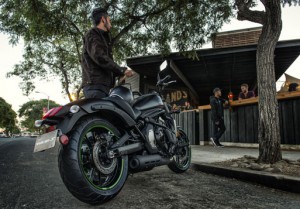 For most people, when they think of a motorcyclist riding down the street, they picture a black, leather jacket. However, the world of motorcycle jackets has not only evolved, but spread out across a plethora of different styles, fits, purposes and protective-based motorcycle apparel.

No longer are the days of the Fonz with a simple leather jacket - now riders can choose products that have mesh-breathable linings, in-lined protective padding and even material that can change from soft to hard on impact.

1) Know Your Climate
[schema type="chaparralproduct" url="http://www.chaparral-racing.com/product/frogg-toggs-kikker-ii-rain-jacket/350-6464.aspx" name="Frogg Toggs Kikker II Rain Jacket" image="350-6464" alignment="right" ]

One of the first things you need to know before you search for the perfect motorcycle jacket is the type of weather you'll encounter. Motorcycle jackets now have interior lining that can help you stay warm if you ride through the winter. Additionally, if you're in a particularly rainy climate, you should focus on finding motorcycle gear that is weather-proof and moisture-resistant.

2) What Type Of Material Is Your Jacket?
[schema type="chaparralproduct" url="http://www.chaparral-racing.com/product/klim-latitude-hi-viz-textile-jacket/261-5146-002-120-500.aspx" name="Klim Latitude Hi-Viz Textile Jacket" image="261-5146-002-120-500" alignment="right" ]

Several motorcycle leather jackets are made from cowhide, which is notorious for being durable and strong. Another source of leather is buffalo hide. This leather is not as thick as cowhide, but still offers superior protection on the road. Generally, the thicker the leather, the more protection you will have on your bike.

However, what about summer riding with hot days and cool nights? Super thick leather might be a little too much, but luckily, there are plenty of options that use micro-elastication technology to make the jacket fit more comfortably with additional perforation to allow the material to breathe.

Other materials include Gore-Tex 2 layer laminate technology, which will keep you dry no matter the climate. For example, the Klim Latitude Hi-Viz Jacket is made with five ventilation ports to allow more breathability when riding. On the other hand, its moisture wicking mesh material will allow you to be comfortable and dry if the weather changes from rain to high heat.

3) Choosing Your Style
[schema type="chaparralproduct" url="http://www.chaparral-racing.com/product/joe-rocket-resistor-vented-textile-jacket/225-1460-1002.aspx" name="Joe Rocket Resistor Vented Textile Jacket" image="225-1460-1102" alignment="right" ]

Since there are a wide variety of motorcycles available, there's nearly just as many jackets to choose from to fit the style you need. There are different types of motorcycle jackets that vary from sport and race, casual and crossover, café racer-inspired leather and adventure and touring apparel.

Again, you simply want to choose a style that fits you and your motorcycle's aesthetic. There are no rules against mixing and matching with gear and types of motorcycles. On the other hand, you want to have a piece of apparel that is built for your specific type of riding.

Sport and race moto jackets typically have a slimmer fit and rather simple style. Some other premium leather sport and race jackets are built with protective plastics in the arms, elbows, shoulders and back. Other casual leather jackets are standard and basic leather cuts to give you plenty of protection without a lot of technology intertwined.

For riders who do long tours and encounter various weather conditions, choosing a breathable Gore-Tex blend might be more suitable.

4) Protection And Armor
[schema type="chaparralproduct" url="http://www.chaparral-racing.com/product/forcefield-ex-k-harness-flite-body-protector/FF-20122-3S.aspx" name="Forcefield EX-K Harness Flite Body Protector" image="FF-20122-3S" alignment="right" ]

For dirt and dual terrain riders, safety is one of the primary concerns in motorcycle apparel. For starters, if you ride in rugged or dirt conditions, you have to expect rougher falls with the unpredictable terrain. Also, this made persuade you to buy something that can be easily washed.

Investing in a jacket that has maximum protection in joint areas and your back is critical to staying safe on rugged terrain. The style and armor changes with each jacket, but choosing a style that protects you the most should be the important decision. To see the massive selection of jackets available, check out Chaparral Motorsports online store today!