Retro Meets Modern With Biltwell Gringo Full Face Helmets
Chaparral Motorsports
|
June 25, 2015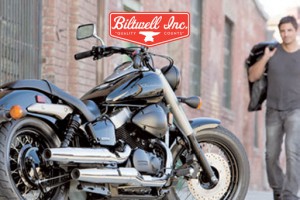 One of the leaders in motorcycle helmet manufacturing is Biltwell, and for those who haven't heard of the company, it might be time to give the new [mageProductLink sku="072-0101-7186" title=""]Biltwell Gringo Full Face Helmet[/mageProductLink] a look.

This helmet design screams retro, but is quite functional for various types of riders. One of the first things riders will notice is the metalflake design options that fit perfectly to the 70's retro crowd. However, you don't have to ride a Honda CB350 just to enjoy the Gringo.

The Department of Transportation-certified motorcycle helmet meets the needs of the contemporary rider looking for durable and dependable protection. Inside, the helmet has a masterfully diamond stitched pattern liner, which is also removable. Additionally, the design of the retro helmet will allow riders to fit nearly any type of eyewear or goggles on the helmet's open face shield area.

Retro Style - Modern Construction
[caption id="attachment_47410" align="alignright" width="300"][mageProductLink sku="072-0101-7304" title=""]
[/mageProductLink] [mageProductLink sku="072-0101-7304" title=""]Biltwell Gringo Scallop Full Face Helmet[/mageProductLink][/caption]

The Gringo's hand-sewn brushed Lycra liner also has quilted open-cell foam padding to give riders the most comfortable piece of gear while riding. The internal BioFoam chin pad also has hand-sewn contrast stitching with the option for rubber or chrome accent edging on the shell of the helmet and the eye port.

The injection-molded Acrylonitrile Butadiene Styrene (ABS) outer shell gives ultimate protection. Additionally, the hand-painted finish on the helmet will give you the classic design of your choice.

Biltwell has numerous variations of the Gringo Full Face Helmet, such as a plain matte black, metalflake, the [mageProductLink sku="072-0101-7292" title=""]Spectrum style[/mageProductLink] with retro inspired stripes, and the Scallop and [mageProductLink sku="072-0101-7607" title=""]Tracker[/mageProductLink] styles with clean two-tone graphics. The sizes start at extra-small and go up to double extra-large. This cool helmet can be yours for a starting price of $159.95 on up to $209.95.

Biltwell Gringo Full Face Helmet Image Gallery
(Click for full size images)