Updated 2015 KTM Moto Tour Schedule
Chaparral Motorsports
|
June 24, 2015
[caption id="attachment_47124" align="alignright" width="300"]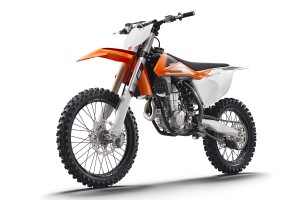 2016 KTM 450 SX-F[/caption]

KTM North America, Inc. is excited to announce the remaining dates of the 2015 KTM Moto Tour where participants can test ride the new 2016 SX model line-up before they buy.

The KTM Moto Tour program is a chance for riders to demo a new KTM SX model prior to purchase. In addition, each participant will also receive special offers from the Ride Orange sponsors. The KTM Moto Tour program kicked-off in Crawfordsville, IN on June 12th and has additional stops across the U.S. at popular motocross riding parks for the remainder of the season.

KTM will have the entire line of full-size 2016 SX models available to test including: 125 SX, 150 SX, 250 SX, 250 SX-F, 350 SX-F and 450 SX-F.

Interested participants must obtain a pass from their local KTM dealership in order to participate in a Moto Tour demo ride. Participants must be 18 years of age or older and have a valid government-issued photo ID in order to participate. All riders must also come prepared with the appropriate riding gear, including: a DOT approved helmet, jersey, riding pants, gloves, goggles and boots. Please visit your local KTM dealer for more information and schedule updates.

2015 KTM Moto Tour Schedule:


Ironman Raceway - Crawfordsville, IN - June 12, 2015

Winchester Speed Park - Winchester, NH - June 22, 2015

Pleasure Valley Raceway - Pleasure Valley, PA - July 19, 2015

Briarcliff MX Park - Nashport, OH - August 8, 2015

Spring Creek Raceway - Millville, MN - August 15, 2015

Washougal MX Park - Washougal, WA - August 24, 2015

Thunder Valley Raceway - Lakewood, CO - September 11, 2015

Lake Elsinore MX Park - Lake Elsinore, CA - October 2, 2015

Prairie City OHV Park - Rancho Cordova, CA - October 9, 2015

ADVMX Park - Del Valle, TX - November 9, 2015

Village Creek MX Park - Fort Worth, TX - November 13, 2015

Thundercross MX Park - Okeechobee, FL - November 20, 2015

Gatorback MX Park - Gainesville, FL - November 23, 2015

Source: KTM North America