Vintage-Inspired Bell Helmets Bullitt TT Helmet Growing In Popularity
Chaparral Motorsports
|
May 11, 2015
[caption id="attachment_46173" align="alignright" width="300"]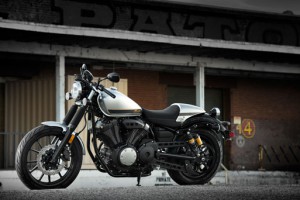 2015 Yamaha Bolt C-Spec[/caption]

With vintage-styled motorcycles making a big comeback, it's only appropriate that cool motorcycle helmets will follow. For a helmet that screams retro, the Bell Bullitt TT is certainly out there to turn heads and provide riders with premium helmet material.

Its full-faced form keeps the classic look of the original helmet design created decades ago by Bell Helmets. Additionally, the bubble visor can open up, be removed or replaced with a flat shield as well. The outer shell is made of a fiber composite that only comes on high-end Bell Helmets. The shell's weight is reduced to provide more comfort, while the helmet's shell is made of material with increased strength to protect the rider's head.

The interior of the helmet is absolutely stunning with a removable and washable soft suede micro fiber that is comfortable and breathable. The cheek pads also come with pockets so you can install Bluetooth devices into them for listening to music, receiving GPS coordinates or taking phone calls while on the road.

The helmet pays serious homage to the old days of motorsports, but with a contemporary design to not only meet but exceed Department of Transportation (DOT) and ECE 22.05 regulations. Its exceptional fit and high-quality materials make this vintage-inspired helmet stand out among any competitors trying to tackle this market.

Plenty Of Ventilation And Comfort
[caption id="attachment_46172" align="alignright" width="300"][mageProductLink sku="650-7047915"]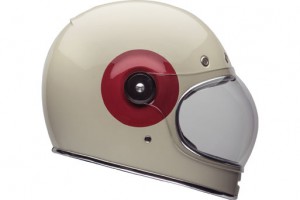 [/mageProductLink] Bell Helmets Bullitt TT Full Face Helmet[/caption]

While older helmets were notorious for not being the most-breathable pieces of motorcycle equipment, the [mageProductLink sku="650-7047915" title="Bell Helmets Bullitt TT Full Face Helmet"]Bell Helmets Bullitt TT[/mageProductLink] full face helmet changed that idea completely. This helmet has five different metal mesh intake vents and one rear exhaust vent to give riders plenty of comfort and airflow while riding.

Each helmet comes with a clear bubble faceshield, but there are options to choose a tinted faceshield as well. The numerous color options also give riders plenty of variety to match their style or the color of their motorcycle. The cool motorcycle helmet gives riders a retro riding style that is hard to be matched with anything else out there.

The helmet also has a padded chin strap with a chrome D-ring closure and a leather pull tab that has a built in magnet for easy clamping.

The Bell Bullitt TT comes in multiple shell sizes, including extra-small, small, medium large, extra-large and double extra-large. All come with vintage brown interior liners that are removable, washable and antibacterial. The starting price on this helmet is $399.95, but the investment will be well worth the overall aesthetic and feel of this high-end premium motorcycle helmet.