Know Your Motorcycle Boots: Part II - Choosing The Right Style
Chaparral Motorsports
|
May 9, 2015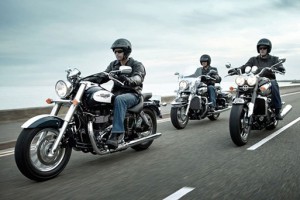 In the first part of this series, we looked at the different styles and types of motorcycle boots available to purchase. However, it's also important to know what you're looking for in a boot as well.

Choosing the perfect motorcycle boots can be tricky since there are numerous options available, but knowing the common things to look for will help your decision-making process on the perfect pair of boots.

Here are a few things to consider when choosing the right motorcycle boots:

The Sole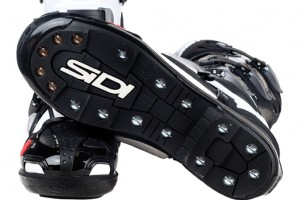 The sole of your motorcycle boot is extremely important to the type of riding you plan on doing. When you're looking for a motorcycle boot, you want to have enough grip for the type of terrain you'll be encountering. With a softer sole, you're going to feel your brake pedal and shifter more effectively. The softer material lets you grip these important parts and your foot pegs, so you have more control of your motorcycle.

However, softer soles tend to wear out more frequently and can be uncomfortable on rocky off-road terrain. As for hard soles, these will last for a longer time, have more durability for crashes, but will ultimately provide less grip. Soles should be oil resistant, which is essential for street riding where you'll commonly come across oil patches. The better your soles, the more effectively you can grip the road in wet conditions as well, which is critical for adventure riders.

Protective Parts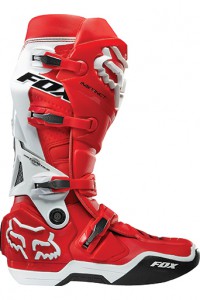 The majority of dirt bike, motocross and off-road motorcycle boots come with protective shells and armor to keep rider's limbs and feet safe. Since these types of riding are common to high impact, you want to have a boot that comes with carbon or plastic armor around the shin and top of the foot.

Taking on dirt ramps brings a lot of danger to your feet and you want to be able to protect ankles, feet and shins as much as possible. Some motocross boots come with steel toe protection, which is highly recommended for riders experiencing more frequent impacts.

Additionally, there are ankle and shin protective padding to give riders more comfortable armor. Shifter pads and toe sliders are something any rider who experiences a lot of wear and tear should consider, whether it's on a race track or off-road.

Boot Height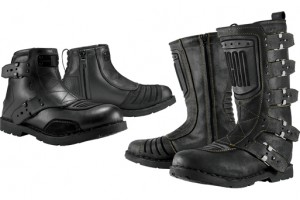 The height of your boot is also important to the style of riding you do. For extra protection, you want your boot height to cover your shin, which is critical for those performing off-road riding.

For cruiser motorcycle riders, you want to consider a boot that will at least cover your ankle and Achilles, so you'll have more protection in the event of a crash. However, it is recommended to have boots that come up to at least the middle of your calf, while having plenty of stability on the top.

If you plan to wear your boots all day, whether you're on your bike or not, you may want something a little lower to give you more comfort and free movement. This will be less restrictive while walking around, but it's still critical to have ankle support.

Vented And Weatherproof Material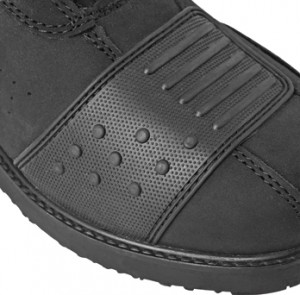 Depending on how long you ride or the types of weather you encounter most frequently, you may want to consider waterproof boots. You want your feet to stay dry no matter what type of riding you do, but waterproof will let you ride longer distances without soggy shoes.

Vented motorcycle boots provide more airflow to keep your feet cool during the hottest days of riding. It's always important to think about the weather you will see the most before choosing the right boot.