Touratech Aventuro Carbon Helmet Review
Chaparral Motorsports
|
April 21, 2015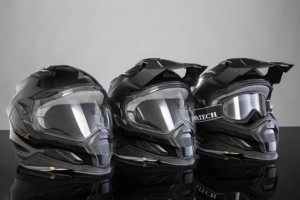 For adventure motorcycle riders, there are a lot of different functionalities needed in a helmet to make it efficient. Typically, those who do long rides through various terrains need a motorcycle helmet that is not only lightweight, but also dependable and comfortable.

Luckily, cool helmets, such as the Touratech Aventuro Carbon Helmet, were made with adventure riders in mind. From the name alone you can obviously tell this helmet is fully constructed with carbon fiber, which makes it absolutely lightweight in design. Whether you're on the street or off road, you can easily transform the Aventuro from a street bike helmet into a dual-sport piece of equipment.

One of the best features is that it can function within multiple terrains without any additional tools to change out different visors for street or dirt. Additionally, the Aventuro comes with a "no-drag visor" that limits neck strain as you hit higher speeds on your motorcycle.

Easy To Clean Liners
[caption id="attachment_45139" align="alignright" width="300"]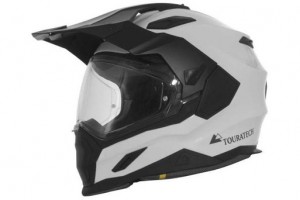 Touratech Aventuro Sky Dual Sport Helmet[/caption]

Riders can remove their liners, which are completely washable. This feature is extremely beneficial on dusty dirt road days. The Aventuro also has built in cavities within the helmet, which allows riders to install speakers for music or for intercom systems. In case of an accident, the helmet has an emergency check pad removal system that allows a rider to remove their helmet quickly and safely.

"While there is no shortage of helmet options on the market, there are surprisingly few good choices for the ADV touring crowd," Touratech said about its newest helmet. "Some of the most popular adventure touring helmets are heavy, generate excessive wind noise and are limited to just one configuration. Because of these limitations, Touratech has set out to make the ultimate helmet for adventure touring."

Less Drag
[caption id="attachment_45141" align="alignright" width="300"]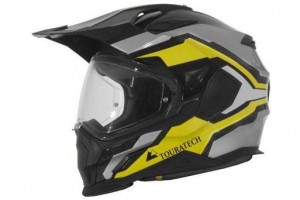 Touratech Aventuro Companero Dual Sport Helmet[/caption]

​Riders often find themselves with a helmet that picks up too much drag once they hit high enough speeds. For riders who come directly off rugged terrain at slower speeds, and then hit the street, your helmet can suddenly feel extremely overweight.

However, Touratech's carbon fiber structure and wind tunnel anti-drag design will help riders feel less weight on top of their head than other helmet options on the market. The helmet is also pin-lock ready and has a built-in camera holder so you can catch all the action on your next ride. The Touratech Aventuro starts at $649.

Touratech Aventuro Dual Sport Helmet Image Gallery
(Click for full size images)