Yamaha Ready For Enduro World Championship Return
Chaparral Motorsports
|
April 16, 2015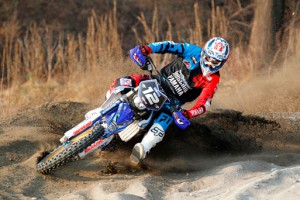 Yamaha Racing will make their official return to the FIM Maxxis Enduro World Championship this weekend as Team Yamaha Miglio compete in the opening round of the 2015 series held in Talca, Chile.

After a six-year absence from the highest level of enduro competition, Team Yamaha Miglio's Cristobal Guerrero and Gianluca Martini will aim to put Yamaha back at the top as they contest the Enduro 1 class on the WR250F. Following several months of productive winter testing the team will compete in the first and only flyaway race of the season, where hot temperatures and hard, dry and rocky tracks await. The championship then returns to Europe for the remainder of the year taking in vast and varied terrain in Spain, Portugal, Greece, Italy, Belgium and France.

Determined to deliver Yamaha immediate success with their all-new WR250F, Cristobal Guerrero has his sights set on a podium result in Talca. One of the most experienced and knowledgeable riders in the EWC paddock, the Spaniard ended 2014 third overall in Enduro 1 having claimed eight podium results along the way.

Looking to put his experience to good use, the former Enduro Junior World Champion will be pushing hard to ensure both his season and Yamaha's return to the EWC is a memorable one.

Marking the start of his first full season of competitive action in the EWC, Italian Gianluca Martini is the championship's rookie rider to watch out for. Fast, stylish and eager to make his mark, Martini has the potential to score impressive results throughout the season.

Round one of the FIM Maxxis Enduro World Championship takes place in Talca, Chile on April 18/19.

Cristobal Guerrero
"I'm really looking forward to the new season. After a long and very productive winter of testing I feel ready to challenge for a strong result in Chile. Having raced Yamaha machinery in the past, I immediately gelled well with the all-new WR250F. It's an extremely impressive bike and is a lot of fun to ride. I know the competition will be tough in Talca - everyone has been training hard - but despite being a young team we are ready for the fight."
Gianluca Martini
"I've got a big year ahead of me but I'm very pleased to take these first serious steps into the EWC with Yamaha. It's been a lot of fun working with Cristobal and the team to prepare for the opening round of the series. I've a lot to learn and more experience to gain but I feel strong in my riding and have worked hard on my fitness to be ready for this moment. My goal is to be consistently inside the top ten and fight for a top five result at every round of the championship. I'll be happy with that."
Massimo Migliorati - Team Manager
"I'm very proud that Yamaha have trusted us to lead them back into world championship enduro competition. The all-new WR250F has been very impressive during our winter testing and now as a team we're excited to show what it can do on the racetrack. Having a rider like Cristobal compete for us shows just how serious we are to succeed and we hope that he can deliver a great start to the championship this weekend in Chile."
2015 Enduro World Championship Calendar


Round 1: April 18/19 - Talca, Chile

Round 2: May 9/10 - Jerez, Spain

Round 3: May 16/17 - Gouveia, Portugal

Round 4: June 6/7 - Serres, Greece

Round 5: June 20/21 - Rovetta, Italy

Round 6: July 11/12 - St Hubert Belgium

Round 7: October 3/4 - Requista, France

Source: www.yamaha-racing.com