2015 AMA Supercross Houston Race Results
Chaparral Motorsports
|
April 11, 2015
Ryan Dungey Secures Second Monster Energy Supercross Championship With Runner-Up In Houston
Cooper Webb Clinches First Career Title In Western Regional 250SX Class With Win
[caption id="attachment_45255" align="alignright" width="200"]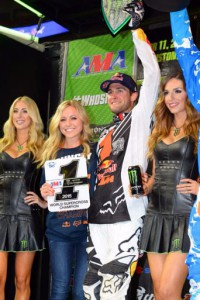 Photo: Simon Cudby[/caption]

Monster Energy AMA Supercross, an FIM World Championship, traveled to NRG Stadium on Saturday in front of 48,024 fans for the 14th stop of the 17-race season. On a night in which Team Honda HRC rookie Cole Seely earned the first win of his 450SX Class career, it was Red Bull KTM's Ryan Dungey who stole the spotlight, following Seely across the line to secure his second championship with three races remaining. Yamalube/Star Racing Yamaha's Cooper Webb had a similar opportunity in the return of the Western Regional 250SX Class Championship, and the sophomore rider did so in style, winning his fifth Main Event in seven races to clinch the first title of his professional career with one race to go.

BTO Sports KTM's Andrew Short's prowess for stellar starts continued as he raced to the SupercrossLive.com Holeshot Award to start the 450SX Class Main Event ahead of Discount Tire Racing/TwoTwo Motorsports' Chad Reed and Seely. The Honda rider wasted little time in making his move and passed both Reed and Short on the inside through the first series of jumps to assume the lead and sprint away. Dungey found himself mired deep in the top 10, alongside his main championship rival Eli Tomac and his GEICO Honda.

Seely took full advantage of a clear track to open what quickly became an insurmountable lead, but the battles behind him lasted the entirety of the 20-lap race. Reed took over second from Short on Lap 3 and was followed by Rockstar Energy Husqvarna Factory Racing's Jason Anderson, who took over third on Lap 6. Both Dungey and Tomac made little progress throughout the first half of the race, but after contact between Reed and Anderson took both riders down while battling for second, Dungey and Tomac started to assert themselves.

Dungey battled his way into the top five and broke into podium position by passing Discount Tire Racing/TwoTwo Motorsports' Josh Grant on Lap 11. Two laps later he passed Short for second, while Tomac started to pressure Grant for fourth. Tomac's march to the front put him into a podium spot on Lap 16 after passing Short, and he was able to keep Dungey within striking distance.

[caption id="attachment_45254" align="alignleft" width="300"]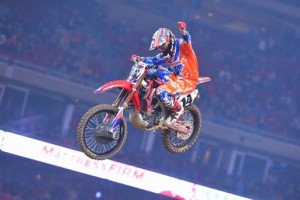 Photo: Simon Cudby[/caption]

Seely was never pressured out front and led all 20 laps to become the 59th different winner in 450SX Class history. He also became the sixth different winner of the 2015 season, signifying the first time the championship has had that many riders stand atop the podium since the 1998 season.

"It's unreal. I just tried to charge as fast as I could through the first 20 laps and open as big a lead as I could," said Seely. "It was surreal because I had such a big lead that I could cruise. I just did what I know how to do best and put down heaters [fast laps] when I needed to. Once I did it was relatively easy from there."

Dungey's runner-up finish was his 13th consecutive podium result of the season and enough to clinch his first title since winning as a rookie during the 2010 season. The championship also signified the first for KTM in the 450SX Class.

"To win in 2010 was awesome, but this time I felt we really earned it and deserved it," explained Dungey. "It's hard to know what to say, there's just so much running through my mind right now. KTM brought me here four years ago to win a championship and we finally accomplished it. I pictured tonight going a little differently in my mind, but we caught a few breaks and kept it on two wheels. We had to work for it tonight."

Tomac completed the podium in third. Dungey and Seely remain atop the 450SX Class championship standings, while Seely's win moved him into third.

Supercross LIVE Highlights Video - 450SX Class Houston
https://www.youtube.com/watch?feature=player_embedded&v=KccM1TVIb3Y

[caption id="attachment_45253" align="alignright" width="200"]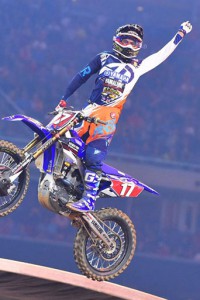 Photo: Simon Cudby[/caption]

The Western Regional 250SX Class Main Event began with GEICO Honda's Matt Bisceglia grabbing the SupercrossLive.com Holeshot Award just ahead of Troy Lee Designs/Lucas Oil/Red Bull/KTM's Shane McElrath and Webb. McElrath was able to make a move on Bisceglia to take over the lead, while Monster Energy/Pro Circuit/Kawasaki's Tyler Bowers passed Webb to assume third. Bowers entered the night as Webb's primary challenger in the championship, but he was only able to keep his rival at bay for a couple laps before Webb took over third. Not long after, Bowers pulled off to record a DNF.

On Lap 4 Webb's pursuit of victory carried him past Bisceglia for second. As he looked to keep pace with Webb, Bisceglia crashed out of third, handing the spot to Yamalube/Star Racing Yamaha's Aaron Plessinger. Out front, Webb slowly closed in on McElrath and a battle for the lead on Lap 9, with Webb gaining the advantage and seizing control of the lead. Once he got into the top spot Webb pulled away for the win to put an exclamation point on his championship-winning effort.

McElrath overcame a trip through the Last Chance Qualifier (LCQ) to earn his second straight runner-up finish, tying a career best. GEICO Honda's Malcolm Stewart also battled from an LCQ visit and an 11th-place start to round out the podium in third after passing Plessinger for the position on Lap 11.

[caption id="attachment_45252" align="alignleft" width="200"]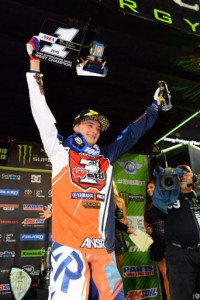 Photo: Simon Cudby[/caption]

"This is unreal," exclaimed Webb. "I dedicated my whole life for this moment right here and it paid off. I was a four-year-old chasing a dream and it came true. I put my head down [after finishing seventh at the first race of the season] because I knew I wasn't a seventh place guy. I knew I belonged up here so I never quit. I kept fighting and here we are."

Webb is now followed in the Western Regional 250SX Class championship standings by Rockstar Energy Husqvarna Factory Racing's Zach Osborne, who assumed the spot after a seventh-place finish, and McElrath, who moved into third.

Monster Energy Supercross continues next weekend with its 15th stop of the 17-race season and its inaugural visit to Levi's Stadium in Santa Clara, California. Live broadcast coverage on FOX Sports 1 begins at 7 p.m. PT / 10 p.m. ET on Saturday, April 18.

Supercross LIVE Highlights Video - 250SX Class Houston
https://www.youtube.com/watch?v=JNgMGnoP8oU&feature=player_embedded

Source: Supercross Live

Cole Seely Scores First Premier-Class Victory In Dominant Fashion
[caption id="attachment_45251" align="alignright" width="300"]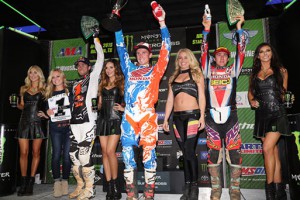 Photo: Jeff Kardas[/caption]

Round 14 of the AMA Supercross series was cause for celebration for the Team Honda HRC crew, as Cole Seely turned in the best performance of his career, leading every lap of the main event en route to his first-ever 450SX victory. Seely got off the line to a great start and quickly overtook the two riders in front of him to assume the early lead. Once out front, the premier-class rookie rode more like a veteran, setting an unmatchable pace that at one point carried him to an impressive 12-second advantage over second place. His solid performance advanced him to third place in the championship points chase.

Joining Seely on the podium was GEICO Honda rider Eli Tomac, who battled his way through the field following a mid-pack start, eventually finishing third.

The Focus: HRC, Texas-Style
With Tomac taking third in Houston, it marked the fifth time this season that Honda riders have occupied two podium positions in a 450SX main event. The feat was also accomplished at Anaheim 3, Atlanta 2, Indianapolis and Detroit, a list that includes four of the last six rounds. No other manufacturer has managed a double-podium so far this season.
While Cole Seely's debut 450SX win at Houston was a big deal for the Red Riders, it wasn't the only good news out of Texas for Honda and HRC. The day after that Supercross success, the factory Repsol Honda MotoGP team was victorious at its series' second round, in Austin.

Many Supercross riders and team members are fans of MotoGP, and following Saturday night's Houston race, several of them made the 160-mile trip west to Circuit of the Americas. Among them were Team Honda HRC Chief Engineer Masamitsu Hirashima and Chassis Engineer Satoshi Matsushima, who have friends that work on the HRC MotoGP project in Japan. "I really like to watch the MotoGP races, but this is the first one that I've been to," Matsushima said. "The track is very big compared to Supercross, and the sound and speeds are great."

Repsol Honda had a dream weekend at the Grand Prix of the Americas, with reigning MotoGP champion Marc Marquez taking pole position on Saturday before extending his perfect win record at the venue on Sunday, adding to his victories from 2013 and 2014. In addition, Honda riders took the top four positions in the Moto3 support class. (All bikes in the Moto2 class are powered by Honda CBR600RR control engines.)

Quotes
Cole Seely
"This just doesn't feel real. I'm so ecstatic and am really waiting for all the emotions to kick in. The past five or six weekends have been really good, and I feel like I've been right there with it just at my fingertips, so being able to pull off a win tonight is amazing. I'm so stoked for myself, my team and everyone else in my corner. It's been a steady progression this season for sure, but once I found my groove, that was all I needed. It was a matter of just figuring out these 450 races and getting adjusted to the class, riders, and having so many rounds. The bike handled so awesome tonight; my suspension was working great and my Dunlops were hooking up perfect. We had worked throughout practice to get the right setup and we definitely found it. It was crazy when I was leading and could see the other riders so far back. I just tried to relate it to when I would lead the 250 class last year: just to stay calm, hit my marks and click off each lap consistently. I'm still in shock and so happy."
Dan Betley: Team Manager
"It was an awesome night. Cole rode fantastic all day and I couldn't be happier for him. We all knew it was coming; it was just a matter of time before he'd deliver the big win. He got a great start and for over half the race he was pulling away from everyone else on the track. Then he just settled into a good rhythm and brought it home. Eli didn't have a great start but it was an impressive ride from behind to get third. He rode solid. Now all three of our riders have won this season, so we're hoping to finish out the season strong."
Satoshi Matsushima: Chassis Engineer - Team Honda HRC Motocross
"It was a very good night for Honda. First of all, congrats to Cole on his first 450 Supercross win! He had a good pace throughout the day, and in the main he got a good start, then pretty much ran away from everybody! We're very pleased with the way he rode and are very happy for him! Eli started mid-pack in the main and came back to third, so that was good too. I'm very happy that we have now had all three riders win on the CRF450R, as it showcases the potential of the bike. We still need to work on the starts though. Congrats to KTM for the championship, but we'll keep trying."
Sam Mishima: Motorcycle Sports Manager
"It was pretty great night for us. Cole got his first 450 win, and I couldn't be happier for him and the team. The way he rode all day and especially in the main event was so great. He led every lap of the race, which is impressive and shows what he's capable of when he gets a great start. Tomac had a challenging night after a bad start, but he came back and finished third so that was good-two Hondas on the podium again!"
Rich Simmons: Mechanic (Cole Seely)
"This is pretty exciting. When I first started working for Cole, he wasn't even making any money, so to be with him throughout the whole process, from winning a 250 race to now a 450 race is pretty amazing. What I've seen him go through and accomplish is a pretty big deal. I know his confidence has been building, and it's been all-out to try and win a race. Getting on the podium is great but he had his mind set that he wanted to win one before the end of the year, and he did. Everything felt good all day, and I couldn't be prouder of him and the entire team."
Source: Honda Racing

Fifth Victory Of 2015 Gives Cooper Webb AMA 250SX Supercross Title
[caption id="attachment_45249" align="alignright" width="300"]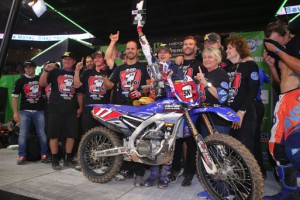 Photo: Steve Giberson[/caption]

A milestone was reached for eighteen year old Cooper Webb and also for Yamaha with their latest generation YZ250F as the seventh round of the 2015 AMA 250SX West Coast Supercross series at the NRG Stadium in Houston was claimed by the Yamalube Star Racing rider. His fifth victory of the year also delivered Yamaha's first 250SX championship success since 2008 and closed the intense competition around the stadiums and arenas of the United States with one fixture remaining on the current schedule. Webb made a decent start in front of more than 48,000 spectators in Texas and circulated in the top four during the formative stages of what would be a decisive Main Event and the first time that the West Coast field had seen action since the beginning of February (AMA Supercross had been working through the East Coast championship).

When principal title rival Tyle Bowers pulled out of the running at mid-race distance and his other threat, Jessy Nelson, not active in Houston due to a training injury, Webb was free to run his laps without worrying about his thirty point advantage in the standings. Matt Bisceglia could offer no resistance in second place and with four laps to go Webb demoted Shane McElrath to win by two and a half seconds.

"This is unreal," the Yamaha man said in the official series press release. "I dedicated my whole life for this moment right here and it paid off. I was a four-year-old chasing a dream and it came true. I knew I belonged up here so I never quit. I kept fighting and here we are."

[caption id="attachment_45250" align="alignleft" width="200"]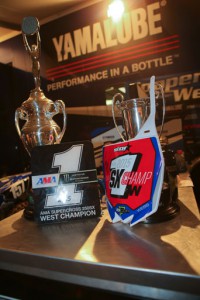 Photo: Steve Giberson[/caption]

Webb scored a freak seventh position in the opening race of the year at the Angel Stadium in Anaheim but then racked up a pile of winner's trophies with spoils at Phoenix, Anaheim II and III, as well as San Diego. He only missed the top spot of the podium once when he finished second in Oakland for round four.

In Houston the Star Racing crew were pleased to see Aaron Plessinger tussling for a rostrum "157" and only just lost out to Malcolm Stewart. The youngster was fourth at the flag. In the principal 450SX class JGR Yamaha's Justin Barcia returned to action on the YZ450F after recovering from a pelvis injury and claimed ninth position.

AMA Supercross continues onto San Francisco this week before then traveling to New Jersey and back west to Las Vegas for the 2015 closer at the Sam Boyd Stadium.

Source: www.yamaha-racing.com

Ryan Dungey Crowned 2015 Supercross World Champion
[caption id="attachment_45247" align="alignright" width="300"]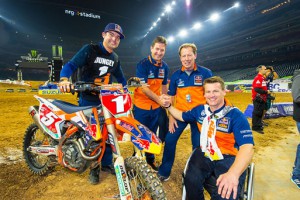 Photo: Simon Cudby[/caption]

Red Bull KTM Factory Racing Team rider Ryan Dungey took the first-ever 450 Supercross title for his Red Bull KTM team at the Houston Supercross, round fourteen of the Monster Energy Supercross Series, an FIM World Championship.

All eyes were on Ryan Dungey throughout the day as he has proven to be the man to beat in the championship series. He was placed in heat one where he earned a 2nd place start. He made an easy pass into the lead on lap two and went on to lead all remaining laps. He crossed the checkered flag to take the heat win and a top gate pick for the main event.

When the gate dropped for the main event, Dungey got pinched out on the start and came around the first corner outside the top ten. He wasted no time and quickly began making passes to move his KTM 450 SX-F Factory Edition forward through the pack. By the halfway point he had moved into 6th place. In the next laps, he put on a charge and rode aggressively through the pack to move into the podium position and up to 2nd place. Once in 2nd position, he maintained his pace and cruised across the finish line to earn the 450 Supercross Championship, the first-ever for the KTM brand.

[caption id="attachment_45246" align="alignleft" width="300"]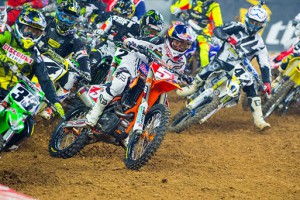 Photo: Simon Cudby[/caption]

"The team and I worked so hard to get to this point," remarked Dungey on the podium. "There are hardly words to explain how good this feels. There were a lot of ups and downs along the way, but my team stood behind me through it all and provided me the best bike. I am so excited for this championship but am looking forward to the next goal. We aren't done yet."

KTM CEO, Stefan Pierer, commented: "To win any World Championship is an outstanding success and is of immense importance for KTM. But the US Supercross title is very special and highlights our huge commitment in the worldwide motocross sport. With tenacity we made it to the top in this sport, which releases a vast amount of emotions. I would like to thank all those that have been involved and helped to push forward this extremely important project, and of course, I'd like to thank Ryan who has had a great season in 2015."

KTM Head of Motorsports, Pit Beirer, stated: "One of my personal dreams came true today. We started our Supercross race department completely from scratch in 2011, and what has been achieved in this very short time is outstanding. The key to everything, and I call it the best trip of my life, was my first meeting with Roger De Coster in the summer of 2010. Together with Roger we have formed the best and strongest team you can imagine. From there our worldwide race network has become stronger and it has been a 24-hour effort each day. With the full commitment of our R&D and Motorsports departments in Austria and the USA, we managed to create the best bike in a short time. However, we cannot perform without the best riders on our bike, which is why we are thankful to Ryan. He trusted us at a very early stage of the project. Ryan has set some major milestones for our company; first 450SX win, first professional Motocross Championship title and now he has brought our final goal of the 450 Supercross title. I would like to say thank you team and thank you Ryan."

Next Round: Santa Clara, CA - April 18, 2015

Supercross LIVE Interview Video - Ryan Dungey Houston
https://www.youtube.com/watch?v=XCBb8FA4Uis&feature=player_embedded

Source: KTM North America

Shane McElrath Makes Podium Return In Houston
[caption id="attachment_45243" align="alignright" width="300"]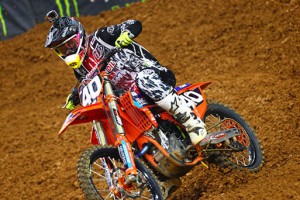 Photo: Jeff Kardas[/caption]

Troy Lee Designs / Lucas Oil / Red Bull / KTM's Shane McElrath picked up where he left off before the two-month Western Regional 250SX break, claiming his second consecutive podium with a solid Main Event ride at NRG Stadium in Houston, Texas. McElrath was holding down representing the team as teammate Jessy Nelson will be sitting out the remainder of the supercross series as he recuperates from a practice injury.

McElrath started his day with solid qualifying times and was looking good in his heat race. Unfortunately a crash took him out of contention, forcing him to the LCQ. Qualifying from the LCQ gave him a near-last gate pick, but that didn't stop McElrath rocketing his KTM to the first turn in second, allowing him to quickly take over the lead. He held onto the lead for nine laps, eventually finishing in second and tying his career-best result.

"Getting back on the podium was exactly where I wanted to be when we came back from break," said McElrath. "I had a lot of family drive from North Carolina and it was great to get this good finish in front of them. I'm ready to do it again next week."

[caption id="attachment_45242" align="alignleft" width="300"]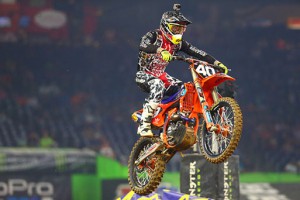 Photo: Jeff Kardas[/caption]

The Troy Lee Designs / Lucas Oil / Red Bull / KTM team heads to Northern California for the second stop in the Bay Area at Santa Clara's Levi's Stadium on April 18 for the final round of the Western Regional 250SX Series, before the shootout in Las Vegas the first weekend in May.

McElrath wore the 2015 GP Hot Rod Blue gear during practice and the 2015 GP Air White Cheetah gear during the race, along with the SE3 One Shot Black/White CF helmet at NRG Stadium in Houston, Texas. See more of the 2015 gear sets and the 2015 Moto Helmets online and at your local TLD retailer.

TLD would like to thank all our sponsors: Lucas Oil, Red Bull, KTM, PPG, MAVTV, GoPro, adidas, Seaspan, Pro Tork, Fender, FMF, Horizon Hobby, Method Race Wheels, Renthal, New Era, Dunlop, VP Racing, Pixelmags, Alpinestars, WP Suspension, ODI Grips, Oakley, Hinson, Galfer, Kite, Specialized, SRAM, Twin Air, Cycra, D.I.D., Dirt Star, Xtrig, Kryptonight Industries, Kasey Kahne Racing, McQueen Racing, NStyle, ACAT Global.

Supercross LIVE Interview Video - Shane McElrath Houston
https://www.youtube.com/watch?v=kcX0egv71eo&feature=player_embedded

Source: Troy Lee Designs

Eli Tomac Fights For Podium In Houston
[caption id="attachment_45241" align="alignright" width="300"]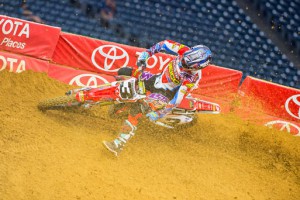 Photo: Simon Cudby[/caption]

Nothing came easy for the vaunted GEICO Honda race team during Saturday's stop at NRG Stadium, but veteran riders Eli Tomac and Malcolm Stewart still managed to place their GEICO Hondas on the podium at the 14th Monster Energy Supercross event of the season.

Teammate Matt Bisceglia also gained accolades for earning the holeshot in the 250SX West main event, while Stewart's top crewman Derik Dwyer was named the MMI/Amsoil Top Tech of the Race.

Tomac, who battled flu-like symptoms for much of the week, had to fight through the semifinals to earn his spot in the main event. He then overcame a mid-pack start to work his way from 11th to third overall for his eighth podium result of the season.

"I felt OK early in the day but kind of ran out of power in the evening," Tomac said. "Considering I was flat on my back a few days ago, I guess I can't be too upset with a podium finish. We're still a solid second in the points with three races left, so even though the overall championship was decided tonight, there are still things to fight for down the stretch. More wins and more podiums would be good."

[caption id="attachment_45240" align="alignleft" width="300"]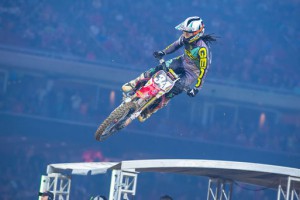 Photo: Simon Cudby[/caption]

Stewart had to overcome some obstacles of his own. He suffered a tough get-off in the third practice session that left roughed up his face and then made contact with the rear wheel of Zach Osborne in the first heat race and crashed once again. That relegated him to the Last Chance Qualifier, which he won with a last-turn pass on Shane McElrath.

"I had to fight for everything today," Stewart said. "I mean nothing came easy at all. When I crashed in practice I was just mad at myself, and then Zach came across me in the heat race and I went down hard again. I was so mad after that I didn't even go back to the pits. I just waited at the starting line for the LCQ. I wasn't going to let this one get away from me.

"I had a bad gate pick for the main and got around the first turn in 11th place. All I could do was work it from there. I just raced hard and passed dudes when I could. I finally got up front and managed to get third. I have to be pretty happy with that after a day like this one.

"It was super cool to see Derik get the MMI/Amsoil Top Tech award. He definitely earned it today. I know no one worked harder with all the smashed up stuff I kept dragging back over there. He didn't miss a beat. My bike was perfect every time."

[caption id="attachment_45239" align="alignright" width="300"]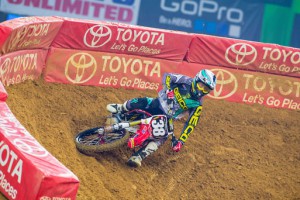 Photo: Simon Cudby[/caption]

Bisceglia was left dreaming of what could have been after leading the first half of his heat race before settling for second and then racing as high as second in the main event before taking a spill during Lap 5 that dropped him back several spots. He eventually finished eighth.

"I was really happy with my riding all day," Bisceglia said. "My pace was good and I felt as healthy as I have in a while. I just lost the front end after the triple (in the main event). It happened so fast I couldn't even react. I just kind of slid out. I was able to get up and get right back into the race, but some guys got past me when I was down.

"I'm happy to be racing again after the (west) break and I'm already looking forward to next weekend."

The tour heads to Levi's Stadium in Santa Clara, Calif., for next Saturday's event.

Source: GEICO Honda

Discount Tire/TwoTwo Motorsports Kawasaki's Josh Grant Breaks Into The Top 5 In Houston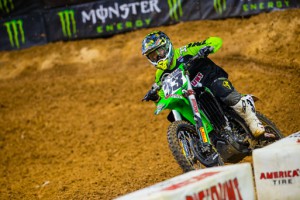 Round 14 of Monster Energy AMA Supercross, an FIM Championship filled NRG Stadium in Houston on Saturday night and the racing did not disappoint. The Discount Tire/TwoTwo Motorsports Kawasaki teammates of Josh Grant and Chad Reed battled up front in the main event as Reed chased the early leader with Grant and Monster Energy Kawasaki's Davi Millsaps in tow. Grant would challenge for a podium position and finish in fourth place followed by Reed in fifth and Millsaps in seventh. The West Region 250SX riders returned after a two-month break with Monster Energy/Pro Circuit/Kawasaki's Chris Alldredge achieving his best career finish in ninth place. Tyler Bowers battled for a podium position early in the main event before having to pull off due to a lingering back injury, which will force him to miss the remainder of 2015. Motosport.com Kawasaki's Josh Hansen climbed up from a poor start to finish 11th.

Podium Contenders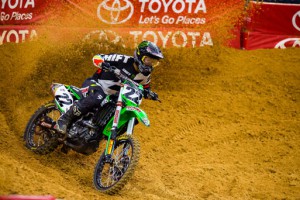 The Discount Tire/TwoTwo Motorsports team has come on strong as we begin to close out the 2015 supercross season. After a string of top-10 finishes, Grant kicked it up to another level in Houston. Reed qualified two hundredths of a second off of the fastest lap time in second with Grant not far off in fourth. When the gate dropped for the main event, it was the KX450F of Reed with the leaders and he began his assault for the front until he came together with another rider in the right-hand hairpin turn after the finish line. Reed remounted outside the top 10 while Grant took charge to fight for the podium. While Grant swapped positions near the front, Reed came through the field to finish on his heels and they crossed the finish line in fourth and fifth place, respectively.

Fighting For It
[caption id="attachment_45235" align="alignright" width="300"]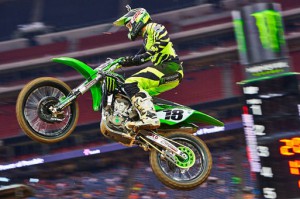 Photo: Jacob Khan[/caption]

Millsaps qualified seventh in Houston as the top riders traded fast lap times throughout the afternoon. The gate dropped for the heat race and Millsaps jumped into third place through the first rhythm section. With only the top four transferring directly to the main, Millsaps made a small mistake and was on the bubble. He fought hard and made a crafty move to square under the fourth place rider to claim his spot in a transfer position. Millsaps rounded the first lap in 12th and was in a non-stop battle for position for the entire 20-lap main event. Reaching as high as sixth place, Millsaps bumped and banged to fight to seventh place.

"The main event was intense tonight," said Millsaps. "The track was technical and rutted and there were a few spots where we would all stack up every lap, which kept the racing close. I got held up a few times in the early laps where I had a chance to get a head of the chaos, but instead I was right in the thick of it."

Disappointing Finish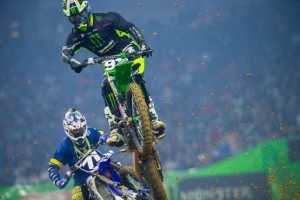 Bowers has been dealing with a lingering back issue since the start of the season at Anaheim in January. He was able to push through the first six rounds, but over the break he determined he would need back surgery to repair a lower lumbar issue. He had scheduled the surgery for May and was prepared to sit out the Lucas Oil Pro Motocross Championship, but the effects were too severe for him to conquer and finish Saturday night's main event. Bowers will sit out the remaining supercross rounds and looks to move up his surgery to resolve the issue.

"It's a big bummer," said Bowers. "I love racing and love my entire Monster Energy/Pro Circuit/Kawasaki team, which is why it makes it so difficult to force myself to sit on the sidelines."

Left Wanting More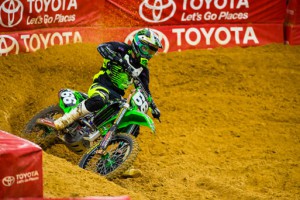 In his rookie supercross season, Alldredge has had his share of ups and downs. Often with the speed to win, he was lacking experience at running at a championship pace. In Houston, Alldredge concentrated on improving his consistency and it resulted in his best career finish in ninth place. Hansen on the other hand is a seasoned veteran and was ready to use his speed and experience to put his KX250F on the podium. That was until a crash in qualifying took the wind out of his sails when another rider came into him over the triple. Lucky to only be beaten and bruised, Hansen was forced to qualify through the LCQ and was given the very outside gate for the main event. Hansen rounded the first turn near and back of the field and fought forward to finish 11th.

"I get paid to be battling at the front," said Alldredge. "Although we made progress tonight, I am still not where I want to be nor where the team and this amazing bike should be. I need to step it up even further next week in Santa Clara."

Challenging Track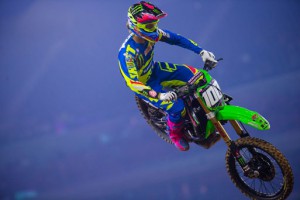 The Houston track was a recipe for chaos before the riders even walked the track due to one lane being ridden in one direction off the start, but the other direct each lap after that. The layout seemed simple, yet was littered with a wall, huge sand rollers, and a quad to finish out one of the rhythm lanes. These obstacles claimed riders all night long, but also kept the racing close and exciting.

Santa Clara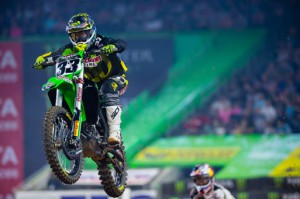 Monster Energy Supercross heads to a new venue for Round 15 next Saturday as they will cover the new home of the San Francisco 49ers with dirt at Levi's Stadium in Santa Clara, California. Santa Clara will serve as the final West Region round as Alldredge and Hansen will look to finish with a season best.

Source: Kawasaki Racing

Justin Hill Finishes 6th At Houston Supercross
[caption id="attachment_45230" align="alignright" width="300"]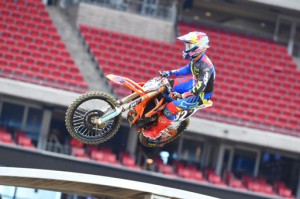 Photo: Simon Cudby[/caption]

Red Bull KTM factory rider Justin Hill finished 6th overall at the Houston Supercross which represented the seventh round of the West 250 Supercross Championship of the Monster Energy Supercross Series.

Justin Hill earned a top three start when the gate dropped for the first 250SX heat. On his KTM 250 SX-F he quickly closed in on the 2nd place rider attempting an inside pass around a corner. Unfortunately, the two riders collided and they both went down. Hill quickly recovered and went on to move back into 2nd place. He finished in that position and easily transferred to the main event.

In the main event, Hill garnered a 6th place start. He went off the track on the opening lap and came back on in the back of the pack. On the third lap of the race he checked in at 14th position. From that place, he raced hard and was able to move into the top ten and up to 6th place by the moto end.

"I was really hoping to get on the podium tonight," commented Hill after the race. "Unfortunately, I made a mistake early on that cost me. Hopefully, I can ride mistake-free at the next round and get back up where I belong."

Next Round: Santa Clara, CA - April 18, 2015

Source: KTM North America

Zach Osborne Moves From Fourth To Second Overall In 250 Class
Anderson 16th In Houston For Rockstar Energy Husqvarna Factory Racing
[caption id="attachment_45229" align="alignright" width="300"]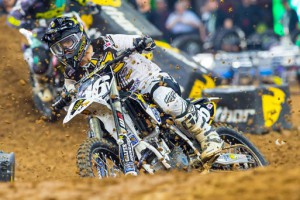 Photo: Simon Cudby[/caption]

Rockstar Energy Husqvarna Factory Racing's Jason Anderson continued to plug away in the 450SX class on Saturday at Houston's NRG Stadium for the 14th round of the 2015 Supercross series. After an eight-week hiatus, teammate Zach Osborne returned to the track as the 250SX West series made its return. Osborne gained two positions in 250SX West rider point standings, while Anderson maintained his position in the top-10 in 450SX rider point standings

Zach Osborne, the third fastest qualifier in the 250 class, had an awesome start to the night by pulling the holeshot in his heat aboard his Husqvarna FC 250. His luck quickly changed, however, as Malcolm Stewart crashed in the rhythm section and launched his bike across the track and into the next lane - right in front of Osborne. Osborne ran into Stewart's bike, crashed, and was forced to line up for the LCQ. Although he was extremely sore from the incident, he grabbed his second holeshot of the night in the LCQ and eventually settled into the fourth-place transfer position. In the main, Osborne started in the top-10 and stayed steady to finish seventh. The top-10 finish moved him from fourth to second overall in 250SX West rider point standings.

"Today was good," said Osborne. "All day I felt really good on the bike - definitely the best I've felt at a race all year. I pulled the holeshot in the heat race, but had an unfortunate incident and jumped on a bike that came from another lane and crashed. I got a gnarly stinger in my neck and arm - maybe something with my collarbone. In the LCQ I pulled another good start to get in the main. It took me awhile to get going in the main. I was more just feeling out my collarbone and arm to see what was going on. I made some good passes in the end and got up to seventh. It put me up to second in the championship. Hopefully I can wrap that up next weekend in Santa Clara."

[caption id="attachment_45227" align="alignleft" width="199"]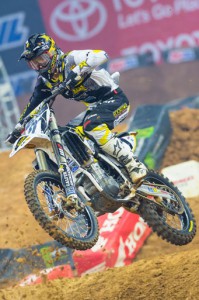 Photo: Simon Cudby[/caption]

Jason Anderson got a mid-pack start in his heat, but washed out his front end early in the race. He worked his way up to a ninth-place finish and would have to earn his transfer position via the 450SX semi. Anderson kept things exciting in the semi and, after pulling a top-three start, made a pass for the lead in the second lap. He continued to battle for his position for the remainder of the race and claimed victory aboard his Husqvarna FC 450 to transfer to the main. In the main, Anderson started in the middle of the pack and had worked his way up to fourth by lap six

He rode great, stayed aggressive, and was third by the seventh lap before going down in a corner with another Chad Reed in lap nine. He remounted in fifth and continued to charge, but ended up going down hard in the sand. He finished 16th, and is currently seventh overall in 450SX rider point standings.

"My weekend started out really good," said Anderson. "I had practice times in the top-five, which is similar to St. Louis where I got a podium. Then I had a tip over in my heat race, but then came out and won the semi. I think that's the first time I've ever won a semi. Then in the main, I started about sixth and worked my way up to third. I was trying to make the pass for second but went down with Reed. I got back up but then had a big crash in the sand. I rode well and have a lot to take away from it but I need to work on getting rid of a few mistakes. Hopefully I can go into Santa Clara and get on the podium."

Munn Racing's Ben Lamay finished 15th in the 450 class aboard his Husqvarna FC 450.

Source: Husqvarna Motorcycles

Yoshimura Suzuki's Blake Baggett Fights Back At Houston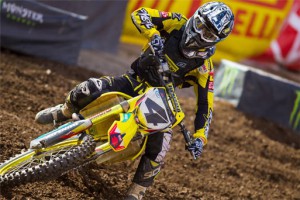 Yoshimura Suzuki Factory Racing's Blake Baggett recovered after a crash to finish 11th on his Suzuki RM-Z450 Saturday night in NRG Stadium in front of a crowd of 48,024.

The finish gave Baggett enough points to take over sole possession of sixth-place in the standings with three rounds remaining in the 17-race AMA/ FIM World Supercross Series.

Baggett found the Houston Supercross track to be challenging because of the composition of the dirt. As a result he was little further back in practice than he would have liked, but he finished timed qualifying in 12th.

"The track was technical," he explained. "It wasn't super-hard, but it was still tricky. It was easy to make a mistake with that sandy base on the top and hard-pack underneath. There were lots of ruts, lots of choices; and I didn't put it solidly together."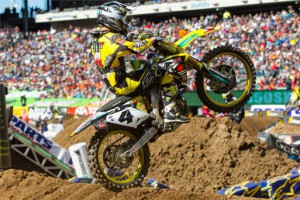 In the Heat-race Baggett was involved in an exciting battle in the end with Chad Reed, but came up short and had to go to the Semi. Once in his Semi, Baggett battled for the win, ultimately ending-up finishing a close third, good enough to put him safely in the Main Event.

After a solid start to the 20-lap final, Baggett found himself forced wide in turn one and got stuck in the middle of a 22-rider traffic jam.

"I came from the outside at the start and got a good jump and a good lean," Baggett said of his run to the first turn. "But the way the track was, I got pushed wide and we bunched up and I was back there in the chaos.

Once the traffic spread-out a bit, Baggett found himself in 13th at the end of lap one. He then put his head down and mounted a charge on his speedy RM-Z450.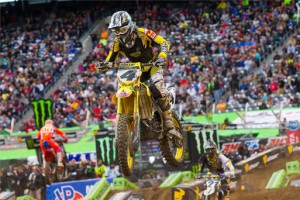 "I was steadily working my way towards the front and maybe got into eighth or ninth when I got hit from behind going over the wall and went down."

In spite of the crash, Baggett was able to get back in the race and crossed the finish-line in 11th, just one-and-a-half seconds short-of getting back inside the top-10.

"I'll go back and regroup," Baggett concluded. "I know what I need to work on and I'll just keep plugging away. We've got a few (races) left and we'll see what we can do."

Source: Team Suzuki

Houston SX Overview And Point Standings
2015 AMA Supercross Houston Image Gallery
(Click for full size images)
Overall Results - Supercross Class
| Pos. | # | Rider | Bike | Interval | Best Time |
| --- | --- | --- | --- | --- | --- |
| 1 | 14 | Cole Seely | Honda CRF450 | 20 Laps | 46.430 |
| 2 | 5 | Ryan Dungey | KTM 450 SX-F Factory Edition | +07.455 | 47.809 |
| 3 | 3 | Eli Tomac | Honda CRF450 | +08.009 | 47.677 |
| 4 | 33 | Joshua Grant | Kawasaki KX450F | +12.149 | 47.868 |
| 5 | 22 | Chad Reed | Kawasaki KX450F | +13.141 | 47.697 |
| 6 | 29 | Andrew Short | KTM 450 SX-F Factory Edition | +14.240 | 47.925 |
| 7 | 18 | Davi Millsaps | Kawasaki KX450F | +16.793 | 47.561 |
| 8 | 20 | Broc Tickle | Suzuki RM-Z450 | +17.810 | 47.957 |
| 9 | 51 | Justin Barcia | Yamaha YZ450F | +23.574 | 47.945 |
| 10 | 10 | Justin Brayton | KTM 450 SX-F Factory Edition | +24.578 | 48.756 |
| 11 | 4 | Blake Baggett | Suzuki RM-Z450 | +26.219 | 47.529 |
| 12 | 11 | Kyle Chisholm | Kawasaki KX450F | +40.739 | 48.799 |
| 13 | 27 | Nicholas Wey | Kawasaki KX450F | +43.588 | 48.926 |
| 14 | 52 | Mitchell Oldenburg | Yamaha YZ250F | +47.975 | 49.489 |
| 15 | 42 | Ben Lamay | Husqvarna FC450 | +53.367 | 49.200 |
| 16 | 21 | Jason Anderson | Husqvarna FC450 | 19 Laps | 47.158 |
| 17 | 199 | Kyle Partridge | Honda CRF450 | +27.103 | 49.091 |
| 18 | 211 | Tevin Tapia | Suzuki RM-Z450 | 18 Laps | 50.440 |
| 19 | 181 | Dustin Pipes | Suzuki RM-Z450 | +12.213 | 51.251 |
| 20 | 58 | Killian Rusk | Yamaha YZ450F | +29.056 | 50.076 |
| 21 | 70 | Nicholas Schmidt | Suzuki RM-Z450 | 17 Laps | 50.104 |
| 22 | 23 | Weston Peick | Yamaha YZ450F | 6 Laps | 47.540 |
Rider Point Standings - Supercross Class
Statistics




Race Time: 16:01.451

Margin of Victory: 07.455

Winner's Avg. Laptime: 48.072

2nd Place Avg. Laptime: 48.445

Best Qualifier: #5 - Ryan Dungey

Holeshot: #29 - Andrew Short




( Race 14 of 17 )


Ryan Dungey - 318 / 2015 Champion

Eli Tomac - 236

Cole Seely - 223

Trey Canard - 204

Chad Reed - 199

Blake Baggett - 175

Jason Anderson - 170

Broc Tickle - 159

Ken Roczen - 156

Manufacturer Point Standings - Supercross Class
( Race 14 of 17 )


KTM - 318

Honda - 315

Suzuki - 251

Kawasaki - 228

Yamaha - 187

Husqvarna - 177

Overall Results - Supercross Lites West Class
| Pos. | # | Rider | Bike | Interval | Best Time |
| --- | --- | --- | --- | --- | --- |
| 1 | 17 | Cooper Webb | Yamaha YZ250F | 15 Laps | 47.438 |
| 2 | 40 | Shane McElrath | KTM 250 SX-F | +02.421 | 47.719 |
| 3 | 34 | Malcolm Stewart | Honda CRF250 | +05.278 | 47.597 |
| 4 | 157 | Aaron Plessinger | Yamaha YZ250F | +06.085 | 48.209 |
| 5 | 31 | Alex Martin | Yamaha YZ250F | +09.531 | 48.587 |
| 6 | 32 | Justin Hill | KTM 250 SX-F | +12.198 | 48.515 |
| 7 | 16 | Zach Osborne | Husqvarna FC250 | +19.258 | 49.412 |
| 8 | 38 | Matthew Bisceglia | Honda CRF250 | +22.536 | 47.928 |
| 9 | 66 | Chris Alldredge | Kawasaki KX250F | +26.042 | 49.214 |
| 10 | 130 | Thomas Hahn | Honda CRF250 | +28.359 | 49.088 |
| 11 | 100 | Joshua Hansen | Kawasaki KX250F | +29.969 | 49.677 |
| 12 | 57 | Jackson Richardson | Honda CRF250 | +34.688 | 49.829 |
| 13 | 71 | Cole Martinez | Yamaha YZ250F | +41.316 | 50.423 |
| 14 | 65 | Scott Champion | Yamaha YZ250F | +47.674 | 51.071 |
| 15 | 148 | Trevor Reis | Yamaha YZ250F | +49.317 | 50.817 |
| 16 | 217 | Ryan Breece | Yamaha YZ250F | 14 Laps | 50.186 |
| 17 | 275 | Johnny Jelderda | Honda CRF250 | +02.466 | 51.269 |
| 18 | 360 | Aaron Siminoe | Kawasaki KX250F | +04.742 | 51.695 |
| 19 | 727 | Rhett Urseth | Kawasaki KX250F | +13.004 | 52.362 |
| 20 | 91 | Chris Howell | Yamaha YZ250F | +19.746 | 52.403 |
| 21 | 911 | Tyler Bowers | Kawasaki KX250F | 4 Laps | 48.622 |
| 22 | 981 | Austin Politelli | Yamaha YZ250F | +07.798 | 49.524 |
Rider Point Standings - Supercross Lites West Class
Statistics




Race Time: 12:08.164

Margin of Victory: 02.421

Winner's Avg. Laptime: 48.544

2nd Place Avg. Laptime: 48.705

Best Qualifier: #17 - Cooper Webb

Holeshot: #40 - Shane McElrath




( Race 7 of 9 )


Cooper Webb - 161 / 2015 Champion

Zach Osborne - 116

Shane McElrath - 108

Jessy Nelson - 106

Tyler Bowers - 105

Aaron Plessinger - 99

Justin Hill - 94

Alex Martin - 91

Malcolm Stewart - 89

Joshua Hansen - 89

Manufacturer Point Standings - Supercross Lites Class
( Race 14 of 17 )


KTM - 312

Yamaha - 298

Honda - 271

Kawasaki - 245

Husqvarna - 180

Suzuki - 20