Off The Line: 2015 Can-Am Maverick X Ds 1000R Turbo
Chaparral Motorsports
|
April 6, 2015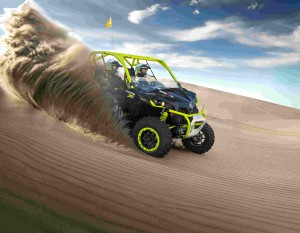 The 2015 Can-Am side-by-side lineup got big boost this year - a turbo boost that is. The powersports manufacturer introduced its new two seater Maverick X ds and four seater Maverick Max X ds models available with a factory installed turbochargers mated to the already potent Rotax 1000R engine. This is the first time in the UTV industry a machine has been offered from the manufacturer with a turbocharger.

Boosted Ooomph!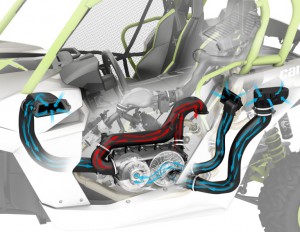 Outfitted with a Mitsubishi turbo charger, the boost in performance kicks the output of the 1000R engine from 101 horsepower to a whopping 121-horspeower with industry-leading torque, 40-percent more than its closest competitor according to Can-Am. The turbo's electronically controlled wastegate automatically adjusts boost pressure for optimal performance in any condition and altitudes up to 5,000-ft. An air-to-air intercooler outfitted with a built-in fan keeps cooled air flowing to the engine even in hot temp conditions.

Plush Ride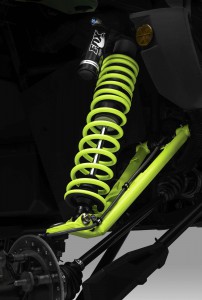 The Maverick X ds includes a new rear frame section providing for a longer wheelbase (pushed out to 88 inches) which helps keep the UTV steady at high speeds and provides excellent cornering and a tight turning radius. Other handling enhancements include 16-inches of travel in the rear with the aid of redesigned Torsional Trailing Arms and a compact five-link suspension setup equipped with exclusive Fox 2.5 Podium RC2 shocks. Front suspension has been improved with redesigned double A-arms and offers 15-inches of travel. Fully adjustable, the front and rear FOX 2.5 Podium RC2 Piggyback shocks can be tuned for Dual Speed Compression (DSC), rebound, and have dual rate springs with infinite preload allowing users to fine tune the system for any driving style, terrain or course. The rear shocks can be dialed in even further with a position-sensitive Bottom-Out Control and a spring crossover to improve comfort, traction and smooth out what would normally be large jarring bumps.

Final Thought
UTV fans should definitely be thrilled about this new model from Can-Am, the myriad improvements and the fact that a turbo is now available straight-from-the-factory ought to get the rest of the competitors looking to jump in the turbo game.