Kailub Russell Dominates The General GNCC
Chaparral Motorsports
|
March 15, 2015
[caption id="attachment_38329" align="alignright" width="300"]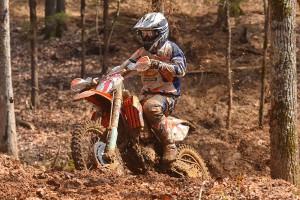 Photo: Ken Hill[/caption]

FMF KTM Factory Team rider Kailub Russell took another dominating win to make it two in a row for the first two rounds of the GNCC Series. This time he crossed the finish line 2 minutes and 13 seconds ahead of the 2nd place rider. His teammate, Kacy Martinez, also took the win in the Women's WXC GNCC class after a come-from-behind charge through the pack.

Russell had a great jump off the start of the XC1 Pro class and pulled the holeshot as the riders rounded the first corner. His teammate, Russell Bobbitt, made a guest appearance at this round and followed Russell's pace coming around 2nd in the first corner. The two KTM riders led the field as the riders headed into the woods for the first lap.

Bobbitt dropped to 3rd later on in the first lap while Russell remained out front. A few miles into the first lap, Russell got stuck in the mud and dropped to 4th place. "I lost a few positions but once I recovered we got to another mud hole and I went straight through it while the others went around. That line allowed me to move back into 2nd, and then shortly after, back into the lead," stated Russell.

Russell had pulled a pretty good lead on the second lap before he got stuck in a massive mud hole. "I sank in and it was like quicksand," he reported. "It took about three guys to help me out and I lost a ton of time but because of my lead, I was able to remain in the top position."

[caption id="attachment_38328" align="alignleft" width="300"]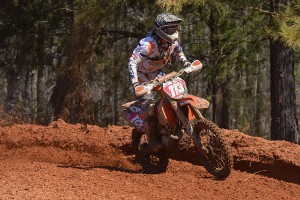 Photo: Ken Hill[/caption]

Meanwhile Bobbitt dropped from a podium position into the bottom of the top ten due to a few mistakes on the challenging course. "This course was rough today and I couldn't quite get my conditioning figured out and I cramped early," stated Bobbitt. "I'm glad I was able to ride a safe race and finish in the top ten."

At the end of the grueling three-hour race, Bobbitt ended up 7th in class and 10th overall. Russell pulled away from the field each lap and eventually grew his lead to a comfortable two minutes before crossing the finish line to take the win and increase his lead in the championship standings.

Russell now has a 10 point lead as the riders head to round three which will be held in Morganton, NC on March 29, 2015.

[caption id="attachment_38326" align="alignright" width="300"]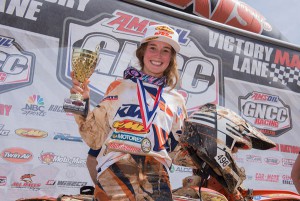 Photo: Ken Hill[/caption]

In the WXC class, Martinez pulled the holeshot and took the early lead. She had pulled a sizeable gap before she got stuck in a mud hole and lost a couple minutes getting out. She was as far back as 6th place and over 2 minutes down after that incident, but continued to press forward. With one lap remaining, Martinez had caught the top three and began to pressure for each podium position. In the last mile of the course she made the pass for the lead and went on to take the win by 11 seconds. This marks Martinez's second consecutive win for the season.

"I rode like a beginner at the start of the race and crashed a bunch," stated Martinez. "I eventually told myself to remember how to ride and then I started picking off people and actually making progress. This win was hard today so I am definitely grateful to be on the top of the box."

The General Overview And Point Standings
2015 GNCC The General Image Gallery
(Click for full size images)
Overall Results (XC1 and XC2 Class Combined)


Kailub Russell - KTM

Josh Strang

Thad DuVall

Jordan Ashburn

Chris Bach

Grant Baylor

Jason Thomas - KTM

Nick Davis

Trevor Bollinger - KTM

Russell Bobbitt - KTM

Overall Results (WXC Class)


Kacy Martinez - KTM

Becca Sheets

Rachel Gutish - KTM

Sarah Baldwin

Brooke Cosner

Ashley Copeland - KTM

Mandi Mastin - KTM

Shawn Davidson

Kendall LaFollette

Megan Horseman - KTM

Overall Point Standings (XC1 Pro Class)


Kailub Russell - 60

Josh Strang - 50

Thad Duvall - 39

Overall Point Standings (WXC Class)


Kacy Martinez - 40

Becca Sheets - 35

Ashley Copeland - 33

Source: KTM North America