Hit The Beach: 8 Things To Do At Daytona Beach Bike Week
Chaparral Motorsports
|
March 5, 2015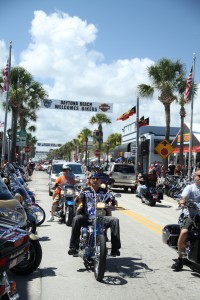 Heading into its 74th year, Daytona Beach Bike Week has historically been the kickoff event for the riding season for Harley-Davidson and motorcycle enthusiasts from all over the U.S. and beyond. For those on the eastern half of the country who have been experiencing record snow levels and freezing temperatures for weeks at a time; sandy beaches, palm trees, humidity, the smell of bar-b-que smoke in the air, oil-stained parking lots, and just about anything else other than the sight of snow will be very welcoming for those heading to Daytona Beach.

Cold weather can really wreak havoc on a motorcycle so hopefully you've been dutifully tending to your bike making sure your motorcycle battery is up to par and your motorcycle tires are in good shape. If you've been handling all the basics during the winter downtime then your bike should be ready for all the good times Daytona has to offer.

No matter if it's your first time or 21st time there's always something new to discover when attending Daytona Bike Week. Here's our list of eight things you should do/check out while enjoying your Biker Spring Break.

1. Beach Cruiser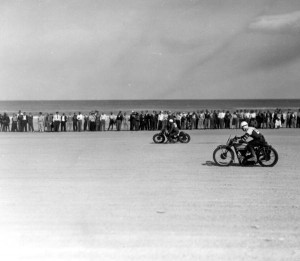 If you've never been to Daytona Bike Week or Daytona Beach for that matter one of the first things you should think about doing is hitting the beach. We don't mean grab a beach towel, pitch an umbrella, and hit the surf; we're talking about taking a cruise along the actual seashore. It may sound odd, but it's one of the highlights of Daytona and the hard pack beach sand has been a draw for motorcyclists and automotive enthusiasts since the 1930s when race fans would flock to the area. It'll cost you about $10 according to the Volusia Country website to roll on to the sand and cruise the beach. But unlike days of old, you can't unleash the throttle, as there's a 10mph speed limit. Just be sure to have a good selection of motorcycle cleaning supplies on hand and give your bike a thorough cleaning afterwards- the sand and salt water can really make a mess of your chromed and painted surfaces.

2. Do the Cabbage Patch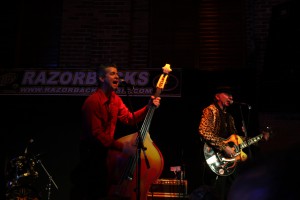 When you go to Bike Week you'll probably hear people utter the words "cabbage patch." For the uninitiated, it's not where those annoying little dolls from the '80s came from, and it's also not where that herky-jerky dance came from either. What it is, is a bar called Sopotnick's Cabbage Patch Bar, and it's located off of Tomoka Farms Rd in Samsula. Why should you care? Well, if you're into food fights then you'll definitely want to be at the Cabbage Patch on Wednesday March 11, and Saturday March 14, for the infamous coleslaw wrestling. Women rolling around in mayo and shredded cabbage, it doesn't get any sexier than that (actually, yeah, it does)!

3. People Watch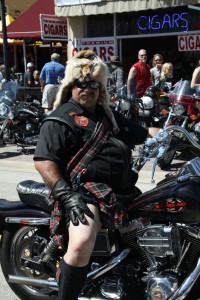 Be sure to set aside at least six to eight hours (minimum) hanging out on Main Street. Aside from being loaded with bars and souvenir shops, this is by far the most interesting place in all of Daytona. Find a spot where you can pop a squat and look out over the sidewalk and main drag. This is where you'll see freaks, geeks, creatures of the night, and leather that's way too tight! Don't just stay in one spot either, there are some awesome bars with live entertainment all along Main St. from A1A to the Fairview Main St Bridge such as Boot Hill, Froggy's, and the Full Moon Saloon. Do yourself a favor and make sure you hit of the Bank and Blues at least one of the nights the Razorbacks are on the stage. This trio will have you sweating in your motorcycle boots as you dance the night away to rockabilly sounds and some awesome standup bass juking.

4. Catch a Show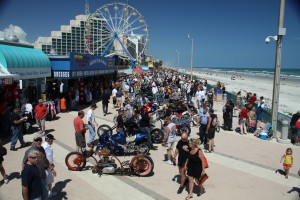 As one of the longest running motorcycle rallies in the country, Bike Week is also home to a wide variety of motorcycle shows.



March 6,7,8 , International Swap Meet and Bike Show: Lake County Fairgrounds and Convention Center in Eustis

March 7, Shovelhead Bike Show: Volusia County Fairgrounds in Deland

March 8, True Grit Pre-70's Motorcycles Gathering: Destination Daytona Pavilion, Ormond Beach

March 8, Rat Bike Show: Volusia County Fairgrounds in DeLand

March 11, 30th Annual Side Car and Trike Day and Show: Daytona Flea Market, Daytona Beach

March 11, Ultimate Custom Motorcycle Paint Show: With Dave Perewitz, Destination Daytona, Ormond Beach

March 12, Willie's Tropical Tattoo Old Time Chopper Show: Ormond Beach

March 12, Battle Of the Baggers: The Cabbage Patch, Samsula

March 13, 26th Boardwalk Classic Ride-In Bike Show: Daytona Beach Boardwalk

March 13, Baddest Bagger Show: Destination Daytona, Ormond Beach

March 14, Antique Bike Show: Volusia County Fairgrounds in DeLand

March 14, Baggers on the Boardwalk: Daytona Beach Boardwalk

March 14, The 43rd Annual Rat's Hole Bike Show: North Beach Street, Daytona

5. Do the Loop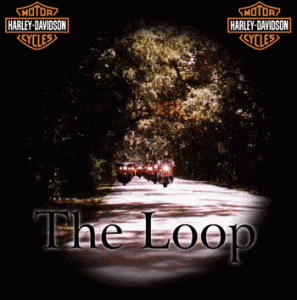 A little over 20 miles long, riding The Loop is like disappearing into a magical fantasy land-imagine FernGully-as you cruise beneath a canopy of lush tree tops and Spanish moss. Traversing north on A1A along the Atlantic Ocean from Ormond Beach you'll travel past beautiful natural scenery of green in every shade, marshes, rivers, creeks, barrier island dunes, hidden beaches, and intercostal waterways. There are plenty of parks and places to pull off to take photos, relax or have a nice picnic as you admire the wildlife. If you like natural wonders then make sure you get a pic of the Fairchild Oak Tree at Ormond Park, it's one of Florida's oldest living Oaks.

6. Fulfill your Need for Speed
One of the things Daytona is most well-known for is the Daytona 500. Unfortunately, the historic NASCAR event will have already blown through town by the time Bike Week kicks off. But that doesn't have to stop you from watching some exciting racing. There are plenty of opportunities to catch some bar banging during the week and wander the hallowed grounds of the iconic Daytona Speedway.

Things kick off with the GEICO AMA EnduroCross Championship making its way into town for the very first time to start its 2015 season. Racing will take place on Friday March 6, at the Ocean Center.

The following night on Saturday March 7, the excitement will crank up to 11 as Ryan Dungey, Chad Reed, Ken Roczen, Eli Tomac, Trey Conard and the rest of the Supercross crew light up Daytona International Speedway. Highlighted by a track designed by legendary Supercross/motocross racer Ricky Carmichael, the fast paced action of high flying dirt bikes combined with the spills and thrills of these guys putting their bodies on the line always gets the crowd going wild. Get there early to hit the pits to check out the amazing machines these guys rip around on, the Kawasaki KX 450F, Honda CRF 450R, KTM 450 SX-F, and Suzuki RM-Z450 (they aren't anything like that beat up Yamaha you used to try and impersonate Bob Hannah on).

Daytona Supercross Animated Track Map
https://www.youtube.com/watch?feature=player_embedded&v=BtWJrz7i7Uk

If you're into off-road action, the Grand National Cross Country (GNCC) series fires off its season on Sunday March 8, in Palatka. It's only about an hour's ride northwest of Daytona.

Like flat track racing? You're in luck, because there's a double header taking place just outside of turn 1 and 2 of the Daytona Speedway with the AMA Pro Flat Track series running under the lights on March 12 and 13.

Finally, at the end of the week there's the 74th running of the DAYTONA 200 on Saturday, March 14. The American SportBike Racing Association's (ASRA) 600cc sportbikes will rip the throttles and hit the banks and chicanes of Daytona Speedway's famed road course with break neck speeds.

7. Visit the Vendors
From that latest styles in motorcycle exhausts from companies such as Vance and Hines and Freedom Performance to leather jacket vendors and beef jerky stands (combining those two would be quite the business venture) if there's one thing there's no shortage of during Bike Week it's places to shop and pick up the latest motorcycle parts and accessories or just a bunch of swag and souvenirs to take back home with you.

If it's a wild new motorcycle helmet you seek, don't worry there will be plenty to choose from. Most of the big name vendors are set up at places like Bruce Rossmeyer's Destination Daytona and Thunder Alley at Daytona International Speedway. But you'll find everything from 10x10 popup tents to big rigs scattered all throughout town and in surrounding cities like Orlando. Beach Street used to be one of the hot spots for vendors but has fluctuated over the years. But you can find vendors and entertainment down there thanks to the Indian dealer. If you're in the market for a new motorcycle many of the big manufacturers like Harley-Davidson and Victory Motorcycle will have a big presence at the Speedway offering demo rides. For those on budget or looking for your next basket case project check out Fastlane Promotions' 11th Annual Swap Meet Extravaganza at the Volusia County Fairgrounds or the 37th Annual Daytona Swap meet held at the Daytona Flea Market.

8. Hit the Ormond Strip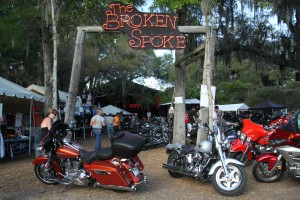 So after you've done the Main Street thing, there are a few other establishments you should spend some time at. Take a cruise up US Hwy 1 north into Ormond Beach and you'll come across the Iron Horse Saloon, Boot Hill Saloon Ormond, and the Broken Spoke Saloon. All of these places are legendary "biker bars" and known for their expansive outdoor party vibe. Many people like the Iron Horse because of all the overhead decking which not only provides great views and people watching but really helps you get a perspective of how many bikes they can fit in that area-plus you can take some really cool photos from up there. Down the way the Broken Spoke has a fun carnival like atmosphere with live entertainment, vendors, bar maidens swinging from giant rope swings, a great party crowd, and plenty of motorcycle parking.

Whatever you choose to do to entertain yourself this year during Daytona Bike Week, we're sure just getting on two wheels once again in the beach party atmosphere will help you shake off those cold cobwebs and make you feel like a spry teenager enjoying spring break all over again.