Suzuki Factory Racing Supercross Update
Chaparral Motorsports
|
February 24, 2015
Suzuki Motor of America, Inc. (SMAI) is excited to go racing in 2015! With a strong presence in both professional and amateur racing, Suzuki is ready to own the racetrack and the podium in the New Year.

Broc Tickle Grabs A Sixth For Suzuki In Atlanta
[caption id="attachment_37891" align="alignright" width="300"]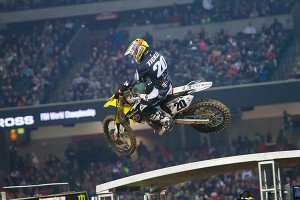 Photo: SMAI[/caption]

RCH Soaring Eagle/Jimmy Johns/Suzuki Factory Racing's Broc Tickle continued his remarkable comeback from injury and scored a sixth Saturday night on his RM-Z450 in the Georgia Dome. It marked his best result since coming back and one that moved him into the top-10 in the series standings. Tickle's solid return to form and rookie Blake Baggett's sixth consecutive top-10 finish aboard his Yoshimura Suzuki Factory Racing Suzuki highlighted the evening in the first of back-to-back race weekends in Atlanta.

While two Suzuki riders enjoyed standout results it was admittedly a tough night at the office for series championship contender Ken Roczen. Atlanta turned into damage control for Roczen, who suffered two hard crashes, including one in the Main event, resulting in an 18th-place finish.

Roczen showed the heart of a lion though, and his Suzuki RM-Z450 proved to be built tough enough to withstand a big hit and just keep ticking. Even after getting rag dolled in a spectacular crash in the Main, with the bike flipping high in the air, Roczen found his RM-Z450 survived the impact allowing him to continue racing and pick up precious points that could payoff in the end.

[caption id="attachment_37890" align="alignleft" width="300"]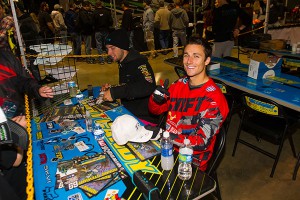 Photo: SMAI[/caption]

Two other Suzuki riders, Mike Alessi and Ronnie Stewart, put their RM-Z450s in the Atlanta final. Alessi scored 13th, while Stewart finished 21st on his DirtCandy Graphics Suzuki.

Suzuki Supercross class riders Nicholas Schmidt, Tevin Tapia, Dustin Pipes, Alexander Nagy and Robert Lind qualified from the day session and made the cut into the evening program, getting their chance to race in front of the big crowd. In addition to those 450 riders, AJ Catanzaro made the evening show in the 250 East class aboard his Suzuki RM-Z250.

Tickle Getting Stronger Every Week
[caption id="attachment_37892" align="alignright" width="300"]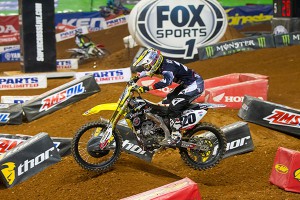 Photo: SMAI[/caption]

Broc Tickle scored his best result to date since coming back from injury three rounds ago. He rallied from a so-so start and used the power and agility of his Suzuki RM-Z450 to finish a solid sixth.

"I'm stoked with how the night went," said Tickle, who moved into the top 10 in the standings. "I have family, friends and a bunch of guys I grew up racing with who live nearby and I think I always feel good vibes when I come here. Winning the Semi kind of set the tone for me. I had good intensity going into the Main and that's something I worked on this week. The dirt at the starting gate is really hard and I spun it at the start. I worked my way up to sixth and I was happy with that because I passed some good guys. I was working forward all night and was closing the gap on the guys in front of me, so it was a solid night. I'm looking to come back to Atlanta II and improve even more."

Baggett Stays Consistent
[caption id="attachment_37888" align="alignright" width="300"]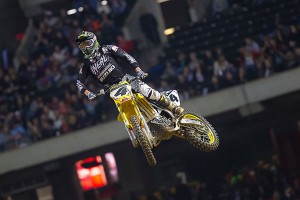 Photo: SMAI[/caption]

For Yoshimura Suzuki's Blake Baggett it was case of turning a bad day into a decent night of racing. He felt just a tad off the pace in practice and qualifying, primarily because of a bout of illness he went through on race day, but once in the Main he steadily improved and rallied with his RM-Z450 to finish eighth.

"I spun it a little bit coming off the gate and was I think 16th or so coming out of the first turn," Baggett commented. "I plugged away from there and tried to get the tire to the ground and get some traction and work our way forward. The track was really technical tonight. I came away with an eighth, so I'll go back and do a little testing and come back ready for Atlanta II."

Roczen + RM-Z = Ruggedness
[caption id="attachment_37887" align="alignright" width="200"]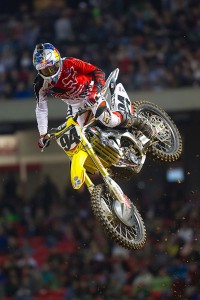 Photo: SMAI[/caption]

An ugly practice crash, which slammed Roczen into the stadium wall and then into a shipping container, at first appeared so brutal as to be a potential season ending mishap. Roczen injured his foot in the crash, but showed tremendous courage by limping away from the accident and coming back to race later that day.

In the Main, Roczen tangled with another rider on the start and got shuffled into 15th on the first lap. He quickly recovered and was using the supreme handling and agility of his RCH Soaring Eagle Suzuki to make his way through traffic. He was just breaking into the top 10 on lap five when he suffered his second big crash of the day. He got up slowly after hitting the ground hard and remounted his battered bike and soldiered on to earn a few extra points. He finished the race a lap down in 18th, but that determination and scoring those extra points may pay big dividends later in the season.

"Generally the whole day was kind of gnarly," Roczen explained. "I felt like we had the bike figured out for the Main and we could have made up a lot of ground, but I went in to the whoops and caught a square edge somehow. It wasn't the bike. Obviously it was me, but it just happened. The automatic thing when you tuck the front end or get a square edge, you hold it wide open because I was almost crashing. It just whiskey throttled and I crashed really hard after that. I got lucky that I didn't get hurt. After that the handlebars were bent really bad, so it was hard to do anything."

Roczen's went from second to third in the standings, so he'll be looking to rally back next week at Atlanta II.

Stewart Finding His Rhythm
[caption id="attachment_37889" align="alignright" width="300"]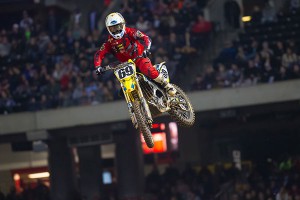 Photo: SMAI[/caption]

Ronnie Stewart was thrilled to earn his second Main event start of the season.

"I'm very excited just to be out there racing," said Stewart, who previous qualified his DirtCandy Graphics Suzuki RM-Z450 at the San Diego round. "In my Semi I was able to get the holeshot and run up front again and qualify with a fourth place. In the Main event I had a better race than my first one in San Diego, so it's something to build on and overall I'm so excited to be putting it in the Main event. I'm hoping to progress from here."

The Georgia Dome will again be the venue of next week's FIM/AMA Supercross event and Team Suzuki hopes to rally for a better night next Saturday, Feb. 28. The race will be televised live on Fox Sport 2 starting at 7:00 pm Eastern.

The Factory Suzuki riders will also be attending a special dealer appearance at Mountain Motorsports, 631 Thornton Road in Lithia Sp

[caption id="attachment_37886" align="alignleft" width="300"]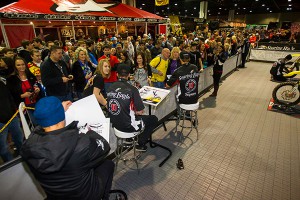 Photo: SMAI[/caption]

rings, Georgia on Friday, Feb. 27 from 6:30-7:30 pm.

About Suzuki:
Suzuki Motor of America, Inc. (SMAI) distributes Motorcycles, ATVs, Scooters, Outboard Motors and Automotive Parts and Accessories via an extensive dealer network throughout 49 states.
Suzuki Motor Corporation (SMC), based in Hamamatsu, Japan, is a diversified worldwide manufacturer of Motorcycles, ATVs, Scooters, Automobiles and Outboard Motors. Founded in 1909 and incorporated in 1920, SMC has 147 distributors in 201 countries. For more information, visit www.suzuki.com.
Source: Suzuki Factory Racing