Chris Haines Celebrates 15 Years Of Baja Victory
Chaparral Motorsports
|
December 30, 2014
2014 Marks Landmark year for Chris Haines Motorcycle Adventure Company
[caption id="attachment_35293" align="alignright" width="300"]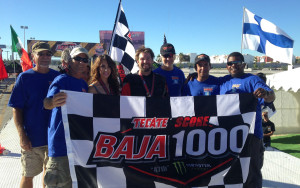 Team Guatemala-BREMEN celebrate their victory in La Paz - Photo: BREMEN/Chris Haines[/caption]

It has once again been a year to remember, especially for those who joined the Chris Haines Motorcycle Adventure Company for a ride of a lifetime in 2014. But for Haines himself, it has also been a landmark year. The 2014 Tecate SCORE Baja 1000 marked an incredible 15th time Chris Haines and his team have celebrated victory, and the second consecutive year that they have made their way onto the overall podium in the world-class race.

Rider of record Francisco Arredondo teamed up with Haines, along with Cycle World editor Ryan Dudek, Shane Esposito, Jay Rabjohn and Chris Brown to take on the 1275-mile course at the 46th annual SCORE Baja 1000. The team piloted the Jimmy Holley-prepped Honda CRF450X to victory in Class 30, and also finished third overall in the motorcycle division, nearly three hours ahead of the next bike.

[caption id="attachment_35295" align="alignleft" width="300"]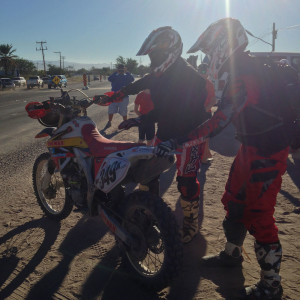 Chris Haines for the final leg of the Baja 1000 - Photo: Team Guatemala-BREMEN[/caption]

Coming into the 2014 race, Haines had already decided to make this Baja 1000 his last. To punctuate his incredible win streak at the notorious event, Haines' teammates made sure he had the honor of riding the last stretch and bringing the Team Guatemala/Bremen-Arredondo Racing CRF450X into La Paz.

"After competing in the Baja 1000 for 33-years it was time for me to hang up my helmet," said Haines. "And what better way to go out than up on the podium with my teammates one last time? I was fortunate to be a part of the Arredondo-Bremen team who provided me with this chance to finish on top thanks to their tremendous efforts. I'm honored to have raced with this great group of guys. It sure has been an amazing run."

Together with Arredondo, Dudek and Esposito, the Chris Haines team also piloted the Team Guatemala, Bremen-Arredondo Racing Honda CRF450X to victory in the Tecate SCORE Baja 500, earning first place in Class 30, and another spot on the overall motorcycle podium.

[caption id="attachment_35294" align="alignright" width="297"]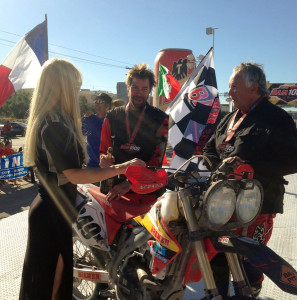 Francisco Arredondo lets the potent 349x Team Guatemala-BREMEN Honda 450X do what it was built to do - Photo: Guatemala-BREMEN[/caption]

Chris Haines Motorcycle Adventures also celebrated a memorable year with some amazing adventure rides through the rugged and picturesque deserts of Southern California, Nevada and of course, Baja. Haines continues to host riders, racers and celebrities on his world-famous adventure tours; the Off-Road Motorsports Hall Of Famer has given tours to celebrities such as Kid Rock, Jesse James, Lyle Lovett and Lance Armstrong.

For more information on Chris Haines and Chris Haines Motorcycle Adventures, please visit www.ChrisHaines.com.

About Chris Haines Motorcycle Adventure Company
Owner/director Chris Haines is a 30+ year veteran of riding, racing and winning in Baja, and considered to be the world's #1 off-road tour operator. Chris Haines Motorcycle Adventure Company is partnered with the Honda Rider's Club of America and you'll ride the newest Honda motorcycles and ATV's.