Vance & Hines Dual Exhausts Make Harley Switchback Look Great
Chaparral Motorsports
|
October 21, 2014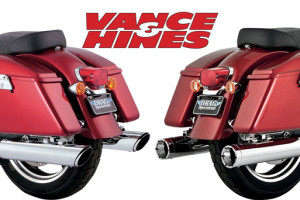 Vance & Hines
is a leading motorcycle exhaust company. For decades, they have been manufacturing after-market motorcycle parts that riders are sure to love. They have been at the forefront of innovation within the motorcycle industry.

"From metal forming to smartphone-driven electronics, we believe pushing the envelope for design and technology is the way forward," reads the Vance & Hines website. "At the end of the day, our goal is not just to make an American-made product, but to create products that inspire motorcyclists around the world."

The height of Vance & Hines' evolution can be seen with two slip-on exhausts made elusively for the Harley-Davidson Dyna Switchback. These chrome-plated slip-on exhausts are complete with heat shields over the head pipes and give the bike a classic look. These mufflers give the Switchback a custom true dual look, and are available with either round Monster CNC-machined end caps or Vance & Hines' signature twin slash ends.

One way Vance & Hines sets itself apart from the competition is through the mounting of its exhaust systems. In 2012, the company designed a "new flat plane mounting panel for the 12mm oxygen sensors utilized on the Dyna Switchback," reads the website. This allows the sensors to sit deeper into the exhaust, giving more efficient feedback to the electronic control module.

[caption id="attachment_34338" align="alignright" width="300"][mageProductLink sku="v66005" title=""]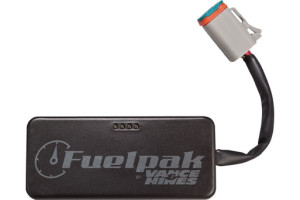 [/mageProductLink] [mageProductLink sku="v66005" title="Vance & Hines FP3 Fuelpak"]Vance & Hines FP3 Fuelpak[/mageProductLink][/caption]

The Monster Duals exhaust system is just one more great product from Vance & Hines. Another popular motorcycle accessory from this brand is the Fuelpak, which will help riders monitor their fuel levels and other aspects of their bike from their smartphone.

As technological advancements can make all the difference and safety and performance for riders, it's no wonder so many riders choose Vance & Hines when looking to update their bikes.

Vance & Hines Dyna Switchback Image Gallery
(Click for full size images)