AIMExpo Scheduled For October
Chaparral Motorsports
|
September 14, 2014
Motorcycle riders will flock to the Orange County Convention Center in Orlando, Florida, October 16 to 19, for the 2014 American International Motorcycle Expo. Attendees will be given the opportunity to learn more about motorcycles and get an up-close look at new products.

"Trade attendees have access to the most comprehensive education and networking opportunities in the industry, view new products and connect with exhibitors and distributors, media receives world-class access to product launches and media amenities, and the general public receives a backstage pass to it all!" reads the event's website. "AIMExpo is the single most important show of its type in the North American market."

Add Another Vendor To The List
[caption id="attachment_33813" align="alignright" width="300"]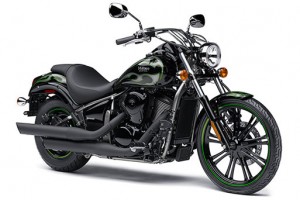 Kawasaki Vulcan 900 Custom[/caption]

The AIMExpo will feature some of the newest products and motorcycles to hit the market, and Kawasaki has decided to hop on the band wagon. Kawasaki noted that it will use the event as the venue to showcase one of its new 2015 products.

"AIMExpo demonstrated last year that it can serve as the ideal platform for media and brand activities and Kawasaki will leverage this grand stage to reveal new products, as well as interact closely with dealers and consumers," said Kevin Allen, manager of brand experience at Kawasaki. "We have some very exciting new product to share and AIMExpo is the perfect place to make these announcements."

[caption id="attachment_33814" align="alignright" width="300"]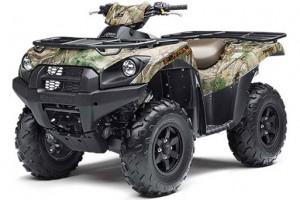 Kawasaki Brute Force 750[/caption]

After Kawasaki unveils its new product, event-goers will have the chance to see it up close at the company's booth. The motorcycle products company is one of more than 400 vendors that will be present at the 2014 AIMExpo.

"Kawasaki joins an expanding list of key companies that sees AIMExpo as the perfect means to infuse energy into the powersports business in North America," said Larry Little, vice president and general manager of Marketplace Events Motorcycle Group. "The AIMExpo platform was strategically created for OEM's to globally launch product to the press and engage their dealer body while also generating excitement among consumers with an immediate look at the brand's new vehicles. Kawasaki has captured the vision, and we're elated for them to join us in Orlando in October."

Other Highlights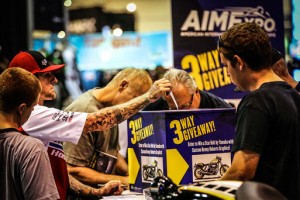 The American Motorcycle Association is also hosting the 2014 AMA National Convention at the AIMExpo. The event will feature demo rides, motorcycle seminars and product displays. In addition, a new rider will be named to the AMA Motorcycle Hall of Fame during an Induction Ceremony.

"AMA members come from all areas of motorcycling, and the 2014 AMA National Convention is designed with all of them in mind," said AMA President and CEO Rob Dingman. "Like the AIMExpo, which itself offers something for everyone, so will our convention, whether you are a new rider exploring options in the demo ride area or an AMA Life Member attending the AMA Motorcycle Hall of Fame induction ceremony."

The AMA National Convention will also feature a member meeting, business member meeting and seminars on motorcycles for AMA members. In addition, event planners will also offer exclusive benefits.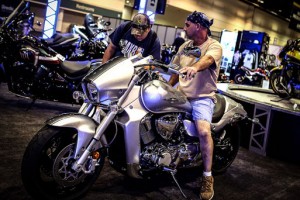 Larry Little, the AMA's vice president and general manager, said that this event is about promoting the motorcycle lifestyle, adding that it's the "grand stage for motorcycling in North America." Little said that with so many great vendors and events like the AMA National Convention and the AMA Motorcycle Hall of Fame Induction Ceremony, those in attendance at this AIMExpo should be in for a fun weekend.

The AIMExpo is perfect for first-timers interested in motorcycling, or for veterans who have logged plenty of miles. The expo will be exciting for the whole family and will give riders an opportunity to learn, network and check out some new great products.