KTM Releasing New 1290 Super Adventure
Chaparral Motorsports
|
August 21, 2014
[caption id="attachment_33392" align="alignright" width="300"]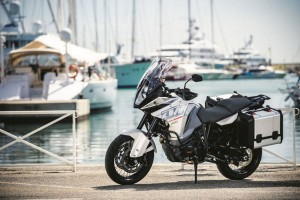 2015 KTM 1290 Super Adventure at the Marina - Photo: R. Schedl[/caption]

KTM, a leading motorcycle manufacturer, recently announced that it will be adding a new bike to its lineup in 2015.

As the name suggests, the 1290 Super Adventure is based off 2014's 1190 Adventure model. The new bike will not only add displacement , but fuel capacity as well, since it features a larger fuel tank than the outgoing bike. The new motorcycle is what KTM refers to as "the absolute pinnacle of luxury sport touring riding."

"The Super Adventure features a bigger engine capacity to increase power and torque," read the company's website. "An incredibly large fuel tank will mean long durations before the need to stop; perfect for when the journey is long or so addictive that the rider just doesn't want to get off the saddle."

Any rider heading on a long trip across the country will have the confidence they need to go the extra mile with the KTM 1290 Super Adventure. The bike will feature a Motorcycle Stability Control system, which was developed by Bosch, and is an anti-lock braking system that works even while a rider is cornering. This innovative design makes these bikes some of the safest in the world, according to KTM. The company noted that the Motorcycle Stability Control system comes with a wide range of presets so as to "not remove any riding enjoyment."

Find A Bike To Fit Your Needs
Shopping for a motorcycle can be a challenge, as there are so many different models on the market.

A rider will want to assess their needs. What will they be doing with their motorcycle? This will help them narrow their choice down to a specific bike, like a touring or off-road vehicle.

From there, it's important to do their homework and thoroughly consider every aspect of bike. From the handlebars to the foot pegs, taking extra time to look over and research a bike is worth it.