Chris Bach Rides To A Win At Copperhead Row MAXC
Chaparral Motorsports
|
August 15, 2014
[caption id="attachment_33396" align="alignright" width="300"]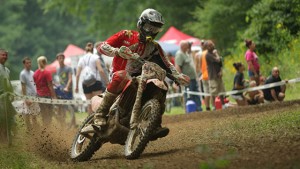 Chris Bach 2014 AMA Mid-America Cross Country Series - Copperhead Row[/caption]

The track at Copperhead Row in Martinsville, Indiana, needed some breaking in, so Chris Bach cleverly hung back until the last couple laps. Once he saw his opportunity, he took the lead.

In the last few laps, Bach went back and forth for first place with Teddy Mullins, who had won a previous race in the series. However, a mechanical issue took Mullins out of the race and it would be Bach that finished first.

"At the beginning I didn't want to lead because the track needed breaking in," Bach told CycleNews. "It was a tough course just the way it was laid out and some of the guys were struggling on some of the hills. It made it pretty tough to pull away from anybody, but it was a pretty good race day!"

Derrik Allen came in second after falling as low as fourth place. Austin Lee came in third, after taking the holeshot. He still holds the series points lead, with Allen and Bach close behind.

"I felt like I had a lot of speed on the track and everything was going good," Lee told the news source. "But I lost time every lap in a mudhole before an uphill and you're not going to win doing that. I lost a lot of time and positions there, but other than that, I liked the track."

Watch Out For Those Mudholes
Dirt bike riding
can be a grueling endeavor and riders need quality gear to keep them safe and comfortable. Whether it's a good helmet, boots, a roost deflector or gloves, the right gear can make all the difference when caught in a mudhole.

Riders are encouraged to go the extra mile when shopping for motorcycle gear so they can go the extra mile on the course.