Hold The Phone: Kuryakyn's Motorcycle Handlebar IPhone Mount
Chaparral Motorsports
|
June 26, 2014
When people think of cruising down the highway on their motorcycle they think of freedom; freedom to roam and freedom from the confinements of the office, home, or riding in a car. Usually the last thing most people want to look at or think about when on a motorcycle ride is text messages, tweets, Instagram images or phone calls. But there are some situations where having easy access to your phone or being able to quickly glance at the screen is a must. When those occasions arise people will come up with some very creative (and maybe not so safe) ways to mount their phone to their handlebars.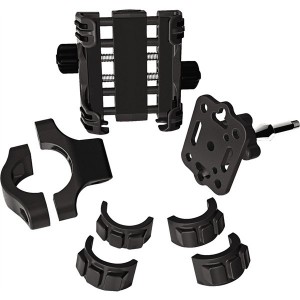 Cell phones are expensive-especially if you stay up to date with the latest smartphone release-so when it comes to securing your phone to your motorcycle handlebars its best practice to go with a mount that will hold your phone, is adjustable to help reduce sun glare, and is easy to install/remove. You can find all those features in [mageProductLink sku="025-1699" title=""]Kuryakyn's Tech Connect Kit for Handlebars[/mageProductLink].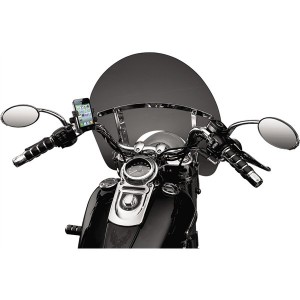 Designed to fit a wide assortment of handlebars ranging from 7/8-inches up to 1-1/4 inches thick, Kuryakyn's Tech Connect Kit with its adjustable cradle provides a stable and secure way to place your cell phone in an area where you can glance or tap the screen. Obviously we don't recommend using the mount to hold the phone so you can send text messages to your friends, but it's a great motorcycle accessory to have to supplement items like a Bluetooth motorcycle helmet as well as providing an easy way to use your phone as a GPS device. Kuryakyn's Tech Connect Kit is also very easy to install, watch the video above and see for yourself.