Project LiveWire: Harley-Davidson's First Electric Motorcycle
Chaparral Motorsports
|
June 19, 2014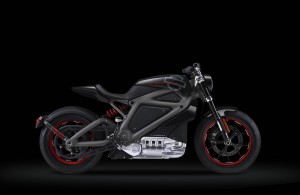 The motorcycle world woke up to a shock this morning as Harley-Davidson revealed its first ever electric motorcycle: Project LiveWire.

On the heels of a banner year for pushing its boundaries with the launch of the Project Rushmore 2014 water-cooled Touring models and the first completely new model reveals in 13 years with the Street 750 and 500, no one expected to see Harley come out with an all-electric motorcycle-not so soon at least.

Currently a prototype and therefore not available as a production bike, Project LiveWire will continue down Harley's path of recruiting the public's suggestions and feedback for the development of its products and motorcycles. With the Livewire H-D will be gauging the public's interest and taking careful notes on recommendations to determine the viability of incorporating such a model into their lineup.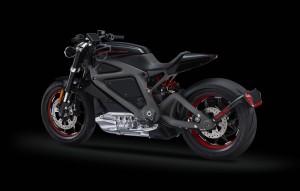 While details and specs about the LiveWire are still scarce (Harley is being excessively tight lipped about revealing too much about a model that is not a production bike) what we have seen and learned is, gone is the iconic 45-degree V-twin powerplant Harley is most known for. In its place is a longitudinally-mounted, three-phase, AC motor rated at 74 horsepower and 52 pound-feet of peak torque. Harley says the bike is capable of zipping off from 0-60 in less than four seconds. The LiveWire is also electronically governed to a top speed of 92 mph. Power is derived from a lithium-ion battery with a range of about 53 miles and charges in about 3-1/2 hours at 220 volts.


Many will joke that you'll have to mount an iPod to the bike to get the distinct "potato-potato-potato" Harley sound. But sound was a key factor amongst H-D engineers and designers in the development of the LiveWire, "The sound is a distinct part of the thrill," says Mark-Hans Richer, Senior Vice President and Chief Marketing Officer, Harley-Davidson Motor Company. "Think fighter jet on an aircraft carrier. Project LiveWire's unique sound was designed to differentiate it from internal combustion and other electric motorcycles on the market." When you watch the videos circulating the internet you can definitely hear that high-pitched whine, it's like a jet engine or turbo spooling up.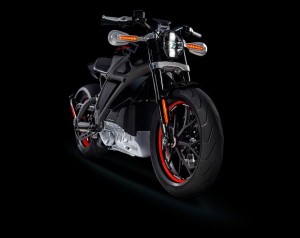 The chassis is based on a one-piece, cast aluminum frame and swingarm with a texture coated finish. Weight is a big factor in EV performance, (both power-wise and mileage-wise) and Harley took that into consideration with a frame that weighs only 14 pounds. In addition, with no emissions to expel there's no exhaust system, which also helps reduce the overall weight factor and make for a much more streamlined appearance.

Additional weight was saved by employing aluminum wheels with hollow spokes, which according to Harley are the lightest the company has ever produced. Tires are Harley-Davidson-branded Michelin motorcycle tires with a 120/70-18 running up front and 180/55-17 bringing up the rear.

Front suspension is handled by an inverted, Showa Big Piston Fork with a single, coil-over rear shock, both of which are tuneable.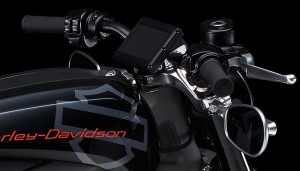 You can't have an electronic motorcycle without some cool gadgetry, and the LiveWire delivers with what looks to be about a 6 to 8 inch TFT LED display that provides a host of diagnostic and performance information. There is also the ability to choose from a Range or Power mode depending on the type of riding you'll be doing.

As stated earlier, the Motor Company is using the LiveWire as a meter to gauge interest and input from both its hardcore fans and the general public worldwide. To help facilitate that endeavor, Harley is kicking off a Route 66 tour next week that will run through the end of the year stopping at 30 dealerships along the way. During this time select consumers will be able to ride and provide feedback on the bike, and even those who don't ride will be able to get a feel for the power of Project LiveWire though a simulated riding experience called Jumpstart. In 2015, the Project LiveWire Experience will continue in the U.S. and expand into Canada and Europe.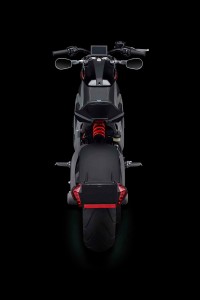 While some may look at the sporty and aggressive naked-bike lines of the LiveWire and think, "why would Harley, the iconic cruiser motorcycle manufacturer, create a bike that is so drastically different stylistically than what has worked so well for them in the past?" And that is a great question, one that could be answered many ways. With the electric motorcycles that have come out in recent years from manufacturers like Brammo and Zero, Harley had the opportunity to create a cruiser or Touring style electric motorcycle that would have drastically stood apart from the others and still would have shocked and wowed people. However, if they were to do that there would be the detractors and Harley haters with their typical responses that would go something like, "looks like every other Harley, just with an electric motor."

What it comes down to is, if Harley is going to continue to draw new customers and a younger demographic to supplement is aging core demographic, they have to get out of their comfort zone and take chances, hence the launch of the ultra-light cruisers, the Street 750 and 500. And that is exactly where the LiveWire fits into place. The purpose of Project LiveWire wasn't about re-hashing the tried and true cruiser, it's about innovation and reinvention from an American company steeped in 111 years of iconic history. "America at its best has always been about reinvention," said Matt Levatich, H-D President and COO. "Like America, Harley-Davidson has reinvented itself many times in our history, with customers leading us every step of the way. Project LiveWire is another exciting, customer-led moment in our history."

Fans can learn more about Project LiveWire, as well as specific dates and locations for Project LiveWire Experience stops at projectlivewire.com. Harley-Davidson also invites anyone who is interested in the possibilities of the future to follow and engage with the company on its social media channels, including Facebook, Twitter and Instagram.