2014 X Games Austin Enduro X Results
Chaparral Motorsports
|
June 11, 2014
Taddy Blazusiak And Kacy Martinez Win Austin X Games Enduro X Gold
[caption id="attachment_32406" align="alignright" width="300"]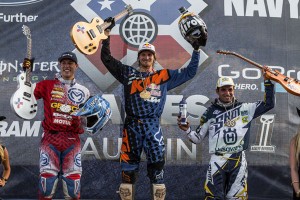 Enduro X Men's Podium - Photo: Drew Ruiz[/caption]

Poland's Taddy Blazusiak added another Enduro X Gold medal to his collection with an exciting win at the inaugural Austin X Games. American Cody Webb passed two riders in the closing laps to take the silver medal. Spain's Alfredo Gomez rounded out the podium on his Factory Husqvarna.

Blazusiak, the KTM Factory rider, exchanged the lead a few times with Mike Brown on the opening lap and then opened a small gap after Brown went down. Colton Haaker on the Lucas Oil, Rockstar JCR Honda was closing rapidly when Blazusiak crashed allowing Haaker to close to his back wheel. The two riders battled back and forth for several laps and then Haaker made his move when Blazusiak got held up by a lapped rider but crashed as he tried to get around the outside. This allowed Gomez and Webb to close right up on Blazusiak and Webb moved past both Gomez and the downed Haaker in the same section.

Beta USA, GEICO backed Webb pushed hard to close in on Blazusiak on the last lap but came up just short. Haaker recovered to challenge Gomez for the final medal position but could not make the move.

"I did not feel that great on this track and it seemed a little one lined so getting that start was important," said Blazusiak. "Brown pushed me really hard on that first lap and then I got a good lead before that stupid crash. And I could hear Haaker behind me but just kept pushing to hit my lines and it feels great to get my fourth X Games Gold".

[caption id="attachment_32405" align="alignleft" width="300"]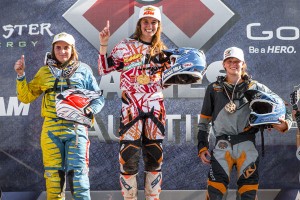 Enduro X Women's Podium - Photo: Drew Ruiz[/caption]

In the Women's class, KTM's Kacy Martinez took her first ever X Games gold medal with a wire to wire win. Spain's Sandra Gomez kept it close throughout on her Husqvarna and took the silver medal. Rachel Gutish, celebrated her recent high school graduation with a Bronze medal on her team RPM KTM.

"I felt amazing during my race that was the best I rode all day" said Martinez. "On the last lap, I was like, I can do this, I am going to get a gold medal and it felt amazing to cross the finish line with all those people cheering."

Round three of the 2014 GEICO AMA EnduroCross Championship will visit Sacramento, California on Saturday, June 21st.

Tickets for the Sacramento event are available at Good Times Motorsports, PCP Motorsports, Riverfront Kawasaki and the Sleep Train Arena Box Office or online at ticketmaster.com.

For additional ticket information, visit www.EnduroCross.com/buy-tickets/

Men's Main event Video:
http://espn.go.com/video/clip?id=11044564
Women's Main event Video:
http://www.youtube.com/watch?v=8baPY_pqM_E

Source: EnduroCross

Gold For Taddy Blazusiak At 2nd Round Of EnduroCross At X-Games In Texas
[caption id="attachment_32414" align="alignright" width="300"]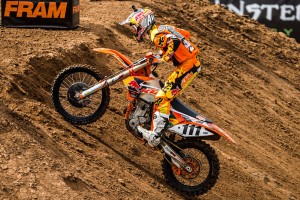 Taddy Blazusiak - Photo: Drew Ruiz[/caption]

Red Bull KTM Factory rider Taddy Blazusiak of Poland picked up his fourth gold medal at the 2014 X-Games and second round of the AMA EnduroCross Series at the Circuit of the Americas Grand Prix facility in Austin, Texas.

Red Bull athlete and KTM rider Taddy Blazusiak is now poised to take over the lead from Cody Webb, with just one point separating the lead on the championship table - setting up a hard fought fight for the 2014 title. Factory FMF/KTM rider Taylor Robert, fresh from a solid ninth-place finish in the Erzbergrodeo Red Bull Hare Scramble last weekend, finished sixth. Blazusiak is a former 5-times winner of the Red Bull Hare Scramble.

Robert contested the first heat race, was third at the first corner and then moved up to second after passing Webb in the matrix. He then made a mistake on the last lap in the rock section but finished third to qualify for the final.

On his KTM 250 EXC-F Blazusiak had a difficult start in heat two after he slid out in the first corner but quickly picked up his bike and exited at eighth place. In typical fighting style he had worked his way back to third by the close of the first lap then slipped by Mike Brown and Geoff Aaron in the rock section to take over the lead. Blazusiak then led the remaining 4 laps to transfer into the main.

[caption id="attachment_32409" align="alignleft" width="300"]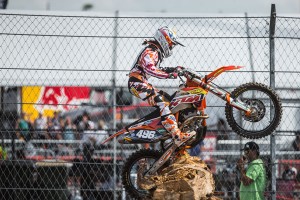 Kacy Martinez - Photo: Drew Ruiz[/caption]

At the start of the main event Blazusiak was second out of the first corner behind Brown then doubled through the water obstacle to take over the lead. He stayed out in front until mid-race then went down in the rocks. Colton Haaker jumped in behind him and the two riders battled wheel to wheel for a few laps before lapped traffic allowed Blazusiak to put time on Haaker. With two laps to go Blazusiak continued to stretch out his lead and he went on to seal his fourth X-Games gold medal.

"It feels great to win another X-Games gold", stated Blazusiak. "I struggled a little this morning with some of the jumps in practice, but the main is where it counts."

Robert was mid pack at the start and fifth at the half-way mark in the main. Then he made a mistake that allowed Max Gerston to pass him and went on to finish in sixth place. KTM riders also took places 7-10 in the men's competition.

Factory FMF/KTM rider Kacy Martinez was thrilled to earn her first-ever X-Games gold medal. She launched her KTM off the start of the women's event to grab the holeshot and never looked back, leading every lap of the six-lap race. KTM rider Rachel Gutish took the bronze medal. The women's event did not accrue points towards the AMA Championship.

Next Round: June 21, 2014 - Sacramento, CA

Source: KTM North America

Cody Webb Grabs X Games Silver
[caption id="attachment_32413" align="alignright" width="300"]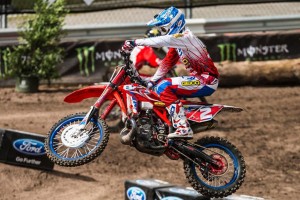 Cody Webb - Photo: Drew Ruiz[/caption]

Friday, the EnduroCross series returned to X Games Austin under the title Enduro X. This year's track featured more jumps, a technical rock corner, and a matrix of logs. The hard-packed track favored the power of the four strokes while the rocks favored the agility of the two strokes. In the Main event, Cody Webb worked his way up to the 2nd place position by race's end to grab a silver medal.

"The track was a lot different than what I was expecting and the conditions weren't that friendly for the two stroke," Webb comments. "My 300 RR worked perfectly all day and I was able to pull through in second and still have the points lead going into Sacramento in two weeks, which I'm very excited about." Webb remains the series points leader going into the 3rd Round of EnduroCross.

Max Gerston debuted the newest Factory Beta 350 RR in competition for Beta USA at X Games Austin. Gerston launched himself into fifth place; a career best finish.

Gerston explains, "The track was fast and fun. My all new Factory Beta 350 RR was working flawlessly and suited the track perfectly. I was able to transfer to the main right out of my heat and save energy for the main. I got a bad start in the main but was able to keep moving forward and charge ahead. I was having a lot of fun on the jumpy track, and my bike excelled in the rocks."

Source: Beta USA

X Games Bronze For Alfredo Gomez At Enduro X
Husqvarna Motorcycles' Alfredo Gomez takes X Games Bronze at Enduro X in Texas.
[caption id="attachment_32411" align="alignright" width="300"]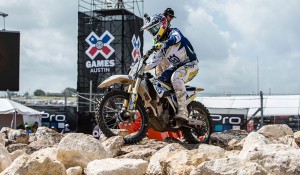 Alfredo Gomez - Photo: Eddie Perlas/ESPN Images[/caption]

Bel-Ray Husqvarna Factory Racing's Alfredo Gomez made the long trip to Austin, Texas in the US worthwhile to win a Bronze Medal in the Men's Enduro X Final at X Games. Ensuring a successful night for both Husqvarna Motorcycles and the Gomez family, Alfredo's sister Sandra claimed a fantastic Silver Medal in the Women's Enduro X Final.

Just days after his terrific fourth place result at the Red Bull Hare Scramble in Erzberg, Austria, Gomez took his place on the start line for X Games. Quickly getting to grips with the fast flowing technical course, the Husqvarna rider placed third in his heat race to qualify directly through to the final. A poor start but quick recovery saw the Spaniard squeeze into third place on the opening lap. Continuing to fight for the final step of the podium throughout the entire 10-lap event, Gomez chased Taddy Blazusiak and Cody Webb across the finish line to secure third.

In the Women's Final, Sandra Gomez made it a night to remember for Husqvarna Motorcycles by securing the Silver Medal. Placing a comfortable second on her TC 125, Gomez earned her third X Games medal while recording her best ever finish in Enduro X to date.

For USA's Mike Brown his night didn't go to plan. Despite taking the holeshot in the Men's Final, the Husqvarna rider got stuck in the tricky rock garden and lost time on the leaders. Pushing hard to regain the time lost, Brown crashed again and was forced to retire from the race.

Alfredo Gomez:
"Winning an X Games medal is an incredible feeling. It was a tough race and a difficult track. There were a lot of jumps and I wasn't that comfortable on them. I was very happy to qualify for the final because I knew if I could be in the final I could have a great race. My start was not great but I attacked hard on the first lap and quickly got up to third. I battled all race with Cody Webb and Colton Haaker and in the end I got on the podium. It's brilliant, I'm so happy."
Source: Husqvarna Motorcycles

Ronnie Renner Takes 6th X-Games Step-Up Gold
[caption id="attachment_32408" align="alignright" width="200"]
Ronnie Renner - Photo: Drew Ruiz[/caption]

Ronnie Renner earned his 6th gold medal in Step-Up at the 2014 X-Games held at the Circuit of the Americas Grand Prix facility in Austin, TX.

Renner entered his sixteenth X-Games appearance confident from the start of the afternoon practice session, to clearing the first height of 24 feet in the final. Renner cleared the bar in the next two rounds with ease with all riders remaining. Without difficulty, Renner made it over 30 feet and then 32 feet where three of his top competitors were eliminated.

"I was pumped when we made it over 32," said Renner. "I knew I was at least in medal contention at that point, but at the same time knew I could keep going higher."

It was down to three riders at 33 feet and Renner was able to move on and Libor Podmol was eliminated. The bar was then raised to 33 feet and 6 inches in which both Renner and Bryce Hudson comfortably cleared. In the last round, Renner was able to beat out Hudson by clearing 34 feet, clinching the 2014 X-Games gold in Step-Up.

Source: KTM North America

2014 X Games Austin Overview And Point Standings
2014 X Games Austin Image Gallery (Click for full size images)


Overall Results Enduro X

























































































































































| Finish | # | Brand | Name | Points Earned |
| --- | --- | --- | --- | --- |
| 1 | 1 | KTM | Taddy Blazusiak | 26 |
| 2 | 2 | BTA | Cody Webb | 22 |
| 3 | 89 | KTM | Alfredo Gomez | 20 |
| 4 | 10 | HON | Colton Haaker | 19 |
| 5 | 15 | BTA | Max Gerston | 16 |
| 6 | 33 | KTM | Taylor Robert | 15 |
| 7 | 118 | SHR | Cory Graffunder | 15 |
| 8 | 114 | KTM | Ty Tremaine | 13 |
| 9 | 4 | KTM | Geoff Aaron | 12 |
| 10 | 7 | KTM | Kyle Redmond | 11 |
| 11 | 84 | KTM | Chris Hollis | 10 |
| 12 | 3 | HSQ | Mike Brown | 9 |
| 13 | 123 | KTM | Kevin Rookstool | 8 |
| 14 | 9 | KTM | Bobby Prochnau | 7 |
| 15 | 8 | Kaw | Destry Abbott | 6 |
| 16 | 324 | KTM | Gary Sutherlin | 5 |
| 17 | 5 | KTM | Bryan Roper | 4 |
| 18 | 27 | CHR | Wallace Palmer | 3 |
| 19 | 48 | Unk | Edward Hubner | 2 |
| 20 | 200 | BTA | Eric Rhoten | 1 |
2014 AMA EnduroCross Rider Point Standings - EX Pro Class ( Race 2 of 9 )


Cody Webb - 48

Taddy Blazusiak - 47

Colton Haaker - 43

Taylor Robert - 31

Cory Graffunder - 28

Geoff Aaron - 27

Bobby Prochnau - 25

Max Gerston - 22

Alfredo Gomez - 20

Gary Sutherlin - 19

Overall Results Enduro X Womens Class


Kacy Martinez

Sandra Gomez Cantero

Rachel Gutish

Chantelle Bykerk

Shelby Turner

Emma Bristow

Tarah Geiger

Kristie McKinnon

Lexi Pechout

Morgan Tanke

Rily Ellinger

Melissa Harten

2014 AMA EnduroCross Rider Point Standings - Womens Class ( Race 1 of 8 )


Kacy Martinez - 25

Shelby Turner - 22

Morgan Tanke - 20

Rachel Gutish - 18

Lexi Pechout - 16

Chantelle Bykerk - 15

Tarah Gieger - 14

Melissa Harten - 13

Rily Ellinger - 12

Jessica Patterson - 11

Overall Results Step Up


Ronnie Renner

Bryce Hudson

Libor Podmol

Josh Hansen

Massimo Bianconcini

Matt Buyten