Motorcycle Exhaust Laws In California
Chaparral Motorsports
|
May 13, 2014
|
Last Updated: June 11, 2020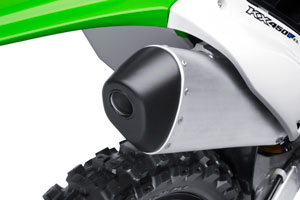 Motorcycle riders frequently consider making alterations to a machine so they can achieve just the custom bike they are looking for. Modifying the exhaust system is a great way to get a strong sound that matches the powerful look and feel of a motorcycle, but riders must be aware of some facts before they start tinkering with the machine.
Updating a motorcycle exhaust system can improve a bike's appearance and acceleration, as well as its sound. That's part of the reason why it's the most common aftermarket modification out there. Switching to a slip-on muffler or an entirely new set of pipes can drastically change the performance and engine sound, and all riders have to do to complete this task is remove the existing system and attach their chosen replacement.
California Exhaust Law
California law requires that all motor vehicles, including motorcycles, comply with state code with regard to sound emissions. These rules are meant to protect pedestrians and residents from noise pollution, as engines that are too loud can disturb the peace or even set off car alarms as they go by. California enforces maximum sound limits depending on when the motorcycle was made. The most popular manufacturers comply with these rules with their stock models, but modifications to an exhaust system will change the sound output, so riders must measure the noise as they continue to tinker with a bike.
All off-highway vehicles must be equipped with a silencer, or muffler, as well as an USDF approved spark arrestor. The maximum allowable sound from an exhaust system varies according to the date manufactured, but not as widely as total sound emissions. Noise emissions from an off-highway vehicle's exhaust system (whether it is classified as a competition vehicle* or not) are limited to 96 dBA if manufactured on or after January 1, 1998; and 101 dBA for those manufactured prior to January 1, 1998. This sound test is conducted by measuring the exhaust's sound output from a distance of 20 inches away ( a test procedure known as SAE Standard J-1287).
Riders should also note that it is illegal to modify an exhaust system to exceed the sound limits. While it may be tempting to enhance your bike as much as you can, you will have to employ several checks to ensure you are within the confines of the law. It is also illegal for anyone to sell a muffler that does not fall in line with the state law, however, so buying from a reputable provider ensures that you have the right materials to comply with the code.
*Competition off-highway vehicles are those that are not manufactured to comply with EPA noise or California emission standards
Noise Regulations by Model Year
| Year | Street | OHV |
| --- | --- | --- |
| 1970-1972 | 88 dBA | 92 dBA |
| 1973-1974 | 86 dBA | 88 dBA |
| 1975-1985 | 83 dBA | 86 dBA |
| 1986-Current | 80 dBA | 82 dBA |
California Emissions Standards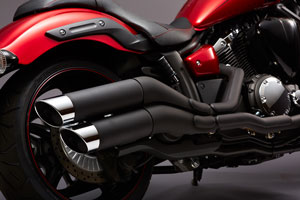 While the sound emissions are important, it is equally important to pay attention to the pollution emissions your new motorcycle exhaust will generate. The California Air Resources Board (CARB) regulates pollution emissions from all motorcycles in California. California's anti-tampering law (Vehicle Code section 27156) makes it illegal to alter any emission-related part or accessory on any pollution-controlled vehicle, and both street (since 1979) and off-road vehicles (since 1997) are subject to this regulation. While vehicles classified as competition vehicles do not have to meet emission standards, they also cannot be driven outside of a closed-course competition environment.
Manufacturers of after-market exhaust parts can petition the CARB for an exemption from this rule for their various products. If the CARB finds that the motorcycle part allows the required pollution emissions requirements to be met, and it doesn't reduce the effectiveness of any required emission control device, then it will be granted an exemption - allowing it to be sold and used in California.
It is also important to recognize that any changes made to a motorcycle will have to be approved by the proper governing board in the state. Each exempt product is issued an Executive Order number (which can be verified on the CARB website) and any add-on or modified parts without this number will cause your vehicle to fail the visual portion of the Smog Check inspection. In addition, any motorcycle model that is dated 2013 or later or has an aftermarket exhaust system must have an official noise emission label from the Environmental Protection Agency placed on it before it can be lawfully operated or even parked in the state of California.
More Information on California Exhaust Laws 2019
Motorcycle Industry Council - This special interest group has prepared a brochure with CA Motorcycle Exhaust FAQ.
American Motorcyclist Association - Their website has an overview of various motorcycle laws for every state.
California State Parks - The state agency has some information regarding California OHV laws.