2015 Monster Energy Supercross Schedule Announced
Chaparral Motorsports
|
May 7, 2014
The 2015 Season to go On-sale Exclusively to Cross Club Members May 5
[caption id="attachment_31897" align="alignright" width="300"]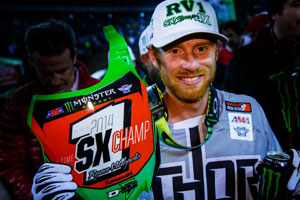 Ryan Villopoto 2014 AMA Supercross Champion[/caption]

Feld Motor Sports® announced the 17-race schedule for the 2015 Monster Energy AMA Supercross, an FIM World Championship, season. The world's premier off-road motorcycle racing championship will once again visit the most prestigious stadiums across the U.S., including a pair of new stops. In total, the world's best riders will visit 10 different states and 14 different venues in 2015.

Monster Energy Supercross will make its debut at Levi's Stadium in Santa Clara, Calif., home of the NFL's San Francisco 49ers, and Petco Park in San Diego, Calif., home to Major League Baseball's San Diego Padres. Levi's Stadium will serve as the 15th race of the season, on April 18, resulting in two visits to California's Bay Area with the annual race from Oakland's O.co Coliseum, on January 24. In addition, the championship will have two stops at Atlanta's Georgia Dome. The Atlanta race has been home to the largest capacity crowds each of the last few years and will host races on February 21 and February 28. The Georgia Dome joins Angel Stadium in Anaheim, Calif., as the only two venues with multiple races.

"As Monster Energy Supercross continues to grow and expand its fan base, so does the championship schedule," said Charlie Mancuso, president of Feld Motor Sports. "We are proud to welcome two new state-of-the-art venues to the schedule with Levi's Stadium (Santa Clara) and Petco Park (San Diego) next season and we are excited to bring an additional race to the southeast with back-to-back Atlanta races."

[caption id="attachment_31896" align="alignleft" width="200"]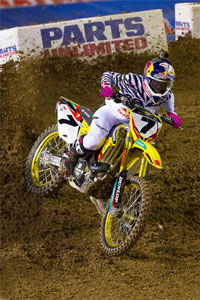 James Stewart 2014 AMA Supercross Las Vegas[/caption]

As it has for over two decades, Anaheim will once again kick off the 2015 Monster Energy Supercross season on January 3 for the first of three races inside Angel Stadium over the first five weekends of competition (January 17 and January 31). Widely considered to be the "home" of Monster Energy Supercross, Anaheim will host its 64th, 65th, and 66th races in 2015 to maintain its legacy as the most visited Monster Energy Supercross city of all time.

The 2015 season will also feature the championship's second consecutive visit to the New York area with a return to MetLife Stadium in East Rutherford, N.J. After an incredibly successful debut at the venue last week in which Ryan Villopoto made history by becoming just the second rider in history to win four consecutive titles, the world's premier media market will once again host the penultimate stop of the championship on April 25.

Also making its return for a second straight year is Detroit's Ford Field, which welcomed Monster Energy Supercross back to the Motor City in 2014 with the signature lane built into the seats. The one-of-a-kind venue will play host to the championship again next season, on March 21, as the 12th stop on the schedule.

[caption id="attachment_31898" align="alignright" width="200"]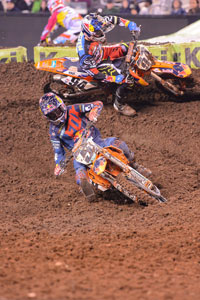 Ryan Dungey & Ken Roczen - 2014 AMA Supercross East Rutherford - Photo: Simon Cudby[/caption]

"With new stadiums and another year of a premier television package on FOX Sports 1, the 2015 Monster Energy Supercross season is going to be bigger and better than ever before," said Todd Jendro, Feld Motor Sports, Vice President of Two Wheel Operations. "We are in the midst of the most competitive and compelling era in the history of the sport and the 2015 schedule will provide even more emerging story lines. With Ryan Villopoto gunning for a record fifth straight title, and the likes of James Stewart, Chad Reed, Ryan Dungey, Ken Roczen and more all looking to bring his reign to an end, we're in for an incredible 2015 season with some great new venues to showcase the sport."

"The 2015 Monster Energy Supercross season is going to be very exciting," said Monster Energy Kawasaki's Ryan Villopoto. "We have a couple of new stadiums on the schedule and after how successful the event was at MetLife Stadium, I'm really looking forward to going back there and I know we will have a great time at the brand new stadium in Santa Clara. Also going to Petco Park in downtown San Diego will give Feld a chance to get a little more creative with the track design in the baseball stadium."

Pre-sale tickets for the 2015 Monster Energy Supercross season (except San Diego and Santa Clara) will begin on Monday, May 5th, following the 2014 season finale in Las Vegas. The May 5th on-sale is exclusive to Cross Club members only. To become a Cross Club member for free and have access to the best tickets, click on the following link https://www.supercrosslive.com/newsletter. The Ticketmaster.com pre-sale kicks off on Wednesday, May 7th. The general public on-sale begins on Friday, May 9th. For more information, log onto www.SupercrossOnline.com.

2015 AMA Supercross Schedule
Date
Venue
City
Round 1
January 3
Angel Stadium
Anaheim, CA
Round 2
January 10
Chase Field
Phoenix, AZ
Round 3
January 17
Angel Stadium
Anaheim, CA
Round 4
January 24
O.Co Coliseum
Oakland, CA
Round 5
January 31
Angel Stadium
Anaheim, CA
Round 6^
February 7
Petco Park
San Diego, CA
Round 7
February 14
AT&T Stadium
Arlington, TX
Round 8
February 21
Georgia Dome
Atlanta, GA
Round 9
February 28
Georgia Dome
Atlanta, GA
Round 10**
March 7
Daytona International Speedway
Daytona Beach, FL
Round 11
March 14
Lucas Oil Stadium
Indianapolis, IN
Round 12
March 21
Ford Field
Detroit, MI
Round 13
March 28
Edward Jones Dome
St. Louis, MO
Round 14
April 11
NRG Stadium
Houston, TX
Round 15^^
April 18
Levi's Stadium
Santa Clara, CA
Round 16
April 25
MetLife Stadium
East Rutherford, NJ
Round 17
May 2
Sam Boyd Stadium
Las Vegas, NV
** Not a Feld Motor Sports Race
^The San Diego race will go on-sale July 12, 2014
^^The Santa Clara race will go on-sale June 25, 2014
Source: Feld Motor Sports