How To Install A Kuryakyn Premier Affordable Throttle Assist
Chaparral Motorsports
|
April 24, 2014
[embed]http://www.youtube.com/watch?v=70QYJ3F8WUc[/embed]
A long motorcycle ride can be a very relaxing experience as your body gets in tune with rhythms of the road and your thoughts and worries wash away with the passing wind. However, unless you were fortunate enough to purchase a motorcycle that came with an electronic cruise control or throttle assist device things can go south in a hurry when your throttle wrist and/or hand starts to cramp up.
There are plenty of motorcycle accessories that can make life on the road a much more pleasant experience but adding some type of throttle control device can often mean the difference between long stretches of throttle twisting and hours of excruciating pain, cramping, or numbness. Most people would love to have an electronic cruise control on their motorcycle because of the ability to set the speed and then maintain/regulate that speed in all types of situations, from straight flat-land riding to inclines and declines. The problem with electronic cruise control is that it can cost a lot of money, take a lot of time to install, and is often year, make, and model specific with a very limited fitment.

The biggest downfall with a manual throttle assist accessory is that unlike an electronic cruise control system that monitors speed/and or engine RPM to maintain the desired set speed at all times, the manual type "locks" the throttle at a set position. This means where you would normally let off the throttle in a downhill situation to maintain your speed or slow down you would keep accelerating. And in an incline situation, instead of adding more throttle to cruise up the hill, with a throttle assist you'd most likely lose speed and possibly lug the engine. There is an upside though and that is, once set, most throttle assist devices can manually be slightly rotated to slow down or speed up without having to repeatedly turn the device on or off.

More good news about manual throttle assists devices is that they can be very inexpensive and are much easier/doesn't take as long to install. Also there are a lot more options to choose from for both cruiser and touring motorcycles and several manufacturers even offer universal fitment for a wide variety of motorcycles, which means you could possibly transfer the device from one bike to another if needed.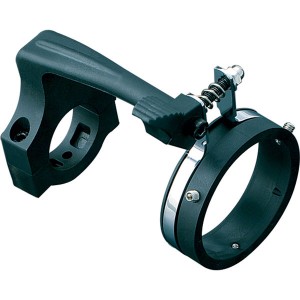 Kuryakyn offers several different styles of throttle assist devices but the one that caught our attention was the Premier Affordable Throttle Assist. Designed to work on a wide array of motorcycles and can be fit to either 7/8-inch or 1-inch handlebars, the [mageProductLink sku="025-6218" title=""]Premier Affordable Throttle Assist[/mageProductLink] can be installed with basic hand tools in just a matter of minutes. Best of all it doesn't require any irreversible modification be made to the bike to be installed. Watch the video above to see just how easy it is to install.