Problem Solved: Installing A Motorcycle Sissybar Bag When There's No Sissybar
Chaparral Motorsports
|
March 18, 2014
|
Last Updated: September 11, 2020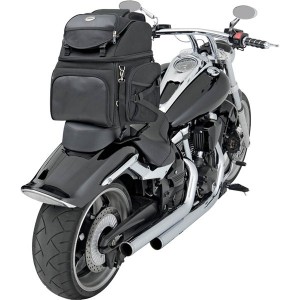 Motorcycle luggage comes in many shapes, styles, and mounting options. For cruiser motorcycle riders and Harley-Davidson owners one of the go-to pieces of motorcycle luggage is a sissybar bag. As you might expect, this type of bag can be secured to the motorcycle via the motorcycle sissybar/passenger backrest. Sissybar bags have either a Velcro or adjustable strap that slips around the backrest to help support the bag. This type of motorcycle luggage is popular because it's easy to install/remove and can be mounted on the front of the sissybar and used for back support on a solo ride, or it can be mounted on the back of the sissybar when carrying a passenger. Many cruiser and Harley owners have backrests installed on their motorcycles making a sissybar bag the optimal choice for adding storage to their ride. Most sissybar bags can also be mounted to a motorcycle luggage rack, providing that the bag isn't too tall or the rack is so narrow that the bag is wobbly or unstable.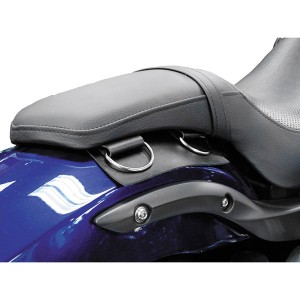 For those that don't have a sissybar or a luggage rack there is still an easy way to securely mount a bag to the rear of a motorcycle. The Hooker from Willie and Max is a rectangular shaped piece of durable material that has four metal D rings (two on each side). The Hooker installs over the top of the rear fender and under the passenger seat. The D rings provide attachment points for the bag straps while the passenger seat keeps the Hooker secured to the motorcycle.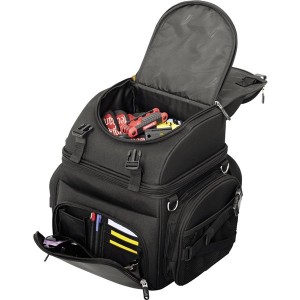 Another option would be to get a motorcycle bag like the Saddlemen BR1800 which can be mounted via a sissybar or luggage rack but also comes with its own adjustable harness similar to the Hooker so that you can mount the bag on the passenger seat. The video below shows how to install the BR1800 on a bike without a luggage rack or motorcycle backrest.