AMA To Present Motorcycle Documentary At Daytona Bike Week
Chaparral Motorsports
|
March 6, 2014
AMA presents Bike Week premier of 'Why We Ride,' March 13 in Daytona Beach, Fla. -- Free for AMA members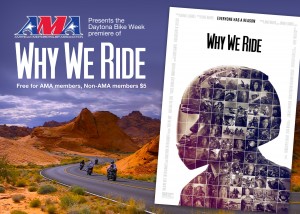 The American Motorcyclist Association is pleased to present the Daytona Bike Week premiere of the acclaimed motorcycling documentary film "Why We Ride" on March 13 in Daytona Beach, Fla. Best of all, it's free for AMA members!

The movie will be shown at 7 p.m. at the Paragon Ocean Walk theater just across from the parking deck on the beachside in Daytona Beach (250 N Atlantic Ave). Tickets can be reserved in advance at the following link: http://events.constantcontact.com/register/event?llr=vw9ldxbab&oeidk=a07e8zzbsky17598cf2

Non-members are also welcome, and tickets can be purchased from the above link for just $5 each. Seating is limited, with tickets available on a first-come, first-served basis.

"'Why We Ride' is an inspiring film that celebrates all that is great about motorcycling, and we're pleased to work with the producers to bring this free showing to AMA members in Daytona for Bike Week," said AMA President and CEO Rob Dingman. "Several of the riders, racers and legends featured in the film will be on-hand for this exclusive showing, and we hope to see AMA members and other motorcyclists there for an unforgettable evening."

For their efforts to elevate motorcycling, the film's producers were awarded the 2014 AMA Hazel Kolb Brighter Image Award by the AMA Board of Directors. (Info here: http://americanmotorcyclist.com/news/ridingnews/14-01-30/American_Motorcyclist_Association_announces_2014_award_recipients.aspx)

Here's how the show's producers describe "Why We Ride":
"An inspiring celebration of the motorcycling community, this documentary film shares the passion of motorcycle riding and shows the camaraderie of the friends and families who ride together. As told by the many racers, riders, pioneers, and parents in the sport, the story weaves its way through generations of motorcyclists who live each day to the fullest on their two-wheeled machines. The refreshing message about the joys of motorcycling, coupled with state of the art photography, capture the imagination and set the soul in motion."
You can view the trailer for "Why We Ride" here: http://vimeo.com/75545684

RSVP today: http://events.constantcontact.com/register/event?llr=vw9ldxbab&oeidk=a07e8zzbsky17598cf2

About the American Motorcyclist Association
Founded in 1924, the AMA is a not-for-profit member-based association whose mission is to promote the motorcycle lifestyle and protect the future of motorcycling. As the world's largest motorcycling rights and event sanctioning organization, the AMA advocates for riders' interests at all levels of government and sanctions thousands of competition and recreational events every year. The AMA also provides money-saving discounts on products and services for its members. Through the AMA Motorcycle Hall of Fame in Pickerington, Ohio, the AMA honors the heroes and heritage of motorcycling. For more information, visit www.americanmotorcyclist.com.