2014 AMA Supercross Atlanta Race Results
Chaparral Motorsports
|
February 23, 2014
Ken Roczen Claims 2nd Career Win At Atlanta Supercross, Ryan Dungey 3rd!
[caption id="attachment_30731" align="alignright" width="300"]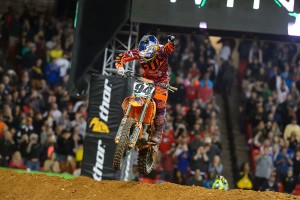 Photo: Simon Cudby[/caption]

Red Bull KTM Factory rider Ken Roczen took his second career 450SX victory in front of a sold out Georgia Dome crowd at the eighth round of the Monster Energy Supercross Series. Making it a sweeter night for the Red Bull KTM Factory Team, Ryan Dungey joined Roczen on the podium and gained valuable points in the championship standings with a 3rd place result in Atlanta.

Ken Roczen and Ryan Dungey stayed as close as can be throughout the early portion of the night show when they were paired together in the first heat. It was Roczen who leaped out to a better start in 5th position while Dungey was a bit further back just above mid-pack. Roczen was able to close the gap on two riders in front of him to finish 3rd overall. Meanwhile, Dungey made a few critical passes of his own to climb up to 4th and take a transfer spot to the main event.

When the gate dropped for the main event, Roczen on his KTM 450 SX-F rounded the first corner in 3rd place while Dungey was two spots back in 5th position. On lap two, the 2nd place ride of James Stewart crashed in a right-hand corner allowing both Roczen and Dungey to move up one position. Once in 2nd place, Roczen began to close-in on the lead ride of Mike Alessi.

Three laps later, Roczen missed a triple jump allowing the 3rd place ride of Ryan Villopoto to move around him. Roczen never let Villopoto out of his sight, and one lap later, the two of them closed the gap on Alessi and made the pass through the whoops. Dungey followed suit and made his pass right after the finish line jump of that same lap. The top three remained in close battle throughout the remainder of the race. With six laps to go, Roczen moved closer to Villopoto and began to apply pressure to take over the lead. Villopoto fell victim to the pressure and missed a triple jump allowing Roczen to jump over him to take the position.

[caption id="attachment_30728" align="alignleft" width="200"]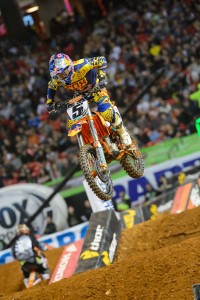 Photo: Simon Cudby[/caption]

Now in the lead, Roczen held steady and was able to hang on to cross the checkers and take his second-ever career 450SX class win. His teammate Dungey hung on to finish 3rd.

"It feels so great to get a win", stated Roczen. "Getting on the podium is nice, but to get a win is so much better. It proves that hard work pays off. I am so happy I was able to pull it off and so thankful to my team for being behind me and building me a great bike."

Dungey commented, "It was great that the three of us were so close but the track got really rough at the end. I tried to take a few different lines to see if I could make up some time but the track was so rough it was hard. We work hard every week to make things better and we are ready to get on the top step of the podium."

Now halfway through the season, Roczen trails Villopoto 9 points in the overall standings while Dungey sits 4th overall in the championship.

Next Round: March 1, 2014 - Indianapolis, IN

Source: KTM North America

Monster Energy/Pro Circuit/Kawasaki's Martin Davalos Captures First Career Win in Atlanta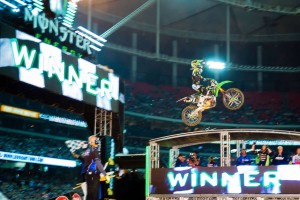 Monster Energy/Pro Circuit/Kawasaki continued their dominance of the 250SX class in Atlanta by capturing their fourth straight main event win on Saturday. In front of his hometown crowd at the Georgia Dome, Martin Davalos became the third consecutive rider to achieve his first professional win following Justin Hill in San Diego and Adam Cianciarulo in Dallas. Cianciarulo bounced back from qualifying through the LCQ to finish second and remain in the points lead, while Blake Baggett fought through the field to finish fifth. Monster Energy Kawasaki's Ryan Villopoto led nine laps of the 450SX main event but a mistake with five laps remaining dropped him to finish in second place.

Long Time Coming
In his ninth professional year of supercross, Davalos was finally able to capture his first professional 250SX class win. Davalos has been known for his supercross skills since his rookie debut in 2006, but the stars had yet to align until Saturday night. For two consecutive weekends the Ecuadorian has been fastest qualifier and won his heat race and now has the allusive main event win he has been chasing. Davalos took the lead coming into the second turn and never looked back leading wire-to-wire.

"It's an unbelievable feeling," said Martin. "It's been a long time coming and I couldn't have done it without everyone who has stuck behind me all this time. My family is here from Ecuador, which means the world to me. People don't realize what I've done to commit to chasing this dream."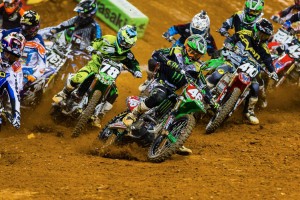 Determined
Throughout qualifying the rookie Cianciarulo did not seem affected by the weight of the red plates on his KX250F. It wasn't until the gate dropped for the heat race that he found himself on the ground twice and was forced to the LCQ. Appearing more like a veteran than a rookie, AC grabbed the holeshot and won his spot into the main event without falter. Lining up outside like he did in the LCQ, he was able to grab another holeshot and battled for the lead heading into the next turn. He stayed on the heels of Davalos for the full 15 laps, but could not close the gap.

"I made my first rookie mistakes tonight," said Cianciarulo. "I saw the flashing lights for the caution during the main and thought I had to roll the section. I lost a lot of time on Martin. I won't be making that mistake again. But considering how the night started, I'm happy to be on the podium and stoked for Martin and the team."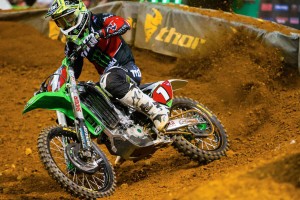 Finding his Groove
Villopoto found himself in an unfamiliar place during qualifying as he was struggling with the track and qualified eighth. Before the night show, the Monster Energy Kawasaki team made some adjustments to his KX450F and he went out and won his heat race. In the main event, the champ lost some ground on the first lap, but picked off riders and led for nine laps before making a mistake. He dropped to second and continued to chase the leader but could not make up the time he gave away.

"My own mistakes cost me the win," said Villopoto. "It took us a little longer than we wanted to figure out the track, but we had the bike dialed for the night show. I came around the inside after the big double and just slid out enough that I couldn't make the triple."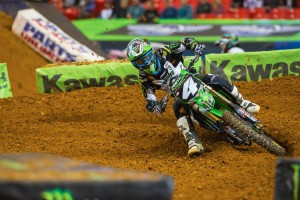 Moving Forward
Baggett was strong and confident in Atlanta and grabbed his first heat race win of the season right off the bat. In the main event he got pushed around on the start and found himself last on the start straight. Undeterred, Baggett progressively moved through the field and crossed the finish line in fifth place.

"Tonight wasn't what we wanted," said Baggett. "That said I salvaged a good amount of points and have to look at it that way. We're still sitting third behind Adam and Martin and we'll be back next week."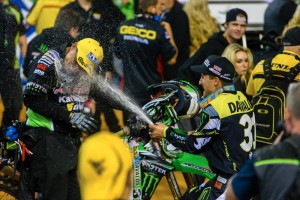 Nerves
Davalos has led many supercross main events, including last weekend in Dallas, but misfortune had always found him. After establishing himself out front and building a gap on Cianciarulo, the nerves started to get to him. He backed down his speed to play it safe, but that almost cost him when a mistake nearly put him on the ground with one lap remaining.

"I knew I had a good gap on Adam and didn't want to take any chances," said Davalos. "But I was cruising too much and just about went down! I'm happy to get this out of the way and continue this success each weekend."

Keys to the City
Monster Energy Supercross continues its Eastern swing in one weeks time returning to Lucas Oil Stadium in Indianapolis, Ind., next Saturday. Villopoto has stood atop the podium the past four years in Indy and will look continue that streak.

Source: Kawasaki Racing

James Stewart Holds 3rd After Atlanta Crash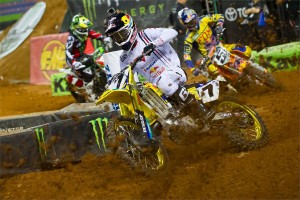 Yoshimura Suzuki Factory Racing's James Stewart showed true grit and determination at round eight of the 2014 AMA/ FIM World Supercross Championship at Atlanta's Georgia Dome on Saturday night.

Stewart bounced back from a lap-one get-off, racing his Yoshimura Suzuki RM-Z450 through the field to 11th place by race's end; and despite the challenging circumstances of the evening, he still held-on to third place in the overall championship points.

Although the Main Event didn't go as Stewart had hoped, the overall Atlanta race was a good one for the Yoshimura Suzuki rider: He qualified fastest in practice and led all six laps of his heat race to take the win. In the Main Event, Stewart got a good launch on his Yoshimura Suzuki RM-Z450 and was running up-front before the end of lap one. Unfortunately, he lost the front end and went down and had to work his way through the field from dead last. Despite the overwhelming odds, Stewart still managed to secure a respectable finish.

James Stewart:
"I came across the start straight and lost the front end going into the corner. I'm bummed. I was riding good all day and felt great going into the Main Event, but you can't win when you're on the ground. I did my best to come back but the track was super-slippery, so the harder I rode, the slower I went. I was just happy to get back up and salvage as many points as I could. But I'm still confident and feeling good about my riding and I have to thank the Yoshimura Suzuki team for working so hard. We're all disappointed but we'll go back and get ready to come back strong for Indy."
Yoshimura Suzuki Factory Racing's next event is the ninth round of the 2014 AMA/ FIM World Supercross Championships on Saturday, March 1st at Lucas Oil Stadium in Indianapolis, Indiana.



Source: Team Suzuki

RCH Soaring Eagle Team Throws Down In The ATL
[caption id="attachment_30725" align="alignright" width="300"]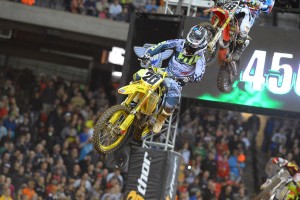 Photo: Simon Cudby[/caption]

It was the best of times and potentially some of the worst of times for the RCH Soaring Eagle Supercross Team in Atlanta. In a twisted version of literary classic "A Tale Of Two Cities" both Josh Hill #75 and Broc Tickle #20 went from their best times of the SX season in Dallas last weekend only to have what could have been the worst of times in Atlanta this weekend. However in a demonstration of maturity and professionalism, the entire RCH Soaring Eagle Supercross Team showed their true colors and turned in a performance that books are written about.

Actually their afternoon qualifying sessions were literally among the best of times as Tickle was one of only four riders to turn a 52-second lap time. This netted Tickle third overall and a great gate pick for his heat race. But a bobble by Hill in the first heat and a cheap shot in the second heat that took out Tickle after he had charged into a qualifying position resulted in both RCH Soaring Eagle riders having to ride the semis.

Heat #1 saw Hill get a top 5 start, but a miscue dropped him to 8th. He regrouped and tried to make a run for one of the four transfer spots, but only made it up to 7th at the finish, resulting in a trip to the semi. However the real drama was in Heat #2 as Broc Tickle arguably rode the race of his life. "I felt awesome today," said Tickle. "I had great practice times and rode great in the heat. I started third and tried to make a pass on Wil Hahn for second when I stalled my bike." From stalling out of contention, Tickle then put on an epic charge!

[caption id="attachment_30722" align="alignleft" width="300"]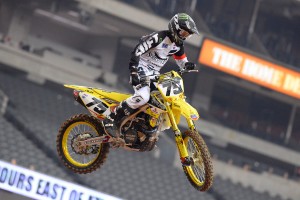 Photo: Simon Cudby[/caption]

"Broc has been on point all day," said team principal Ricky Carmichael from the broadcast booth. "He has been great in the whoops. I told him if he had any problems getting by someone, just to wait for the whoops." It looked like everything was going exactly to plan as Broc charged from 8th to 4th on the last lap (remember, only four riders transfer in the new semi format for this season). Tickle's charge earned him a transfer spot when he passed Mike Alessi then all Hell broke loose!

Knowing that Carmichael couldn't say too much about the incident, Jeff Emig jumped in on the TV telecast and said "That was a straight T-Bone move" as Alessi appeared to deliberately launch his bike right into the #20 machine. If you haven't seen it enough times yet, check this out:


After seeing the replay, RC admitted it looked like a cheap shot to him, too. "I try not to pump my own team too much on TV, but Broc has been riding well all day and that was a cheap shot that took him out. You just don't do something like Alessi did. Poor decisions like this are what have kept Mike from realizing his potential."

[caption id="attachment_30726" align="alignright" width="200"]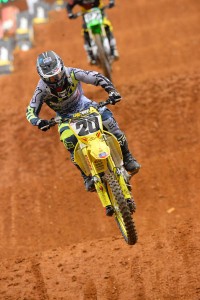 Photo: Simon Cudby[/caption]

On the positive side RCH Soaring Eagle received more TV time than the race winner Ken Roczen. During the afternoon qualifying, RC shared the view from the announcers box to his social media followers; then before the first 450 Heat, Broc Tickle did a quick trackside interview. However this was just the beginning of the media furor that unfortunately overshadowed just how well Tickle had been riding. Broc was interviewed by Fox Sports' Jenny Taft again after the incident. Showing true poise and composure fresh from the heat of battle in the heat race, Broc said, "My perspective?" I thought I had made a clean pass and I wasn't expecting it." Tickle was remarkably calm trackside before having to ride in the semi. "I got taken out and ejected off the bike, it caught me off guard."

Tickle shook off the crash and put in a strong ride to finish a solid second just behind Andrew Short in the semi. Rather than letting the incident with Alessi upset him, Broc was totally focused in the semi, nearly taking the holeshot and riding smart the whole race. "Short rides a really wide bike at times," noted RC. "I'm happy to see Broc able to put the crash behind him and ride so smart." It wasn't as easy as Tickle made it look, though. "My ribs andbreathing were bothering me," said Broc. "Dr. G did what he could before the main, but I wasn't feeling it like I had earlier in the day."

Like Tickle, Heat #2 saw teammate Josh HIll ride well and transfer into the main. Hill had a top five start and held back waiting for any mistakes by the leaders. However with one lap to go, Hill wicked it up and blew past a couple of riders (one on the last turn) to take 3rd and get a better gate pick in the main.

[caption id="attachment_30721" align="alignleft" width="200"]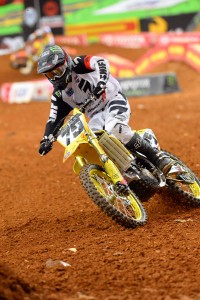 Photo: Simon Cudby[/caption]

When the gate dropped for the 450 main event, both the RCH Racing Soaring Eagle Suzuki's were 9th and 18th. By the fifth circuit of the 20 lap main event, Broc was up to 8th and Hill was in 16th finding himself in an unexpected battle with another Suzuki rider, James Stewart who had crashed while contesting the lead. In the ultimate bit of irony, Broc found himself atching Alessi as the laps wound down.

When the checkers finally fell, Tickle had tied his best result of the season with 7th to match Dallas last week. By showing composure and professionalism, Broc maintains top 10 of the rider standings despite missing two rounds. "I'm looking forward to this week and riding the rest of the series. I'm pumpedwith the way I rode all night." he added of his speed.

Teammate Hill hung on to finish 13th and stays top 15th in the standings. "Bad starts just hampered my night," said Hill. "It was hectic with people going down everywhere. By the time I got going, everyone was gone." Whether it is on the track or in the pits, the RCH Racing Soaring Eagle team is always in the thick of it! Join us in the pits before each Supercross race where we have everything from the Suzuki Holeshot Experience to the team autograph signing. Some lucky winner every week gets an all-expense paid trip to the Soaring Eagle Luxury Resort! Next week the RCH Racing Soaring Eagle Team heads to the Lucas Oil Dome in Indianapolis for Round 9 on March 1.

Source: RCH Soaring Eagle

Bad Starts Hamper Rockstar Energy Racing In ATL
[caption id="attachment_30723" align="alignright" width="300"]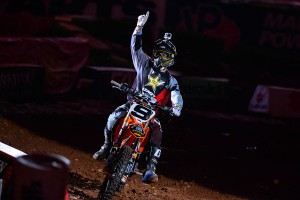 Photo: Simon Cudby[/caption]

The trip to the most attended race each year in the Georgia Dome proved to be an off night for the entire team. For the 2nd consecutive week the track was built with clay and increasingly slippery as the evening progressed. A slick and technical track is very difficult to pass on so bad starts equal less than stellar finishes and that is what the night equated out to. On a positive note however, both riders left Atlanta healthy putting a track that saw a plethora of crashes behind them.

Ivan Tedesco has been consistent in his heat races thus far in 2014. In fact he has been one spot out of qualifying in what seems like nearly every round. If he could just find a way to be one position faster, he could make things a lot easier on himself and be less fatigued entering the main, as well as obtain a more preferred gate choice. That's easier said than done however as every rider finishing in front of Ivan each week has either won a professional championship or at the very least 450 main events. That's a testament to the level of talent currently fielded in the premiere class.

Tedesco was able to successfully transfer out of the semi again however, thus skipping the dangerous last chance qualifier. As the gate dropped for the main event, he just didn't get a good jump at all and decided to cut to the inside. The result was not good as he started in the back. He made several passes and moved near the top ten before his progress stalled. He engaged in a battle with Josh Hill and a little game of cat and mouse ensued. IT ended up on the short end of that commotion as he was unable to jump the big triple and lost positions in the process. He was able to recover enough and fight through to regain a couple spots but was certainly displeased with his performance overall.

Ivan Tedesco:
"Rough night for me in that main. I got a bad start and was on the outside. I got arm pump like the 5th lap in and I was honestly struggling just to finish the race. I don't know what happened, I just got tight. That's about it, I finished 14th, pretty bad. Just going to move onto the next one which is all we can do."
[caption id="attachment_30733" align="alignleft" width="300"]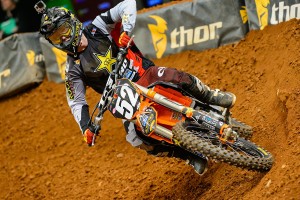 Photo: Simon Cudby[/caption]

Cole Thompson had a much better day in Qualifying practice than the inaugural East Coast 250 round a week ago. Then in his heat race he had a good start and was near the front. As the track winded around and crossed back over the start, there was a fairly large double out of an off camber turn. Cole spun coming up to the jump and still went for it. He was not even close and cased it about as bad as physically possible with out going down. In fact it was a miracle the he stayed up after hitting his face on the handlebars and leaving a huge divot in the ground. He recollected himself and went on to qualify anyway.

In the main event he had another good start but unfortunately came together with Blake Bagget going down the straight and ended up near last place exiting the first turn. Sprint speed is very important the first few laps, especially when getting a bad start. Moves need to be made quickly so riders can be picked off in bunches before things spread out. The first few laps is where Cole has been struggling. He was still able to make his way back in the top ten though which is commendable for anyone on that track.

After the race Thompson put the blame solely on himself. He stated that everything around him is excellent and that he just didn't perform. Perhaps Cole is being too hard on himself, or maybe that is just what he needs to do to take that next step. He has top 5 speed and it won't be long before he figures it all out.

Cole Thompson:
"Not my best night of riding, I finished 8th. Got a bad start and wasn't really aggressive the first few laps. The track was tricky tonight and I just didn't make things happen quick enough."
The series now heads to Indianapolis and Lucas Oil Stadium. Another round that sees 60,000 plus spectators. Tedesco will work on his speed and getting out of the gate better. Thompson will focus on the early laps, aggressiveness and sprints to put himself where he feels he should be.

Source: Rockstar Energy Racing

Atlanta Overview And Point Standings
2014 AMA Supercross Atlanta Image Gallery (Click for full size images)


Overall Results - Supercross Class Race Time: 18:19.394






























































































































































































| Pos. | # | Rider | Bike | Interval | Best Time |
| --- | --- | --- | --- | --- | --- |
| 1 | 94 | Ken Roczen | KTM 450 SX-F Factory Edition | 20 Laps | 52.404 |
| 2 | 1 | Ryan Villopoto | Kawasaki KX 450F | +01.871 | 52.344 |
| 3 | 5 | Ryan Dungey | KTM 450 SX-F Factory Edition | +06.575 | 52.515 |
| 4 | 23 | Wil Hahn | Honda CRF 450 | +20.608 | 53.315 |
| 5 | 10 | Justin Brayton | Yamaha YZ450F | +24.032 | 53.464 |
| 6 | 800 | Mike Alessi | Suzuki RM-Z450 | +26.418 | 52.824 |
| 7 | 20 | Broc Tickle | Suzuki RM-Z450 | +26.979 | 53.546 |
| 8 | 40 | Weston Peick | Suzuki RM-Z450 | +35.678 | 53.337 |
| 9 | 33 | Joshua Grant | Yamaha YZ450F | +36.772 | 53.747 |
| 10 | 29 | Andrew Short | KTM 450 SX-F Factory Edition | +42.837 | 54.263 |
| 11 | 7 | James Stewart | Suzuki RM-Z450 | +50.090 | 53.609 |
| 12 | 44 | Matthew Goerke | KTM 450 SX-F Factory Edition | +57.899 | 54.464 |
| 13 | 75 | Josh Hill | Suzuki RM-Z450 | 19 Laps | 54.315 |
| 14 | 9 | Ivan Tedesco | KTM 350 SX-F | +07.609 | 54.327 |
| 15 | 68 | Chris Blose | Honda CRF 450 | +08.126 | 54.885 |
| 16 | 27 | Nicholas Wey | Kawasaki KX 450F | +08.860 | 54.534 |
| 17 | 11 | Kyle Chisholm | Yamaha YZ450F | +14.863 | 54.083 |
| 18 | 77 | Jimmy Albertson | Honda CRF 450 | +1:00.729 | 55.936 |
| 19 | 132 | Justin Sipes | Kawasaki KX 450F | 18 Laps | 55.199 |
| 20 | 415 | Nicholas Schmidt | Honda CRF 450 | 16 Laps | 55.909 |
| 21 | 3 | Eli Tomac | Honda CRF 450 | 6 Laps | 54.463 |
| 22 | 38 | Phillip Nicoletti | Yamaha YZ450F | 2 Laps | 57.549 |
Rider Point Standings - Supercross Class ( Race 8 of 17 )


Ryan Villopoto - 166

Ken Roczen - 157

James Stewart - 140

Ryan Dungey - 136

Justin Brayton - 130

Chad Reed - 111

Justin Barcia - 109

Andrew Short - 94

Wil Hahn - 83

Broc Tickle - 77

Manufacturer Point Standings - Supercross Class ( Race 8 of 17 )


Kawasaki - 182

KTM - 172

Suzuki - 156

Yamaha - 130

Honda - 127

Overall Results - Supercross Lites East Class Race Time: 14:12.171
| Pos. | # | Rider | Bike | Interval | Best Time |
| --- | --- | --- | --- | --- | --- |
| 1 | 31 | Martin Davalos | Kawasaki KX 250F | 15 Laps | 53.502 |
| 2 | 46 | Adam Cianciarulo | Kawasaki KX 250F | +02.779 | 53.957 |
| 3 | 32 | Justin Bogle | Honda CRF 250 | +16.011 | 54.368 |
| 4 | 36 | Blake Wharton | Honda CRF 250 | +20.038 | 54.164 |
| 5 | 4 | Blake Baggett | Kawasaki KX 250F | +23.868 | 54.442 |
| 6 | 42 | Vince Friese | Honda CRF 250 | +32.290 | 54.600 |
| 7 | 56 | James Decotis | Honda CRF 250 | +39.183 | 55.467 |
| 8 | 52 | Cole Thompson | KTM 250 SX-F | +41.536 | 55.956 |
| 9 | 78 | Matthew Lemoine | Kawasaki KX 250F | +41.809 | 56.028 |
| 10 | 62 | Mitchell Oldenburg | Honda CRF 250 | +43.809 | 55.673 |
| 11 | 88 | Jesse Wentland | Honda CRF 250 | +50.949 | 55.854 |
| 12 | 30 | Kyle Cunningham | Honda CRF 250 | +55.245 | 55.592 |
| 13 | 57 | A J Catanzaro | Honda CRF 250 | 14 Laps | 56.411 |
| 14 | 99 | Justin Starling | Honda CRF 250 | +06.137 | 56.788 |
| 15 | 533 | Gannon Audette | Kawasaki KX 250F | +14.588 | 57.283 |
| 16 | 55 | Alex Martin | Yamaha YZ250F | +16.264 | 55.749 |
| 17 | 49 | Gavin Faith | Honda CRF 250 | +18.777 | 56.067 |
| 18 | 410 | Jace Owen | Honda CRF 250 | +23.854 | 56.170 |
| 19 | 79 | Ryan Zimmer | Honda CRF 250 | 13 Laps | 58.924 |
| 20 | 267 | Anthony Rodriguez | Yamaha YZ250F | 4 Laps | 55.138 |
| 21 | 96 | Matthew Bisceglia | Honda CRF 250 | +07.618 | 55.117 |
| 22 | 47 | Kyle Peters | Honda CRF 250 | DNF | |
Rider Point Standings - Supercross Lites East Class ( Race 2 of 9 )


Adam Cianciarulo - 47

Martin Davalos - 45

Blake Baggett - 38

Justin Bogle - 36

Vince Friese - 33

Blake Wharton - 32

Cole Thompson - 28

Kyle Cunningham - 22

Mitchell Oldenburg - 22

James Decotis - 20

Manufacturer Point Standings - Supercross Lites Class ( Race 8 of 17 )


Kawasaki - 174

Honda - 167

KTM - 159

Yamaha - 115

Suzuki - 11