For The Love Of The Ride: Romancing On Two Wheels
Chaparral Motorsports
|
February 12, 2014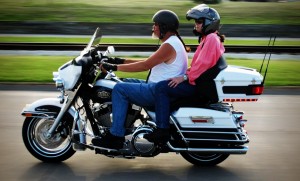 As Valentine's Day draws near, there's often a bit of anxiety and worry that begins to swirl in the mind as you contemplate things like the perfect gift, dinner reservations, weekend getaway locations, and funding the whole deal. If you haven't made dinner reservations by now, chances are you're going to be out of luck finding an open spot at any decent steak house or Italian restaurant-especially since V-Day is on a Friday this year. For those that are still trying to come up with a good surprise for that special someone or trying to make a good first date impression we suggest a motorcycle ride.

A motorcycle ride is easy, inexpensive, doesn't involve a lot of planning, and can be very romantic. What could be better than your passenger snuggling up against you with their arms wrapped tightly around your waist as you motor down the road, right? You could even make an entire weekend trip out of it or just a spontaneous "let's see where the road takes us" type of thing.

Before you head out for a romantic road trip here a couple things we suggest you consider bringing along.

Communicate
Just because you're on a motorcycle ride doesn't mean you can't communicate with one another. If you don't have one already, a motorcycle intercom system can be a very handy device not only for a romantic motorcycle ride, but for any time you are riding with your friends or in a group. [mageProductLink sku="690-smh10d-11" title=""]Sena's SMH10 Bluetooth Communication System with Universal Microphone Dual Pack[/mageProductLink] comes with everything you need to set up two motorcycle helmets so that you and your passenger or anyone within nearly 1,000 yards can communicate. The dual pack can be setup to work on full face motorcycle helmets, modular helmets, and open face motorcycle helmets. Bluetooth connectivity allows you to sync up with your phone to make/receive calls, listen to playlists on your phone, and get GPS directions. The Sena Dual Pack provides up to 12 hours of talk time and 10 days of standby time. So if your passenger turns out to be a jabber-jaw you'll have plenty of juice to get you through the trip.

Baggage is a Good Thing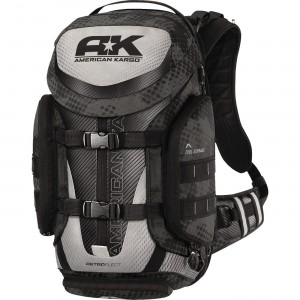 No matter where you're taking your date, chances are you're going to want stop somewhere to take in the sights and sounds. And when you do stop, what better way to surprise your date than pulling out an impromptu romantic snack and a bubbly beverage like some strawberries and sparkling cider. The question is, how are you going to conceal the secret surprises? Simple, a backpack like American [mageProductLink sku="254-3517-0329" title=""]Kargo's Trooper Backpack[/mageProductLink] has plenty of storage to carry all your food and beverage needs in its large main compartment. Plus it has a ton of individual zippered pockets for carrying items like extra clothing (in case it gets cold or things start to heat up), a laptop, sunglasses, or small speakers to set the mood with some music. You could even make a game out of all the pockets by hiding a few extra surprises throughout the backpack and making your date have to find them. The nice thing about this backpack is that it functions as a hydration system as well if you install the one of American Kargo's bladder systems. The unique butterfly chest harness offers stability and comfort through its multiple adjustment points and padded straps, making it a great fit for any size rider, men and women.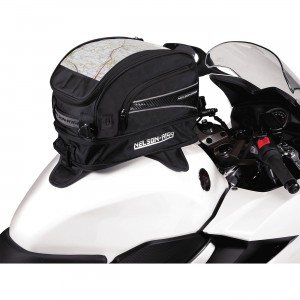 If you think a backpack is overkill, or your date refuses to wear the backpack as you ride, then a tank bag like [mageProductLink sku="204-cl-2015-mg" title=""]Nelson Rigg's CL-2015 Journey Tank Bag[/mageProductLink] might be a better option. The Journey Tank Bag is a great choice for both street bike and cruisers riders as its available in either a magnetic mount or strap mount version. While the bag looks compact when it's zipped down, when fully expanded it offers a great amount of storage-more than 18 liters-providing plenty of room for a roadside treat. With multiple compartments you can easily pack the few essential items you'll need to take along on the perfect date. The top of the bag features a large, transparent map pocket which is also touch screen device friendly. Off the bike you can use the adjustable shoulder/tether strap to convert the bag into a backpack.

It's Okay to Have a Sissy
Going on a first or blind date on a motorcycle can be a unique way to create a lasting impression, however, there's a high possibility that your date won't be accustomed to motorcycling and therefor might be a little hesitant to get on board without some kind of back support. Heck even some passengers that having been riding on the back of a motorcycle for years still refuse to throw a leg over a bike unless it has a sissy bar. A motorcycle sissy bar can mean the difference between a fun time and a traumatizing experience. [mageProductLink sku="219-02-5105" title=""]Cobra's Standard Sissy Bar[/mageProductLink] is high enough that it can provide reassuring support as well as be the crux your passenger needs to stay relaxed on a motorcycle ride. The sissy bar is available for a wide range of cruiser motorcycles and comes with chrome mounting plates, a cushy pad, and a 17-inch tall rectangular steel sissy bar.

Peg it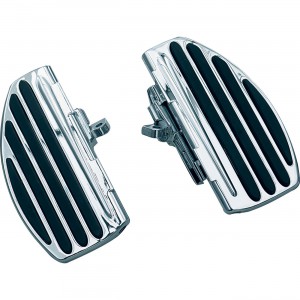 If your cruiser motorcycle didn't come with passenger pegs or you took them off because they didn't go with the customized look of your bike, be aware that you're going to have to install some. Your passenger is going to need somewhere to put their feet and all states require that a motorcycle have pegs or floorboards for the passenger to rest their feet on. So that means you better have some sport bike footpegs or cruiser pegs or floorboards on hand. Pretty much every motorcycle sold these days is outfitted to carry a passenger, so motorcycle foot rests are pretty easy to install. But if you're planning on taking a long trip then maybe you want to give your passenger some additional footing options. [mageProductLink sku="025-4455" title=""]Kuryakyn's Passenger ISO-Boards[/mageProductLink] and Mount Kit for Metric Cruisers will give your guest a broad platform to rest their feet and offers more room and the ability to set their feet down flat. Floorboards are often preferred over pegs for long distance rides as they provide more support and reduce stress and fatigue on the legs and feet. The rubber Iso pads on these floorboards will also reduce vibrations thus helping to minimize numbness in the lower extremities.

Know Before you Go
As a motorcycle enthusiast you are fully aware that it's not about the destination, it's about the ride. Your passenger on the other hand may not be so well aware and so it might be a good idea to have a scenic and pleasant route in mind with a romantic destination or rest stop planned out-this is especially true for passengers that are new to motorcycles or haven't been on the back of one in a while. Some routes/destinations we suggest are mountain passes, scenic back roads, the beach, or a campground nestled along a lake or river.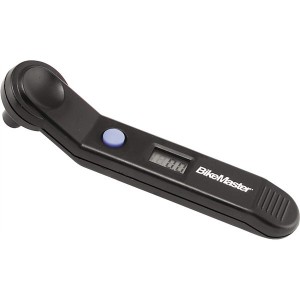 Just remember, if you do head to the mountains or any extremely twisty road for that matter, take it easy and don't push it like you might if you were by yourself or chasing your favorite riding partner. You don't want to have to pull over early due to a sick or scared passenger. Also, if you're heading to the mountains keep in mind it will get a bit cooler as you climb in elevation so you might want to bring along some cold weather motorcycle gear. Be mindful of your motorcycle tires as well. Check to make sure they are properly inflated for two up riding.A motorcycle tire pressure gauge like [mageProductLink sku="315-1502" title=""]Bikemaster's Digital Tire Gauge[/mageProductLink] is compact, easy to store and simple to use. Proper motorcycle tire inflation is especially important if you are planning a weekend getaway or lake side camping trip where the motorcycle will be loaded down with a passenger and extra gear.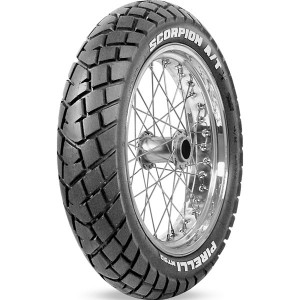 If you plan on heading off-road on some back roads for a remote picnic make sure you've got proper dual sport tires to handle the terrain you'll be encountering. More than likely you won't want to get too crazy on your off-roading excursion with a passenger hanging off the back so something like [mageProductLink sku="329-03170004" title=""]Pirelli's Scorpion MT90/AT Dual Sport Tires[/mageProductLink] should serve your needs. Designed as a 70-percent on-road/30-percent off-road tire it has rugged tread blocks to help you dig in and maintain traction when on trails or light mud, while the lower profile and compact tread design will keep a smooth ride on the street and deliver all around traction and performance in all weather conditions.

Once again, Communicate
Lastly, before you roll out on your ride make sure you and your passenger are in sync. This means ensuring both of you are aware of the intricacies involved with two-up riding. Remember that with the extra weight of a passenger it will take you a bit longer to stop and make passes, so give yourself adequate room for both. Be cautious when making turns as the extra weight will make the bike handle a bit differently and clearances may be affected. Make sure you communicate with your passenger to let them know when you are ready for them to mount/dismount the bike. The worst thing that could happen is you guys take a spill in the driveway before even clicking into first gear because your passenger caught you off guard by shifting the weight of the bike when getting on. Make sure your passenger understands the effects of leaning and how to properly move with you and the motorcycle. And be cognizant of the fact that riding in windy situations will be exacerbated with an additional body on board.

Okay, so we've given you some motorcycle accessory options, riding destinations, and a little advice on two up riding. Now you should be ready to take on some two-wheeled romance and share your love of riding with your Valentine-the rest is up to you.