Couples Therapy: Motorcycle Riding Gear That Goes Together
Chaparral Motorsports
|
February 7, 2014
|
Last Updated: September 11, 2020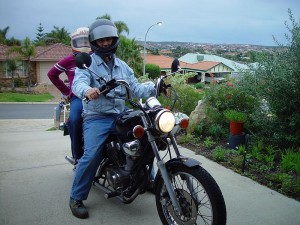 They say that the couple that rides together stays together. While we're not licensed couples therapists we'd say that motorcycle riding can help bring a couple together. No matter if you each ride your own bike or you double up on the same motorcycle, just getting out on the open road together can help relieve anger and tension, spark communication, and bring you closer together. That last bit is especially true when riding two-up. Nothing can help diminish the flames of a heated argument like your honey hugging you tightly as you motor down the road to your favorite restaurant or lookout spot.
Some couples that ride together like their motorcycle riding gear to completely match from head to toe, while others...not so much. So we decided to show you some couples riding gear options that match up together as well as some gear that maybe doesn't match completely but share some of the same color ways or color schemes.
First we are going to take a look at some head-to-toe his and her street bike gear for couples that lean more towards sport bike riding.
Helmets
For Him: LS2 MX453 Gears Dual Sport Helmet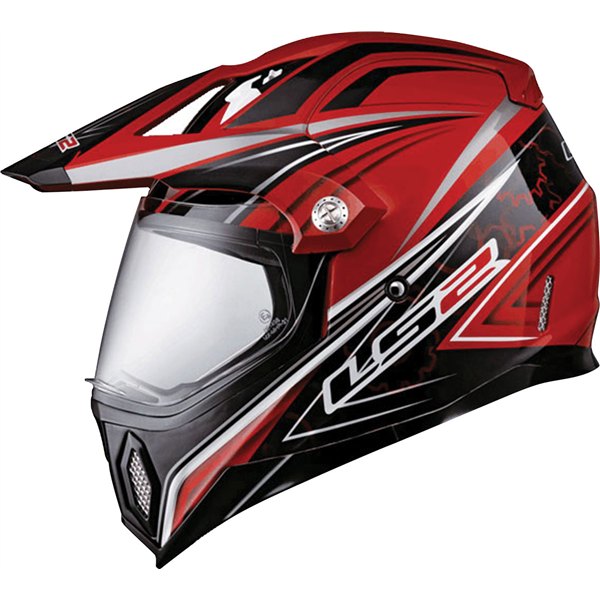 While it might be a little different than the typical street motorcycle helmet you are used to, this lid offers the best features of a dirt bike helmet and a street helmet. Comprised of a lightweight fiberglass shell, the MX shape of this helmet offers more clearance in the chin area to give you more breathing room, which can be especially handy when your activity level picks up from stunting. While most off road motorcycle helmets require the use of goggles to protect your eyes, the MX453 comes with a scratch-resistant, flip-up face shield to protect you from pelting rain, dirt, and flying road debris. The large eye port comes in very handy providing a broad peripheral vision. The visor was designed specifically to allow air to flow through so it won't cause the helmet to lift at high speeds, but will still protect you from roost or branches in the event you decide to take on some dual sport action. Ventilation isn't an issue with this helmet either as it has a two large intake ports at the peak of the chin (operated by a single up/down vent hidden on the inside of the chin bar), two intake vents at the top and an exhaust port at the rear of the helmet. When things heat up you can get a nice breeze flowing from front to back by opening all the vents or close them off when it gets a bit colder. This helmet is available in Gears Gloss Red, Gears Gloss Blue, Gears Gloss Silver, as well as a few solid color options.
For Her: LS2 FT2 FF396 Demon Full Face Helmet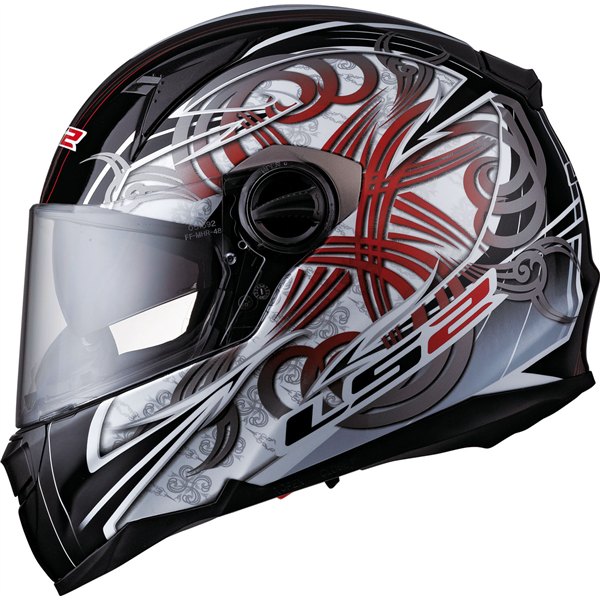 While it's made by the same company, the FF396 is quite a bit different than the MX453. This is your traditional full face motorcycle helmet. The FF396 is made of a lightweight, aerodynamic, tri-composite fiberglass shell, so it will feel light on the neck and won't cause extreme fatigue or muscle soreness after a long ride. To help get a more precise fit this helmet has LS2's built in AirGo Pump Fit system. Similar to those pump-up basketball shoes that were all the rage, the AirGo Pump Fit System allows you to inflate the ear/cheek pads for a comfortable and more secure fit. The pump is located right inside the front of the chin bar and can easily be operated with gloves on. A couple quick pumps adds air around the ear area, and then a release valve just to the left of the pump quickly lets the air out. One feature many riders will greatly appreciate is LS2's Twin Shield System. Located on the left underside of the helmet, a quick flick of the lever will drop down a tinted half shield that provides plenty of bright light protection. Another handy feature is the adjustable quick-release chinstrap which allows you to tighten the strap one notch at a time for a better fit or give it one simple pull to release the strap. Graphically this helmet will appeal to women with its light scroll work but can also be favored by men with its tribal styling. The FF396 is available in Demon Blue, Demon Black, and Demon Red to coordinate with the MX453 Gears Gloss Red. Solid color ways are also available.
Jackets
For Him: Icon Anthem Mesh Jacket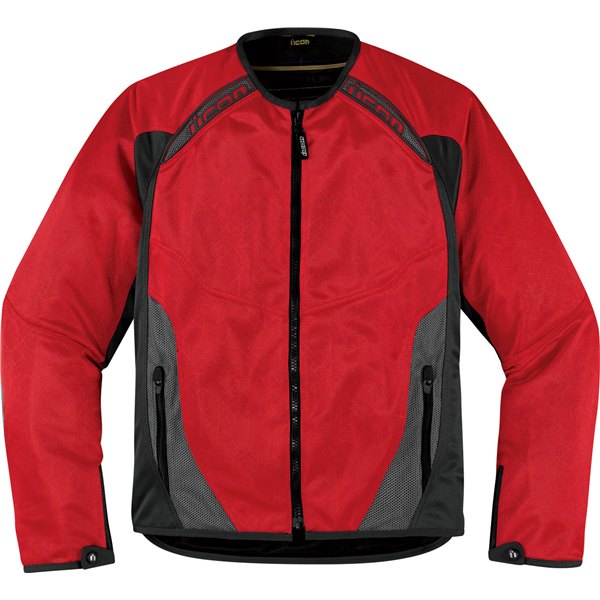 Icon's Anthem Mesh Jacket has been designed for a highly breathable and relaxed fit. For warm weather riding it is comprised of a durable mesh chassis for maximum venting and has zippered cuffs with snap closures for additional air flow. The sides feature stretch panels under the arm pits for increased mobility and easy movement when speeding through tight turns. To dial in your comfort level in changing weather conditions it comes with a zip in/out insulated wind resistant liner to provide some warmth if it gets colder. The Anthem has been designed to provide protection with removable elbow and shoulder impact protectors, a dual density foam back pad, and heavyweight impact panels on the inside of the arms and down around the lower back section. For convenience it has two external zippered pockets at the waist and an internal zippered pocket for secure storage. Also incorporated inside is a rubber earphone port as well as an elastic earphone cord manager. This textile motorcycle jacket is available in red, orange, mil-spec yellow, black, blue, grey, green, and white.
For Her: Icon Hella 2 Women's Textile Jacket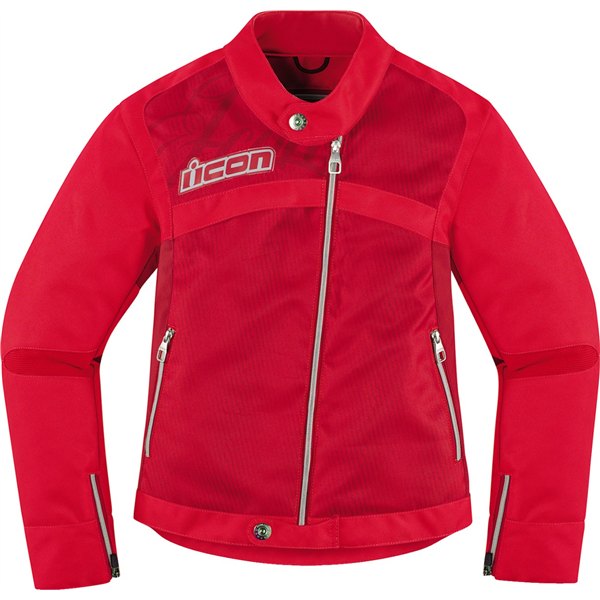 Available in black, white, and red to color up with the Men's Icon Anthem Mesh Jacket, the Hella 2 also offers plenty of warm weather cooling with its mesh and textile chassis. To help break up the solid color way this jacket has some subtle scripted graphics on the upper chest area as well as some light pin striping running down the lower portion. Cut to fit and accentuate the curves of a woman's body, it features stretch Cordura panels and articulated elbow panels to provide protection and comfort for ease of movement. The Hella 2 was also built for safety with removable elbow and shoulder impact protectors and a removable back protector. Similar to the Anthem Mesh, it has a removable insulated vest liner in case the weather gets too hot, zippered cuffs, two side pockets and an interior pocket with earphone port and elastic cord manager.
Gloves:
For Him: Cortech HDX 2 Leather Glove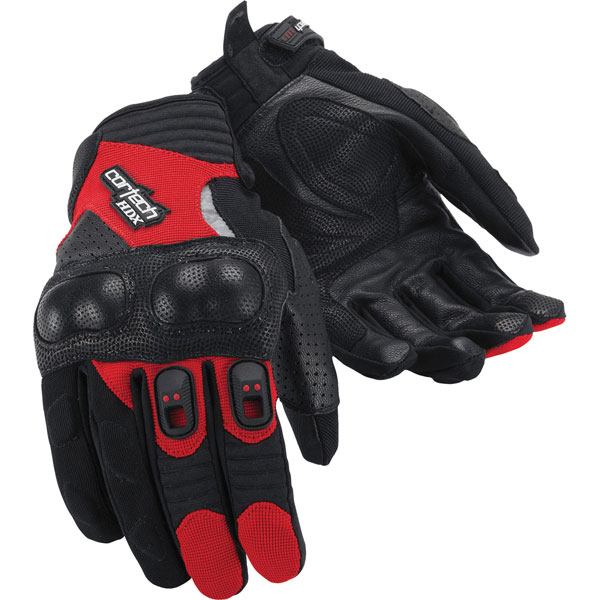 These gloves offer a mix of stretch Cordura, leather goatskin, neoprene and thermoplastic rubber. They feature molded knuckles over the hand as well as a combination of rubber and padded knuckle protection over the fingers. For durability the spandex thumb features a goatskin panel to minimize wear from grip flanges while the goatskin leather palm has an ergonomically designed palm path to help increase grip comfort and provide a firm hold when riding. Perforated neoprene fingers, knuckles, and wrist panels provide flexibility and increased comfort as well as warm weather breathability. For ease of use the pull tab at the underside of the wrist makes it easy to slip the gloves on and the Velcro hook and loop closure makes it a cinch to get a tight fit around the wrist. These gloves are offered in Red, blue, black, yellow, silver/black, white/black
For Her: Cortech GX Air 3 Vented Leather and Textile Glove
This motorcycle glove is made from comfortable, abrasion-resistant mesh and has a perforated leather backhand and fingers for warm weather riding. Knuckle protection is a mix of Thermoplastic Rubber, thick foam padding and hard plastic. A durable, reinforced and perforated goatskin palm with foam padding, helps reduce shock and vibration while providing a solid hold on the grips. A little bit longer than a standard shorty glove, these gloves come up just above the wrist. More mesh and goatskin leather around the cuff offer additional comfort and cooling. The Cortech GX Air 3 Vented Leather and Textile glove is available in sizes ranging from XS to 3XL and offered in Red, blue, yellow, and black.
Jeans
For Him: Alpinestars Outcast Tech Denim Pants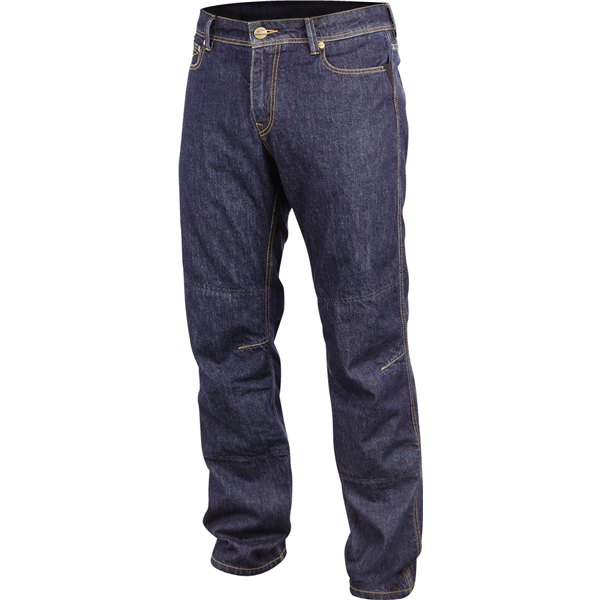 Long gone are the days of hot and uncomfortable leather pants as the only option for lower body protection, motorcycle jeans have been around for quite some time and with the advancements in styling, it's almost hard to tell the difference between a regular pair of jeans and a pair that were designed for motorcycle riding. The Outcast Tech Denim pants from Alpinestars were designed specifically for motorcycle riding. They are cut from regular/straight fit denim for a comfortable fit and excellent abrasion and tear resistance. In addition they feature strong twin stitched main seam construction for superior strength and durability. These jeans are loaded with the protection motorcyclist's desire; they have interior Kevlar® reinforcement panels in the seat, hip and knee areas, as well as removable hip protectors with Velcro attachments for safe, secure fitment. These pants even have an internal knee compartment that allows for fitment of knee protectors for even more safety (knee protectors are sold separately). Like with most jeans, riders will find the convenience of front and back pockets with the fronts featuring stretch inserts at the corners that allow for ease of entry, even with thin lightweight gloves on. These are a pair of riding pants that will last and provides protection for many miles.
For Her: Alpinestars Kerry Tech Denim Women's Pants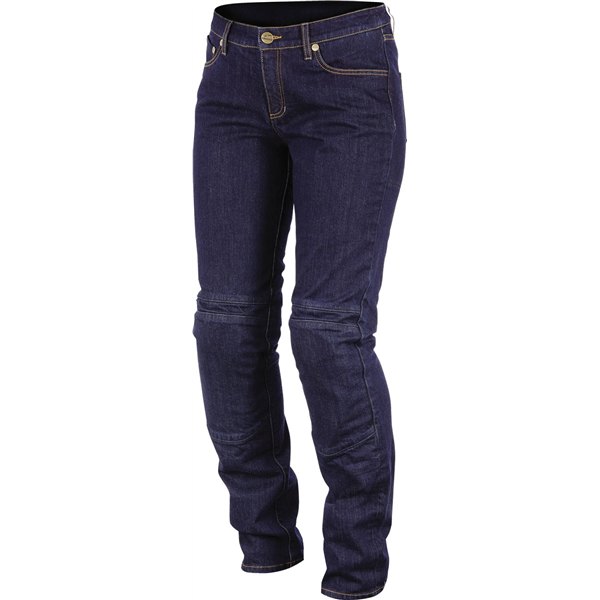 Women like to wear jeans when motorcycle riding just as much as men do, therefore Alpinestars offers its Kerry Tech Denim Women's Pants. These motorcycle pants have been specially created by Alpinestars women's design department for an optimized female performance fit. This means they will not only fit comfortably but look good as well. The Kerry Tech motorcycle pants are made from regular/straight cut denim for a fashionable and long lasting fit. Women will appreciate the safety and protection offered by these pants with Kevlar® reinforcement in the seat, abrasion and seat resistance in the hip and knee areas, and removable hip pad protectors. One feature many women will find very useful is that the internal knee compartment allows for adjustment of the C.E. certified knee protection. This is beneficial to fit various leg lengths to create a more comfortable and customized armored protection. Lastly, the strong twin stitched main seam adds durability while the pre-shaped leg construction is anatomically optimized for a female riding position.
Boots
For Him: Sidi's Apex Boots
When it comes to the aggressive riding style of sport bike enthusiasts foot protection is a key concern. For years Sidi has been one of the leaders in protective motorcycle footwear. And while many riders often go for a traditional high boot, the Sidi Apex is a great boot for warmer riding conditions. The Apex is a short boot that offers full riding protection with off the bike comfort. To help regulate the temperature at riders' feet the boots have easy to open/close vents incorporated into the outside edge of the boot. These motorcycle boots are packed with the quality safety and protection Sidi is known for. They have a replaceable outer ankle cap, vertebra system Achilles tendon protection panel, DuPont polymer toe shift pad, shock absorbing heel cup, and a bolt-on, replaceable and adjustable toe slider. So even as you wear into these boots you can replace some of the components to bring them back to like-new status. The Apex are easy to slip on and off with the a zipper closure system running the length of the inside of the foot/ankle area. Off the bike they provide steady traction and are comfortable to walk around in.
For Her: Sidi's Fusion Lei Women's Boot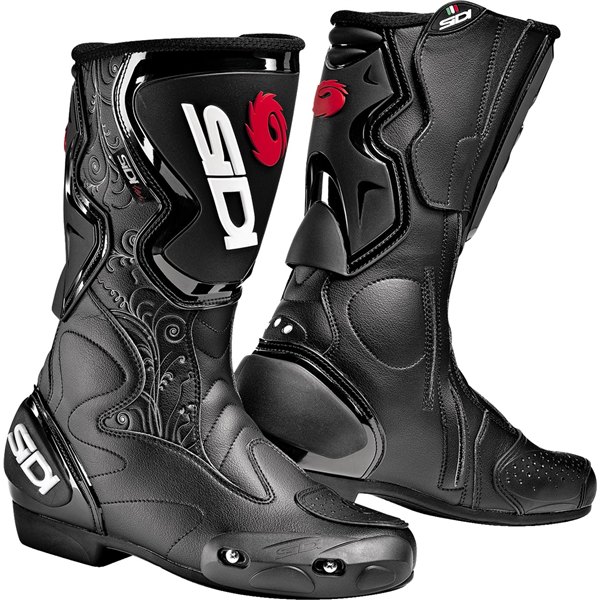 Sometimes it's hard to find a technical motorcycle boot that suits the desires and needs of a female rider. However, Sidi's Fusion Lei Women's Boots do just that. These boots are made of durable leather with protective plastic elements throughout. Like the Apex boots they offer a ton of protection such as the outer ankle cap, fully encapsulated heel cup, Nylon shin deflector plate, Vertebra system Achilles and rear calf protection panel, Internal ankle pads, and replaceable toe slider. For comfort and ease of use they have a zipper elastic panel as well as an elastic panel adjacent to the closure on the calf area. This makes for simple and convenient on/off without having to fight against the boots. Inside they have nylon inner soles and removable arch supports for a customized fit, and they are lined with air Teflon mesh for increased ventilation. They feature a dual-compound rubber sole for all day walking comfort. The sole also helps absorb bumps and reduce vibration in the bottom of the foot when riding. Lastly, the boots have some fancy detail work on the outsides which helps add a little bit of femininity to them.
Okay so that will do it for the men's and women's street bike gear. Next let's take a look at some cruiser motorcycle gear for couples.
Helmets
For Him: Torc Route 66 T-50 Move Over Open Face Helmet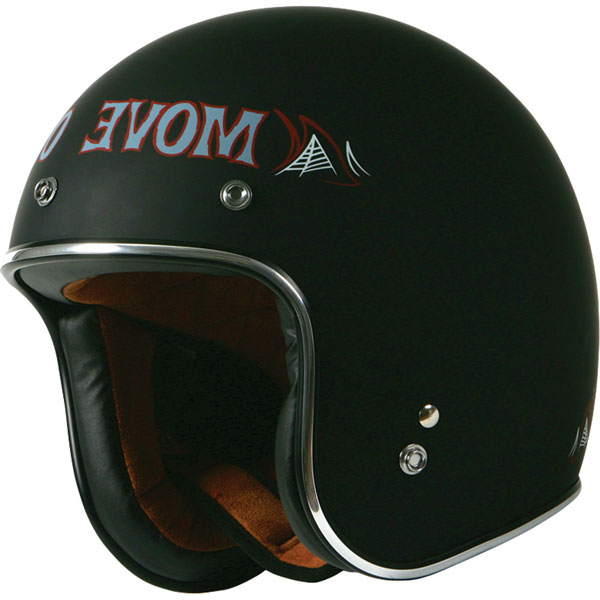 The 3/4 or open face motorcycle helmet has been around for decades and while the Route 66 may look old school, this DOT approved helmet sports some new school features such as a super slim overall profile, lightweight advanced ABS shell, and a moisture wicking interior. Right off the bat you'll notice this 3/4 motorcycle helmet has the flat black base that many people are really into these days. The flat paint is accentuated by retro pin stripping and custom graphics on the top, sides, and rear of the helmet. Conveniently it has "Move Over" written backward across the top front so that as you roll up on motorists they'll know what to do when they see you in their rear view mirror. Inside is a removable ultra-suede liner that is stacked with plush padding for a comfortable fit. The suede looks and feels like real leather but wicks moisture away to help keep you cool and reduce skin irritation. The best feature about the liner is that it's removable and washable so you can keep it looking and smelling somewhat like new.
For Her: Bell Helmets' Rogue Corey Miller War Eagle Half Helmet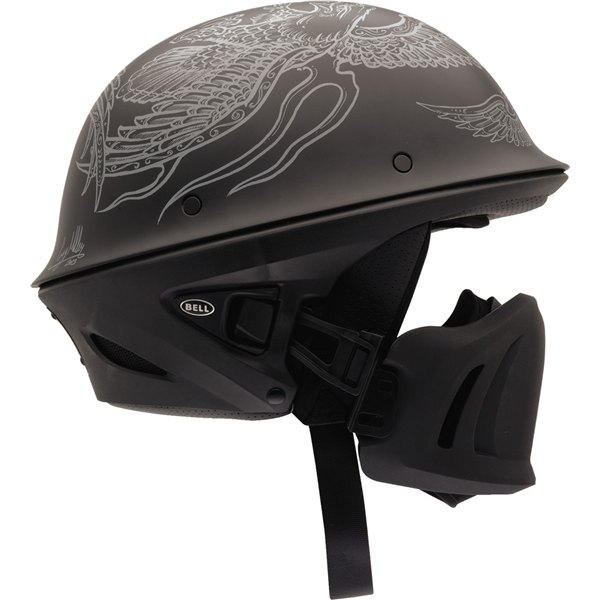 Stylish for women and men, this helmet has been purpose built to guard against the elements. While it has the looks of the ever popular half helmet, once you pop on the muzzle the Rogue takes on its own unique style. Easily removable and adjustable, the muzzle helps provide protection from pelting rain, sand, dirt, and road debris in windy conditions. The cool thing about the muzzle is that it has a removable liner and the Fit Lock magnetic connection makes it easy to slip on and take off. You can even adjust it so the muzzle sits closer or further from your face, or remove it all together with the quick detach push tabs on the sides. This helmet is offered in a matte grey or matte black base that is accented by custom art work created by famed tattoo artist Cory Miller. The Rogue is made from a lightweight composite shell so it won't cause neck fatigue or wear you out. Bell offers three shell and expanded polystyrene liner sizes for maximum comfort and size range for a perfect fit for a woman or a man, no matter how big or small their head is. One thing many people will appreciate about this helmet is that it features convenient speaker pockets in the ears so you can securely pop in a set of speakers and listen to music as you ride.
Jackets
For Him: River Road's Roadster Vintage Leather Jacket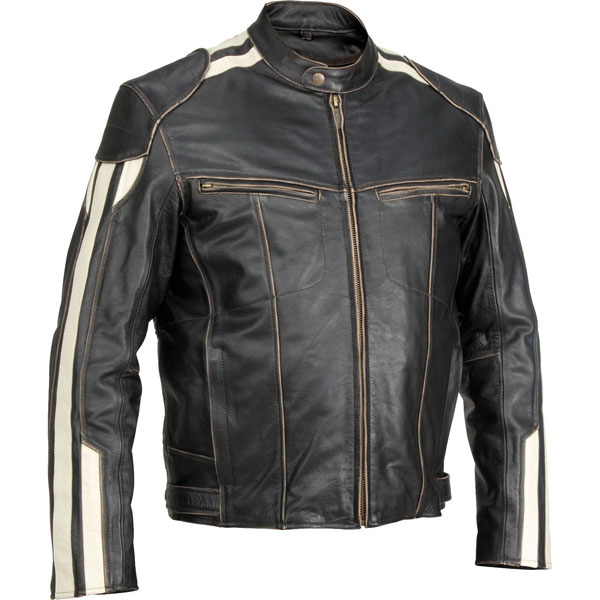 The Roadster Vintage jacket is made from quality medium weight leather that provides protection and comfort. It has a heavy-duty main zipper and snap closure tab collar that provides a secure fit so it won't bother you as you ride. The jacket features adjustable waist side belts to provide a more precise fit and to help keep cold air out or allow more ventilation in the summer. For additional winter warmth the Roadster comes with a removable, insulated, fully sleeved warm liner which features a built in pocket to hold most mobile devices. An additional pocket is found inside the jacket to store even more items. Like most jackets it has two front, waist level zippered pockets to keep essentials secure. Up near the chest area it has two combination vents/pockets and two zippered vertical rear exhaust vents keep you cool in summer. Just as the name implies, the Roadster has the vintage old school style which is accentuated by white leather at the shoulders and arms to give it the classic look that many people like.
For Her: River Road's Babe Vintage Women's Leather Jacket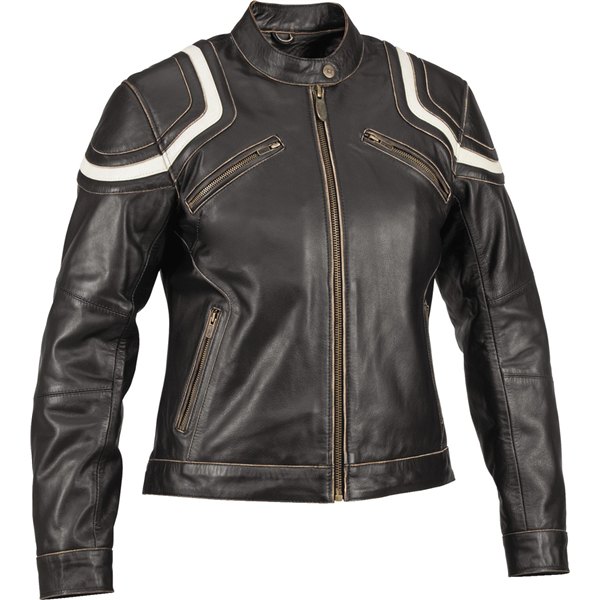 This jacket has many of the same features as the Roadster Vintage such as quality, medium weight leather, two zippered vents in front, two rear exhaust vents, a removable, insulated warm liner and a snap tab collar. Cut and sewn to accentuate the lines of a woman, the Babe Vintage has zippered sides for an adjustable fit and increased freedom of movement. What many women will appreciate with this jacket is that the vintage finish gives it that broke-in look and feel while the white shoulder accents help break up the sea of dark leather.
Vests
For Him and Her: River Road's Rambler Leather Vest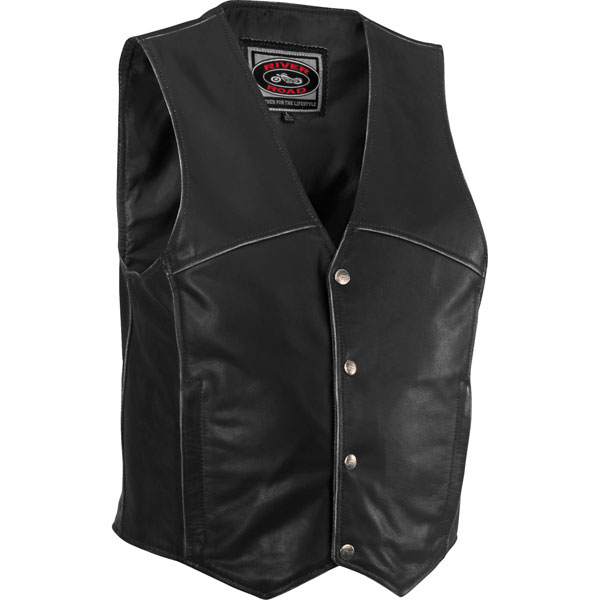 Many people like the look and feel of a motorcycle vest against their body. On warm days a vest can be worn over a t-shirt to help provide protection from flying debris and keep your shirt clean of bug guts. The Rambler leather motorcycle vest has the classic cut that both men and women appreciate. It is constructed of quality, medium weight leather and has simple clean styling. These vests features a distressed finish to give them a great look and feel and matches well with just about any classic leather motorcycle attire. The Rambler vest is fully lined for a smooth and comfortable fit and it features two exterior zippered pockets to keep your essentials secure. Lastly, durable snaps down the center of the vest ensures that it stays closed when riding. The women's Rambler vest looks identical to the men's however it has been cut and shaped for a woman's torso.
Gloves
For Him and Her: River Road's Swindler Distressed Vented Leather Gloves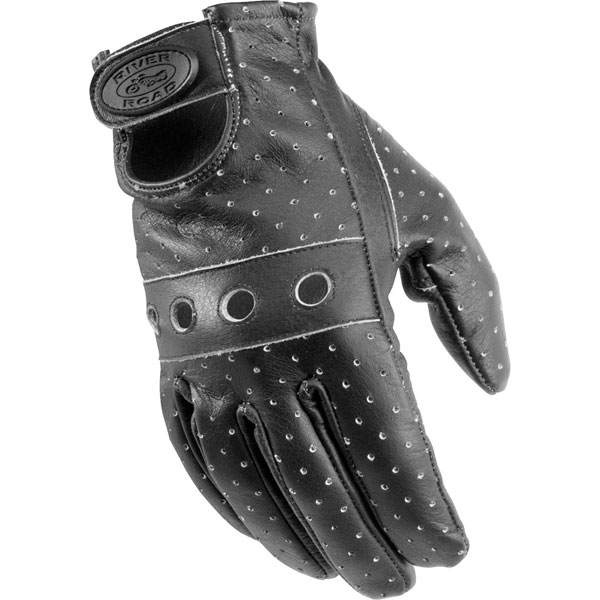 Designed for warm weather riding these motorcycle gloves are made from summer weight leather and have been distressed for a worn in look and feel. Additional warm weather comfort has been incorporated with the perforated leather back and the large knuckle vents. For long distance riding the gloves feature gel palms to provide comfort and nerve protection while the adjustable wrist strap offers a secure and more precise fit.
Chaps
For Him: River Road's Vintage Leather Chaps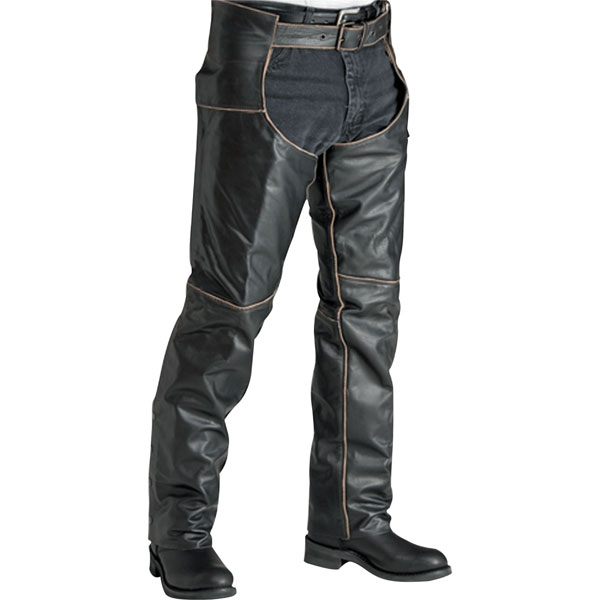 Similar to a leather vest, a set of motorcycle chaps can help provide protection from wind, rain, road debris, and help keep the front of your pants clean so you don't look like a hobo at the end of your motorcycle ride. The Vintage Leather Chaps are cut from quality, medium weight leather and feature a vintage finish. They have nylon lining covers just below the knee to provide an additional layer that won't cling to your pants. Along the leg openings they feature snap closures down by the feet and a heavy-duty, full-length zippers. The combination of the zipper and snaps make it easy to get the chaps on and off, even with your boots on, while the traditional belt up front and leather tie-up rear allow for adjustment at the waist for a secure fit.
For Her: River Road's Rambler Women's Leather Chaps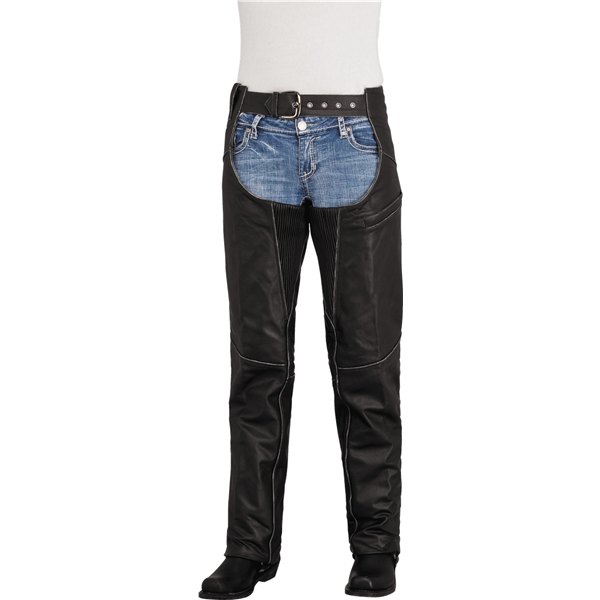 Very similar in style and overall looks to the Vintage Leather Chaps above, these too are made from quality, medium weight leather and feature a distressed finish. For quick and easy on/off they have leg openings that feature snap closures and heavy-duty, full-length zippers as well as mesh lining covers just below the knee. Unlike the men's chaps, these chaps were cut and sewn specifically for a woman with a power stretch panel at the inside of the thigh to allow for a more precise fit. Zippered gussets provide the opportunity for even further adjustments.
Boots
For Him: Tour Master's Coaster Waterproof Boots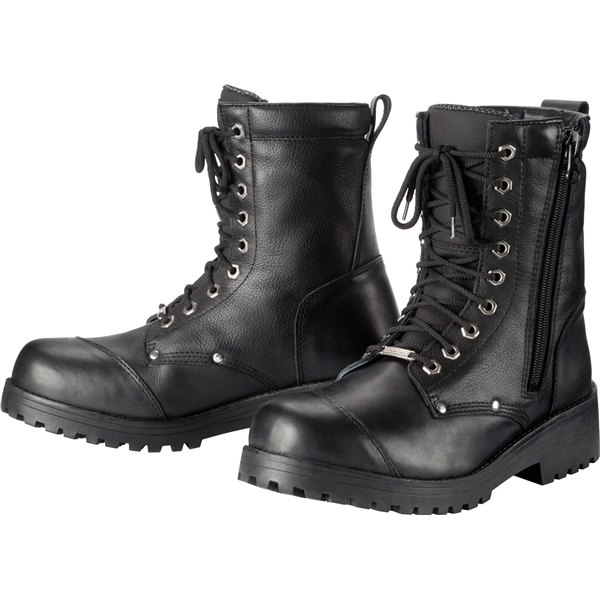 Sure, most people will go with the classic engineer style motorcycle boot, but the Coaster Waterproof Boots from Tour Master offer good looks with comfort and ease of use. Constructed with genuine full grain cowhide leather, they will take you through all types of riding conditions with their waterproof, breathable membrane which will help keep your feet dry and comfortable. At the bottom is an oil resistant, anti-slip vulcanized rubber sole and a Texxon mid-sole with steel shank that offers increased stability. These boots provide protection in the form of a molded nylon ankle guard and a thermoplastic heel cup and toe cap. The Coaster's feature laces and zippers which allow you to cinch the boots up for a tight fit and then you can easily slip them on or off with the side zipper and not have to tie/untie them every time.
For Her: River Road's Double Zipper Women's Field Boots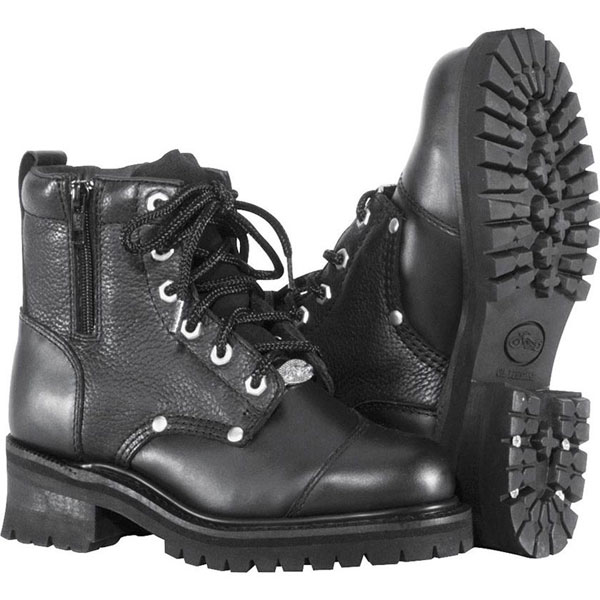 Similar to the Tour Master boots, River Road's Double Zipper Women's Field Boots offer the combined convenience of laces and side zippers for a precise fit and easy on/off. In fact, the boots have zippers on the inside and outside of the ankle to make it even easier to step in and out of them. A little shorter than a more traditional mid-calf style motorcycle boot, these boots measure in at 5 1/2-inches tall, just above the ankle, making them great for warm weather riding. They feature a rich, smooth, full grain, oiled leather upper collar for comfort around the lower leg. The underside of the boots feature an oil-resistant rubber and treaded outsole comprised of a Goodyear welt construction for durability. The benefit of the construction of these boots is that they can be re-soled so you can get lots of mileage out them. They also have a fully padded insole that adds comfort and breathability, as well as a breathable, padded lining for long lasting wear. Many women of shorter stature will like these boots because they aren't too heavy and won't weigh down on the feet, plus the 1 7/8-inch lugged heel will give them support and add some reach to the ground when riding taller bikes.
Okay, so that's it for couples riding gear. We covered quite a bit for the street bike and cruiser crowds. There are plenty of other options to choose from but hopefully we showed you some gear that appealed to you and your significant other, and maybe we even inspired you to grab your honey and go for a motorcycle ride together.
DuPont and Kevlar® are trademarks or registered trademarks of E.I. du Pont de Nemours and Company