Balance Casual Style And Function With The Sidi Gas Riding Shoes
Chaparral Motorsports
|
February 4, 2014
Motorcycle boots don't have to be bulky and restricting. While these tall options are typically embraced in competitive environments, they aren't always the most practical choice for recreational riders. However, wearing a normal shoe isn't typically an option, as they don't offer the same amount of protection that formal motorcycle boots do. So where can riders turn?

The answer, for many, are the [mageProductLink sku="043-2133-x-41" title="Sidi Gas Riding Shoes"]Sidi Gas Riding Shoes[/mageProductLink]. Made to serve a rider in any situation, 24-hours a day, these shoes can act as the perfect option for individuals, whether they're on a bike or off of one.

Why Sidi?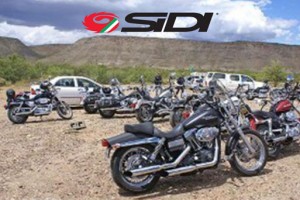 Sidi has been providing great motorcycle boots since 1973. Founder Dino Signori began his career making ski and hiking boots out of his workshop in Italy in the early 1960s, but more than a decade later he found himself changing the world of motorcycle footwear forever. He was one of the first creators to produce shoes with adjustable cleat positions, venturing from the standard leather-and-wood items that had dominated the market. Just a few years later, he introduced nylon-soled footwear, which drastically changed the landscape of motorcycle gear during that era.

The brand wasn't done innovating. In the years to come, it would become the first company to use a Velcro strap closure in 1983, and later on that decade it was the first to employ a ratcheting buckle closure and a ratcheted string closure. Today, Sidi continues to make excellent footwear for riders, including the Sidi Gas Shoe.

All The Basics

These Sidi Gas Riding Shoes are constructed from leather, with nylon mesh on the upper portion. This section also has been partially ventilated for comfort, and a removable arch support pad on the inside of the shoe lets the bottom of your feet feel just as good as the tops.

The sole of the show is made from nonslip rubber that has been branded with the Sidi logo. It is lightweight and light-duty, so you won't want to use the shoe in extreme circumstances, but they can certainly meet your needs when taking part in traditional riding. Because the shoe only comes up to the high ankle - but still protects the joint - riders will be able to wear it in casual settings. From a distance, it looks just like standard sneakers, and no one has to know the shoes were used on a motorcycle as well.

Safety has also been considered with the Sidi Gas Shoe. The rear section has reflective panels that let other motorists view a rider in situations with poor visibility, and a Velcro closure is installed on the top for maximum security.

Flexible Usage
[mageProductLink sku="043-2133-x-41" title=""]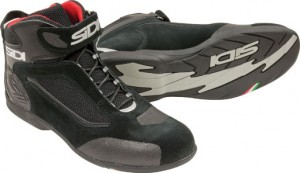 [/mageProductLink]The major benefit of the Sidi Gas Shoe is that it provides unprecedented versatility for riders. In addition to the tremendous comfort and protection it offers on the bike, it can also be worn with casual clothing as part of everyday attire. Although you may want to limit this outside use to extend the life of the shoe, any circumstances that you find yourself in between riding sessions can be easily handled with the items.

Riders will also love that the shoes have been created for three-season use, and they excel in warm temperatures. Spring, summer and fall adventures will be easy to handle with the help of these accessories, as the ventilation included throughout the shoe allows the body to breathe.

With the Sidi Gas Shoe, the rider's needs come first. An excellent balance between looks, comfort and capabilities result in a stellar footwear option for motorcycle enthusiasts, and anyone who takes part in recreational riding throughout the year will want to give these Sidi products a long look.