2014 AMA Supercross Anaheim 3 Race Results
Chaparral Motorsports
|
February 3, 2014
Monster Energy/Pro Circuit/Kawasaki's Dean Wilson and Chad Reed Put KX on Top of the Podium in Anaheim
[caption id="attachment_30491" align="alignright" width="300"]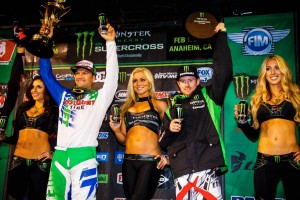 Chad Reed and Ryan Villopoto celebrate placing Kawasaki atop the podium.[/caption]

Round 5 of the Monster Energy Supercross season visited Angel Stadium in Anaheim for the third and final time this season on Saturday. Monster Energy/Pro Circuit/Kawasaki's Dean Wilson captured his first win of the season on his KX250F while Justin Hill fought hard to finish just off the podium in fourth place. Discount Tire Racing/TwoTwo Motorsports Chad Reed achieved his second win of the season on his KX450F by leading all 20 laps of the main event. Monster Energy Kawasaki's Ryan Villopoto battled at the front of the field to finish close behind in third place. Jake Weimer overcame transferring to the main event through the LCQ to race forward and finish eighth.

Wilson had high expectations coming into this supercross season and although he hasn't had the results he wanted from the start, he showed his full potential in Anaheim. Wilson was not only on top of the board in 250SX, but he posted the fastest qualifying lap of the day in both the 250 and 450 classes. He easily won his heat race to give him first gate pick for the main event. Wilson rounded the first turn in second place and began hunting the leader. At the 10-lap mark, he put on a charge and got within striking distance when the leader lost the front end and handed the lead over to Wilson. He cruised to his first victory of the season and sits just 12 points back in the standings.

"It means so much to get this win," said Wilson. "My team and I have been working so hard for this. It took us longer than expected to get here, but this is where we belong and where we intend to stay."

[caption id="attachment_30494" align="alignleft" width="300"]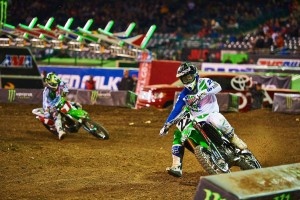 Chad Reed achieved his second win of the season on his KX450F by leading all 20 laps of the main event - Photo: Jacob Khan[/caption]

Kawasaki Strong
Reed may be the oldest rider on the starting line for the 450SX class but he showed on Saturday that age is not an excuse. He has found a new home on his Kawasaki and is comfortable to push the limits like he has as a past champion. The Australian moved into the lead within the first couple corners and set his sights forward for the full 20 laps. He fought off charges from behind and was not phased on his way to his second win of the season. Reed now sits just two points back from Villopoto in the points standings.

"I honestly feel the strongest I have in a long time," said Reed. "We made some risky changes to the bike going into the main event and they ended up working in our favor. The set up we have on the Kawasaki really works for me and allowed me to ride hard for the full 20 laps on such a sketchy track."

[caption id="attachment_30495" align="alignright" width="300"]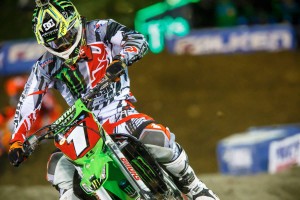 Ryan Villopoto battled at the front of the field to finish close behind in third place.[/caption]

Ride Like A Champion
Villopoto was the fastest rider all day in qualifying and carried that into the night show. He finished second in his heat race and knew that the track was going to be his biggest competition in the main event. The dirt continued to break down and the three-time champion knew that the risk was higher than the reward and confidently took his place on the podium in third.

"I was too timid the first lap and let those guys gap me a bit," said Villopoto. "We've been here before and know that we're only five rounds in. We've got the points lead and want to be smart. The track was really going away and it was hard to be aggressive."

[caption id="attachment_30496" align="alignleft" width="300"]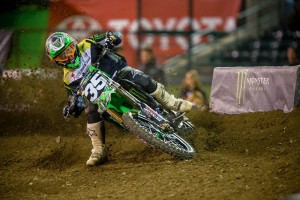 Justin Hill fought hard to finish just off the podium in fourth place.[/caption]

Desire
After leading last weekend in Oakland and achieving his first podium, Hill was ready to keep the ball rolling in Anaheim. In the main event he got off to a top-10 start but along the way came together with another rider, smashing his hand in the collision. In pain but not defeated, Hill pushed forward to pick off as many riders he could in the 15 laps and finished in fourth place.

"I want to be on that podium so bad," said Hill. "I got a taste of it last week and expect nothing less. I came together with another guy pretty hard on the first lap and my hand was killing me the entire race. We'll look to be back on the box in San Diego."

Feeling Like Himself

[caption id="attachment_30497" align="alignright" width="300"]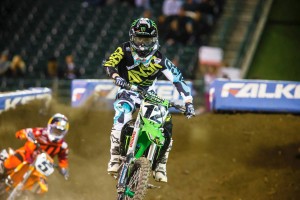 By the checkered flag he had passed nearly half the field and finished in eighth place[/caption]

Weimer qualified strong in Anaheim with the seventh fastest time on his KX450F to set him up for the night show. In his heat race Weimer raced hard and battled with the leaders but ultimately finished fifth, sending him to the semi. After getting tangled in a first turn crash in the semi, Weimer had to resort to the LCQ to qualify for the main. When the gate dropped for the main event, Weimer rounded the outside but could not cut through the field and was forced to work his way forward from the back. By the checkered flag he had passed nearly half the field and finished in eighth place.

"The result doesn't show how I rode tonight," said Weimer. "I felt really good in my heat race and know I have the speed to be running up front, but when you get a bad start you can only do so much. I feel good about how I rode tonight and expect to have a good night next week."

[caption id="attachment_30498" align="alignleft" width="300"]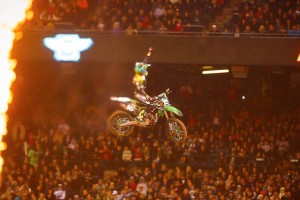 Dean Wilson captured his first win of the season on his KX250F.[/caption]

Fighting The Course
The dirt at Angel Stadium has been sitting on the floor and baking in the Southern California sun since Anaheim 1 for an entire month. After the two previous Anaheim races plus having Monster trucks run on it, the dirt was hard and crumbly. The track progressively broke down as the night went on which saw it become more difficult and more dangerous.

"The track was super sketchy," said Villopoto. "There were only a few lines that were consistent for most of the night, but they eventually went away as well. It was almost comparable to an outdoor national how much the dirt changed and fell apart throughout the day."

Three-Time Champion
It's tradition at Kawasaki to award their champions with a custom championship ring. After Villopoto's successful 2013 season where he captured both his third consecutive supercross championship along with his second AMA Pro Motocross 450 championship, it was with honor for Kawasaki to award him his ninth championship ring. Kawasaki President Tak Tarinishi, Vice President of Product Development and Racing Shinichiro Yokoyama, and Kawasaki Senior Racing Manager Reid Nordin all gathered to present Villopoto with a championship ring featuring a diamond for each championship in 2013.

San Diego
Monster Energy Supercross heads to Qualcomm Stadium in San Diego next Saturday, which will end the first string of Western Regional races. Following San Diego, the 250SX riders will resume in Houston in two months, while the 450SX will head to the East.

"Getting out of California with the points lead is always a good feeling," said Villopoto. "We'll be looking to have a good night in San Diego before heading East to some more consistent tracks due to the dirt and the domes."

Source: Kawasaki Racing

Ken Roczen Finishes 2nd At Anaheim 3
[caption id="attachment_30499" align="alignright" width="300"]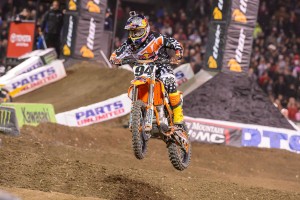 Ken Roczen finished on the podium with a 2nd place finish - Photo: Simon Cudby[/caption]

Red Bull KTM Factory rider Ken Roczen finished on the podium at all three Anaheim events, ending the Monster Energy Supercross Series final visit to Angel Stadium with a 2nd place finish. His teammate, Ryan Dungey, had a spectacular race going until after the halfway point when a crash resulted in a bike issue that kept him from finishing the race in good position.

Red Bull KTM Factory rider Ken Roczen continued his impressive debut season in the Monster Energy Supercross Series 450SX class finishing second behind Chad Reed when the competition returned to Anaheim for the third time in five rounds. Roczen, who has a 1-3-2 result for the three outings at Anaheim, is third in the championship, trailing the leader by seven points.

But what was a good day out for the team's German rider, teammate Ryan Dungey had mixed fortunes when after a spectacular first half of the race, he crashed and had to retire with a technical issue. Dungey was awarded twentieth place for a single point and is now sixth in the standings.

[caption id="attachment_30500" align="alignleft" width="300"]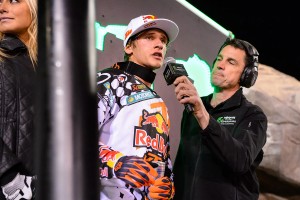 Ken Roczen finished on the podium at all three Anaheim events - Photo Simon Cudby[/caption]

Roczen got away to an early lead in the first 450SX heat, converted it to the win for the top transfer spot in the main event. Dungey was seventh at the start of heat two and moved up to third by the checkered flag to qualify for the main.

On his KTM 450 SX-F Roczen went out hard and fast when the gate dropped for the main and was third at the first corner while Dungey was in ninth but quickly sprinted up to fifth by lap three. Meanwhile Roczen closed down on Ryan Villopoto and made the pass through the whoop section to move into second place.

With 17 laps still to go, Roczen concentrated on chasing down leader Chad Reed, always hovering around a bike length behind the veteran. But while Reed and Roczen were battling out front, a pack of five top riders were jockeying for positions a few bike lengths behind, essentially creating a five-way battle for the lead.

[caption id="attachment_30501" align="alignright" width="200"]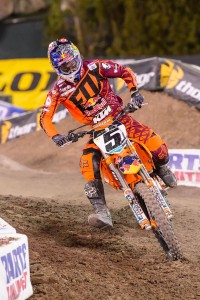 Ryan Dungey had a spectacular race going until a crash forced him to withdraw - Photo: Simon Cudby[/caption]

Dungey was in the mix and pressured James Stewart for the first ten laps. He made a pass in a corner after a triple but after moving up to fourth place, he then crashed out coming out of the whoops, damaging his clutch in the process and was unable to finish the race.

The DNF was a huge disappointment for Dungey who had been impressive on the track, was making aggressive passes throughout the race to claim each position. He was the only rider to triple, quad into a rhythm section on the back half of the track and that allowed him to reel in Stewart prior to making the pass. Dungey was eventually credited with 20th position.

On the final lap of the race, the two leaders had the crowd on their feet as Roczen began to close on Reed. He came up a bike length short at the flag and had to settle for second, but the German racer continues to be impressive in the senior class.

Next Round: February 8, 2014 - San Diego, CA



Source: KTM North America

Anaheim Woes Tighten Points Chase for Jason Anderson
[caption id="attachment_30502" align="alignright" width="300"]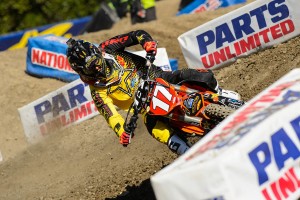 Jason Anderson faced adversity to finish 5th overall - Photo: Simon Cudby[/caption]

Aside from the 1st Anaheim in 2014, the city has not been very friendly to Rockstar Energy Racing's quest for the 250 West Championship with Jason Anderson. With the controversial cross flag penalty at A2, to the poor decision by Malcolm Stewart, taking himself and Jason to the ground after seemingly not even attempting to turn as he went straight into him at A3. Some may say team tactics were involved as Malcolm is the teammate of Anderson's closest competition in the points chase, Cole Seely. That is certainly a possibility, or it could just be the aggressive type of riding that is common in the fierce 250 class.

If it wasn't for the adverse happenings in the West thus far, perhaps Jason Anderson would have a comfortable margin ahead of 2nd place overall. He was once again fast all day in practice and his heat race. Although it was the first heat of the year that he didn't win, he did come from the back of the pack to 2nd and nearly overtook the leader.

In the main event, he once again didn't get out of the gate very well and some work to do. Anderson moved himself very quickly into the lead group and the top 5. He made a clean block pass with minimal contact to move by Stewart in the turn after the tough whoops section. Malcolm didn't see it that way however and he hit JA very hard in the next turn and sent him sprawling into the neighboring lane. Aggressive riding is certainly welcome in a sport where excitement and emotions are on an extreme high. However if it wasn't obvious enough that it was a t-bone move, a good rule of thumb is that if you hit somebody and you both go down, it was dirty.

[caption id="attachment_30503" align="alignleft" width="300"]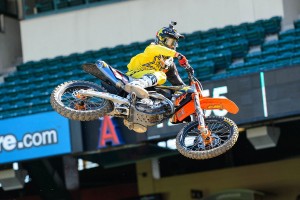 Jason Anderson is tied for first and in for a tight championship race - Photo: Simon Cudby[/caption]

The most impressive thing however aside from Jason's blistering pace each weekend has been his maturity through the bad moments. After the A2 incident, he just went to the track Monday morning and focused on Oakland. This weekend was no different. After he collected himself, he put on a clinic moving forward through the pack. Eyes were definitely focused on him as he found himself on Stewart's rear wheel once again. Anderson blew by him cleanly into 6th place.

He doesn't have a need to worry about exacting revenge, his goal is only to win the title. By race's end he made his way to into 5th, falling just short of making one more pass on Justin Hill. After the race, Jason talked with Malcolm briefly but did not overreact or get angry. Racing is racing and he is still tied for the points lead. The kid is all grown up and a very good sport.

Jason Anderson:
"This weekend was alright, but tied in points now. Every time I get a cushion it seem like something just doesn't go my way. You know we're just gonna keep pushing, do what we do every weekend and come out battling next weekend."


[caption id="attachment_30504" align="alignright" width="300"]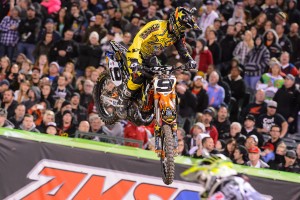 For the first time this season Ivan Tedesco found his way into the top ten - a testament to his new KTM 350 - Photo: Simon Cudby[/caption]

Ivan Tedesco made a big change prior to Anaheim 3. Just before Oakland, Team Owner Bobby Hewitt asked Ivan if he'd like to try and ride the KTM 350. Ivan agreed to give it a go. After going out for 5 laps, he was immediately more comfortable. By the end of the day, Tedesco wanted nothing more than to race the 350. He was so excited about it, he asked if one could be ready for the next race.

Unfortunately there wasn't enough time to prepare, so he would have to wait until A3. There was no question to any one looking on that he was clearly better on the smaller bike. His corners more aggressive, attack position through the rhythm sections, scrubbing triples like a completely different rider. Ivan won multiple championships on 250's and is a smaller guy. It's evident that the 350 is perfect for him in the 450 class.

Some people thought it was a contract deal that took IT off the 450 but they were wrong and the immediate results proved that. It is known by all on the team that he is much better in the main event than practice and that is by no means uncommon throughout the class. The second the gate dropped, the new Ivan emerged. Running with the lead pack he just missed out on qualifying directly out of his heat. That is a very tough feat, considering the level of competition and the fact that only 4 riders advance.

He then rode stellar in his semi, putting himself into the main easily. He was stronger than he is been all season for the next 20 laps and the result showed just that. For the first time this season Tedesco found his way into the top ten. Everything is beginning to come together with the new bike, fitness and just being confident lining up at the gate. Chances are that the #9 will now be a consistent mainstay in the 5th - 10th range.

Ivan Tedesco:
"Not a bad day. I sucked once again in qualifying practice, I don't know why but I haven't been able to figure it out. I qualified 20th today and finished 10th so their was definitely some progress through the night. I'm a better racer than I am in practice so hopefully I can figure it out sooner and be better throughout the day. I'm going to keep working at it and hopefully finish better than 10th next week."
Rockstar Energy Racing will now make the short trip to the final California round of the season in San Diego next weekend. Anderson will be eager to retake sole possession of the points lead where he finished on the podium one year ago. Tedesco will continue to adapt to the 350 and chop away at the gap separating him from the top ten overall. Davi Millsaps has also announced that he will begin riding February 10th and will get back to racing as soon as he can.

Source: Rockstar Energy Racing

RCH Soaring Eagle Takes Flight At A3 Supercross
Josh Hill Still Grounded, But Broc Tickle Flies High In Anaheim
[caption id="attachment_30505" align="alignright" width="300"]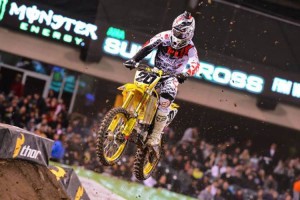 Broc Tickle fought through his injuries and made the main event at "the home of Supercross"[/caption]

With injuries sustained at the last round in Oakland grounding half the RCH Soaring Eagle Supercross Team, things were looking sketchy going into round 5 of the 2014 season. However Broc Tickle fought through his injuries and made the main event at "the home of Supercross" - Angels Stadium in Anaheim for A3.

It was going to be a "game time decision" to see if Tickle could come back from concussion-like symptoms and sore ribs at A2 two weeks ago and a jammed wrist that kept him out of the main in Oakland last week. Despite having the weight of the of the world on his shoulders, Tickle turned in a gritty performance after not being able to practice all week. "I sprained my left wrist and my pointer finger last week," says the #20 rider.

After riding a little tentatively in the first qualifying session, Tickle manned up and qualified in 8th ahead of eight-time Anaheim winner Chad Reed. The speed he found in afternoon qualifying carried over into the evening racing. Tickle started second just behind Ken Roczen in heat #1. He ran surprisingly strong the throughout the heat race, but got nipped at the line after an epic battle with Eli Tomac. This meant Tickle had to ride the semi instead of transferring straight to the main. "My heat started out well with a 2nd place start, but I was struggling in the whoops and it cost me," said Broc.

Tickle grabbed another great start in the semi. He was third off the line behind holeshot artist Mike Alessi and then quickly moved into second. Justin Barcia came out of nowhere to first, but Broc hung tough, passed Alessi for second, and put in a charge after Barcia in a truly gritty exhibition of toughness. Although he couldn't catch Barcia, Broc showed he has the speed to run with the best in the business even when he is riding hurt. "I was confident in my start from the heat and did the same in the semi. I felt I rode well to qualify for the main out of the semi."

In the main event, Broc was unlucky 13th at the start after getting squeezed out in the short starting straight. He moved up to 12th by third lap, then slipped back to 13th six laps in. Then back up into 12th with nine laps to go and with seven laps let, he moved up to 11th. Unfortunately not being able to ride for nearly two weeks took its toll and Broc didn't have enough left in the tank to get past ageless Ivan Tedesco to crack the top 10. "I knew today was going be tough because I wasn't 100%," said Broc after his valiant effort. "My shoulder, ribs and finger were getting weaker all night... I was definitely feeling it in the main."

"I'm not happy with it, but glad I'm getting healthier so I can regain the confidence I had the first two rounds, added Tickle. "I wanted to get back out racing and start building momentum to be where I was the first two rounds."

Teammate Josh Hill says he is hoping to be cleared to ride by the next round in San Diego, despite getting his wings clipped with a broken collarbone in Oakland. "I'll be back before you even notice I'm gone," joked the affable Oregonian. "I was bummed I had to sit out the third Anaheim," Hill added more seriously. "I had a surgery to repair my broken collarbone this week, and I'm amazed with the pace of my recovery. I'm going to take it day by day, but I expect to be back on the gate much sooner than we all anticipated. This is what we all love... It hurts not being out there. Nothing to do but keep making strides."

RCH Racing Soaring Eagle team heads to America's Finest City, San Diego for Round 6 on February 8. From the Suzuki Holeshot Experience to the team autograph signing at 3pm, the RCH Racing Soaring Eagle pit is the place to be at Qualcomm Stadium for Military Appreciation Night.

Source: RCH Racing Soaring Eagle

Anaheim 3 Overview And Point Standings
2014 AMA Supercross Anaheim 3 Image Gallery (Click for full size images)


Overall Results - Supercross Class Race Time: 21:37.093






























































































































































































| Pos. | # | Rider | Bike | Interval | Best Time |
| --- | --- | --- | --- | --- | --- |
| 1 | 22 | Chad Reed | Kawasaki KX 450F | 20 Laps | 1:02.893 |
| 2 | 94 | Ken Roczen | KTM 450 SX-F Factory Edition | +00.918 | 1:02.724 |
| 3 | 1 | Ryan Villopoto | Kawasaki KX 450F | +09.845 | 1:03.236 |
| 4 | 51 | Justin Barcia | Honda CRF 450 | +17.449 | 1:03.097 |
| 5 | 40 | Weston Peick | Suzuki RM-Z450 | +25.890 | 1:03.415 |
| 6 | 10 | Justin Brayton | Yamaha YZ450F | +31.000 | 1:03.964 |
| 7 | 7 | James Stewart | Suzuki RM-Z450 | +35.154 | 1:03.136 |
| 8 | 12 | Jacob Weimer | Kawasaki KX 450F | +37.030 | 1:04.287 |
| 9 | 29 | Andrew Short | KTM 450 SX-F Factory Edition | +42.242 | 1:03.773 |
| 10 | 9 | Ivan Tedesco | KTM 350 SX-F | +47.025 | 1:04.787 |
| 11 | 20 | Broc Tickle | Suzuki RM-Z450 | +51.862 | 1:04.946 |
| 12 | 23 | Wil Hahn | Honda CRF 450 | +54.320 | 1:05.030 |
| 13 | 27 | Nicholas Wey | Kawasaki KX 450F | +56.954 | 1:05.157 |
| 14 | 102 | Matt Moss | Suzuki RM-Z450 | +1:01.104 | 1:05.220 |
| 15 | 77 | Jimmy Albertson | Honda CRF 450 | 19 Laps | 1:05.601 |
| 16 | 42 | Vince Friese | Honda CRF 450 | +15.986 | 1:05.524 |
| 17 | 33 | Joshua Grant | Yamaha YZ450F | +29.599 | 1:05.672 |
| 18 | 44 | Matthew Goerke | KTM 450 SX-F Factory Edition | +35.062 | 1:06.244 |
| 19 | 68 | Chris Blose | Honda CRF 450 | +51.687 | 1:07.134 |
| 20 | 5 | Ryan Dungey | KTM 450 SX-F Factory Edition | 12 Laps | 1:03.225 |
| 21 | 3 | Eli Tomac | Honda CRF 450 | 9 Laps | 1:04.304 |
| 22 | 800 | Mike Alessi | Suzuki RM-Z450 | 1 Laps | 1:04.919 |
Rider Point Standings - Supercross Class ( Race 5 of 17 )


Ryan Villopoto - 104

Chad Reed - 102

Ken Roczen - 97

Justin Brayton - 86

James Stewart - 80

Ryan Dungey - 76

Justin Barcia - 74

Andrew Short - 61

Wil Hahn - 52

Jacob Weimer - 50

Manufacturer Point Standings - Supercross Class ( Race 5 of 17 )


Kawasaki - 120

KTM - 105

Suzuki - 91

Honda - 86

Yamaha - 74

Overall Results - Supercross Lites West Class Race Time: 16:28.163
| Pos. | # | Rider | Bike | Interval | Best Time |
| --- | --- | --- | --- | --- | --- |
| 1 | 15 | Dean Wilson | Kawasaki KX 250F | 15 Laps | 1:03.301 |
| 2 | 21 | Cole Seely | Honda CRF 250 | +06.392 | 1:02.145 |
| 3 | 37 | Cooper Webb | Yamaha YZ250F | +14.730 | 1:03.734 |
| 4 | 35 | Justin Hill | Kawasaki KX 250F | +16.740 | 1:04.500 |
| 5 | 17 | Jason Anderson | KTM 250 SX-F | +17.359 | 1:02.895 |
| 6 | 34 | Malcolm Stewart | Honda CRF 250 | +24.784 | 1:04.002 |
| 7 | 66 | Jake Canada | Honda CRF 250 | +28.435 | 1:04.010 |
| 8 | 87 | Shane Mcelrath | Honda CRF 250 | +33.579 | 1:04.764 |
| 9 | 50 | Jessy Nelson | Honda CRF 250 | +38.970 | 1:05.074 |
| 10 | 83 | Dakota Tedder | Kawasaki KX 250F | +51.263 | 1:06.432 |
| 11 | 111 | Dean Ferris | KTM 250 SX-F | +53.920 | 1:06.908 |
| 12 | 84 | Scott Champion | Yamaha YZ250F | 14 Laps | 1:07.171 |
| 13 | 97 | Topher Ingalls | Honda CRF 250 | +09.728 | 1:07.773 |
| 14 | 565 | Preston Mull | Yamaha YZ250F | +12.269 | 1:07.900 |
| 15 | 737 | Valentin Teillet | Kawasaki KX 250F | +19.439 | 1:07.476 |
| 16 | 397 | Brandon Scharer | Suzuki RM-Z250 | +25.673 | 1:08.101 |
| 17 | 222 | Chris Howell | Yamaha YZ250F | +41.813 | 1:09.220 |
| 18 | 919 | Shawn Rhinehart | Suzuki RM-Z250 | +1:05.341 | 1:09.355 |
| 19 | 973 | Jean Marrone | Suzuki RM-Z250 | 13 Laps | 1:11.183 |
| 20 | 243 | Joseph Dalzell | Kawasaki KX 250F | +18.541 | 1:11.338 |
| 21 | 383 | Brandon Rangel | Honda CRF 250 | +36.656 | 1:11.285 |
| 22 | 273 | Conner Elliott | Honda CRF 250 | 10 Laps | 1:10.057 |
Rider Point Standings - Supercross Lites West Class ( Race 5 of 9 )


Jason Anderson - 109

Cole Seely - 109

Dean Wilson - 97

Cooper Webb - 85

Justin Hill - 82

Zach Osborne - 69

Malcolm Stewart - 69

Jessy Nelson - 61

Shane Mcelrath - 55

Dean Ferris - 52

Manufacturer Point Standings - Supercross Lites Class ( Race 5 of 17 )


KTM - 109

Honda - 109

Kawasaki - 99

Yamaha - 85

Suzuki - 8