Young Riders Get Protection From Leatt Fusion 2.0 Vest
Chaparral Motorsports
|
January 13, 2014
Anyone who gets involved in the world of motocross, dirt bikes or ATVs knows that there is a chance they encounter a wide range of obstacles during the adventure. Unique environments, tense racing situations and difficult terrain all combine to create a tough scenario for riders of any age, and it may lead to accidents or crashes. That is especially true if you have a younger rider who is just beginning to learn the ropes of motocross and may have some growing pains along the way.

Those beginners - and their families - may want to regain some peace of mind with the help of products like the [mageProductLink sku="3007-101401-0001" title=""]Leatt Fusion 2.0 Youth Protection Vest[/mageProductLink]. The Fusion 2.0 is specifically designed to cater to the needs of growing riders while also satisfying a parent's desire for safety.

Importance Of Youth Protection
The Leatt Fusion 2.0 Youth Protection Vest is C.E. certified in four major protection zones: Neck, Shoulders, Chest, and Back.
View the CE Type Approval Certificate
There is no wiggle room when it comes to the safety of young riders. The first years on a bike are when habits are formed, so it is important to lay the groundwork for positive practices later on by placing an emphasis on the proper steps to take.

However, there are some challenges when it comes to selecting the right dirt bike accessories and ATV gear for young riders. For one, children are still growing - sometimes at a rapid pace - so you need to find items that can adjust and grow with them. Additionally, this is an important time for body development, and any harm or injury could have more drastic effects down the road. As such, taking precautions to protect young riders is essential.

About The Fusion 2.0 Protection Vest
[mageProductLink sku="3007-101401-0001" title=""]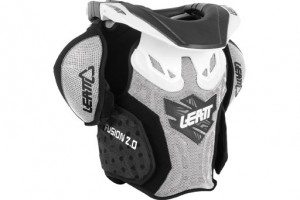 [/mageProductLink]The Leatt Fusion 2.0 Youth Protection Vest comes with a variety of top-notch features that make it an attractive option for young riders and their parents. It all starts with the design, which prioritizes combining back, chest, shoulder and neck protection. The vest has been C.E. certified as a personal protection device for the neck and C.E. rated Level 1 protection for the chest/back and Level 2 Type A for the shoulders.

Despite its comprehensive protection, the Leatt Fusion vest is lightweight, offering excellent comfort for wearers. It also is well ventilated, ensuring that riders won't get overheated and can wear the guard at all times of the year. That is an important quality to have, especially considering the range of elements and temperatures a motocross fan may encounter, and it enables the rider to retain maximum mobility even when wearing the extra padding.

The Fusion 2.0 Youth Protection Vest is available in two size ranges: S/M, which fits riders from 3 feet 3 inches to 4 feet 1 inch tall, and the L/XL, which is designed for people 4 foot 1 inch to 4 feet 11 inches in height. It is also available in a variety of colors, including red, white, orange and bright green, all with black accents.

Why Leatt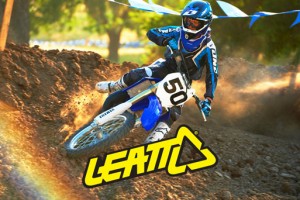 Leatt
is one of the leading names in the motocross world, especially when it comes to braces and similar safety devices. The brand has placed itself at the forefront of protection and innovation, as it almost always stays ahead of the curve with regard to technology and new products. With an emphasis on preparing products for high-speed sports, Leatt is more than capable of meeting the demands of a rough dirt course. You may know a young rider getting involved with motocross, enduro racing or BMX bikes, and no matter what he or she is interested in, you will be able to find the right gear to provide the ultimate protection with the help of Leatt.