HJC IS-Max Sprint Bluetooth Modular Helmet Is On The Brink Of Innovation
Chaparral Motorsports
|
December 30, 2013
In this day and age, riders are always looking for products that will allow them to use the latest technology. Motorcycle helmets are no exception, and some of the most popular editions for modern bikers include state-of-the-art capabilities as well as room to adapt to future tools.

One street bike helmet that does not disappoint in this regard is the [mageProductLink sku="035-968-901" title="HJC IS-Max Sprint Bluetooth Modular Helmet"]HJC IS-Max Sprint Bluetooth Modular Helmet[/mageProductLink]. With excellent features to go along with its sleek appearance and extreme comfort, this piece of motorcycle gear is definitely one that riders will want to consider, as it offers plenty of long-term benefits.

A Fresh Look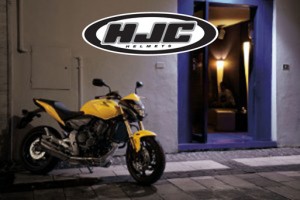 What is on the inside may be what counts, but the outside of the HJC IS-Max Sprint Bluetooth Modular Helmet is nothing to scoff at. It boasts a fairly straightforward design, with a heavy emphasis on the function of the helmet. A rugged, high-performance style meshes well with the dark colors, and the aerodynamic shape and metallic finish add some more industrial vibes to the helmet.

The helmet comes with a relatively large eye port, which aims at improving visibility for all riders. It also has a flip-up chin bar that won't interfere with your own eyeglasses or sunglasses, allowing you to don whatever you need to see clearly. To aid with visibility, this street bike helmet comes with an integrated sun visor. This visor can also be switched into three different positions and is smoke-tinted. Both the chin bar and the face shield operate on a single-button release system, allowing riders to use either hand to open or close the front of the helmet. That one simple step also makes speaking and communicating easier, maximizing on the potential of this HJC helmet.

You can purchase the HJC IS-Max Sprint Bluetooth Modular Helmet in a black and gray color scheme or in one that is white, gray and black.

Systems Prioritize Practicality
[mageProductLink sku="035-968-901" title=""]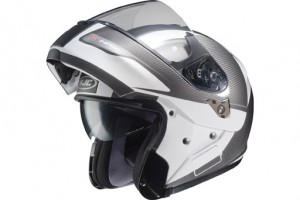 [/mageProductLink]The HJC IS-Max Sprint Bluetooth Modular Helmet comes equipped with several features that are designed to make this model one of the most user-friendly on the market. At the forefront of this is the Pinlock prepared HJ-17 shield and QuickSlide Shield Replacement System. This provides a rider with 95 percent UV protection through the shield, in addition to a method of replacement that makes installation easy and tool-free.

Also of note is the Advanced Channeling Ventilation System. This process uses multistage intake vents and rear exit vents to maximize air flow throughout the helmet. While this is catered to comfort, you won't have to worry about common pesky side effects like fogging, as chin bar intake vents increase the airflow across the shield.

Comfort is also a priority for this sportbike helmet. The interior is comprised of SilverCool antibacterial fabric, which wicks away moisture and is also designed not to retain odors. Riders can remove the crown and cheek pads at their own will, and both of these segments are washable as well.

Ready To Connect
There are a few technological features that set the HJC IS-Max Sprint Bluetooth Modular Helmet apart from its competitors. Like its name implies, this HJC model is equipped to take advantage of Bluetooth capabilities with seamless ease. There is a built-in recess pocket with a panel cover that can fit a unit such as the [mageProductLink sku="011-701-002" title="ChatterBox XBi2-H Plus Bluetooth Wireless Intercom"]ChatterBox XBi2-H[/mageProductLink]. Riders can easily integrate that with the IS-Max, allowing them to communicate with friends on the roads. Many of these systems also make listening to music or finding navigation directions simpler, creating a safer environment for both bikers and fellow motorists. Other effects of this intercom-compatible system include minimal wind resistance, as most of the gear is neatly tucked away in the helmet and is well protected from harm.