Fy Racing's Windproof Technical Jersey Beats The Breeze
Chaparral Motorsports
|
December 30, 2013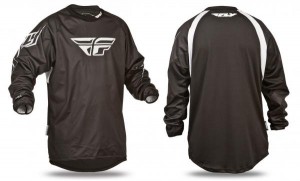 Having the right dirt bike riding gear can mean the difference between a good time out at the motocross track and a miserable time. There are plenty of options to choose from to help you stay cool when the temperatures are scorching, but what about when there's a chill in the air or the sun dips below the horizon? When it's cold bundling up with a jacket isn't always the best choice because not only can it be restricting and hinder your movements, but chances are within a few laps you'll be overheating and sweating to death.

Fly Racing's new Windproof Technical Jersey is the perfect solution for those times when it's a bit cooler outside. This motocross jersey features panels on the front and the arms which help provide protection from wind. The panels help block the cutting wind as well prevents water penetration. By combating these two elements, the design of this dirt bike jersey helps keep you warm by trapping your body heat within the front of the jersey. However, to help you maintain a comfortable body temperature the back of the jersey and the arm pits feature breathable panels to disperse heat and sweat.

Stylistically this jersey is ideal for both motocross and ATV/UTV riders with its simplistic graphics. The Windproof Technical Jersey features fade-free high-def logos and sublimated graphics on the front center, down the arms, and a small logo on the back of the neck. Available in black, blue, or red this is definitely a jersey everyone will want to toss into their riding [mageProductLink sku="124-5005" title=""]gear bag[/mageProductLink] for those times when there's a biting wind or when going for an early morning ride.