Christmas Buyer's Guide: Gift Ideas For Less Than $50
Chaparral Motorsports
|
December 20, 2013
When it comes to Christmas shopping everyone tackles the task differently. Some people set out a specific budget as to how much they want to spend per person or for the whole holiday, while others just let the plastic and cash fly at the register. No matter if you're shopping for a child, your boyfriend, wife, or riding buddy, below you will find an assortment of items geared specifically to motorcycle, ATV, and UTV enthusiasts that should hopefully give you some gift ideas for the gearheads in your life.

Quadboss Zipperless Tank Saddlebag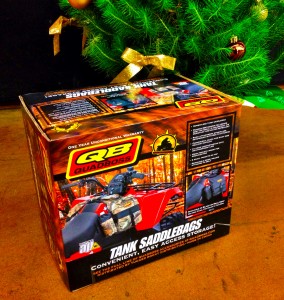 $39.99 - $44.99
Quads don't really come with glove compartments, so it can get pretty messy with keys, glasses, and other miscellaneous items flying around while tackling treacherous trails. This [mageProductLink sku="315-6630" title=""]Zipperless Tank Saddle Bag[/mageProductLink] set from Quadboss is a great solution for onboard ATV storage. Made of a rugged denier polyester material which is water repellent and UV resistant these bags feature two large storage compartments that are easily accessible via the quick release buckles. Internal mesh pockets help keep smaller items in place, while two small top pockets make for quick access to heavily used items. To help stay hydrated on the trails the bags come with a removable drink holder that attaches to the saddlebags.

GMAX GM46X-1 Shredder Youth Helmet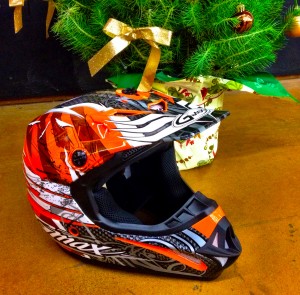 $49.97 (sale price)
If this Christmas you're going to introduce your little ones to the wonderful world of dirt bikes or ATV riding be sure to have the proper riding gear. The first thing you should be concerned with is covering their head. A full face helmet like [mageProductLink sku="131-72-6631-ys" title=""]Gmax's Shredder Youth Helmet[/mageProductLink] will help protect that precious head and keep that angelic face looking good. This helmet is loaded with features that will keep your little rider comfortable and happy. The Shredder is a great kids dirt bike helmet when the heat rises because it offers maximum air flow through the shell/styro and 17 comfort liner vents. The visor is fully adjustable to provide for optimal vision and the padded chin strap with retention snap keeps the helmet secure. Lastly, the EPS (Expanded Poly Styrene) in the chin bar ads an additional layer of safety.

EKS X Brand GOX Limited Goggles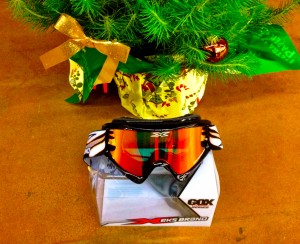 $39.99 (sale price)
No matter if it's at the track, on the trails, or on the dunes, all ATV, UTV, and dirt bike riders are going to want to shield their eyes from dirt, sand and debris. Goggles provide excellent protection for the eyes while also aiding in reducing the glare from the sun. The [mageProductLink sku="067-10650" title=""]GOX Limited Goggles[/mageProductLink] from EKS X Brand are outfitted with a 17mm thick, four-layer sweat absorbing face foam for a soft fit against the face. The face foam is backed by a vent foam that allows for maximum airflow. The frame ensures a smooth and comfortable fit with its urethane blend face forming frame material. The goggle lens is a hard coated, anti-fog polycarbonate lens that features integrated tear-off posts. Ideal as ATV goggles as well, they feature an adjustable double buckle woven strap with silicon strips that will help keep the strap from riding up the back of the helmet. If you don't like the Fast Black/Red Mirror color way, there are plenty of other color/lens combinations to choose from.

Fly Racing Pit Jacket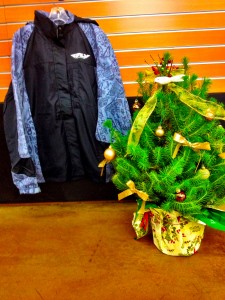 $49.97 (sale price)
It can get cold trackside, especially in between races. Help keep the motocross racers in your life warm and their adrenaline pumping with this [mageProductLink sku="132-354-6050-l" title=""]Fly Racing Pit Jacket[/mageProductLink]. Light weight enough that it won't be cumbersome or restrictive when wrenching on a bike or stretching before a race, the Pit Jacket is comprised of a rip-stop shell construction for durability. If things get too warm the insulated quilted liner can easily be unzipped and removed.

Shift Racing Strike Brigade Jersey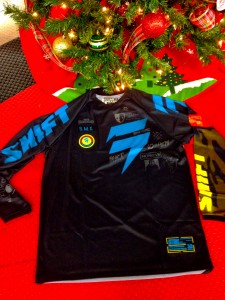 $44.95
So there's the Pit Jacket to keep warm off the bike, now how about a motocross jersey to keep cool when riding? This [mageProductLink sku="07476-027-s" title=""]Strike Brigade Jersey[/mageProductLink] from Shift Racing is the perfect dirt bike jersey when the temps start to soar or when putting in an intense riding session. Made from technical polyester and mesh fabrics throughout, the moisture wicking fabric pulls sweat away from your body and helps keep you cool with a mesh back panel. One thing riders will really appreciate is the cuffs. The cuffs are short in length and are light enough that they won't be restrictive or annoying at the wrist but yet have enough elastic tension that they'll keep the sleeves anchored so they won't creep up the arm once riding at speed.

Metal Mulisha Eyegore Youth Backpack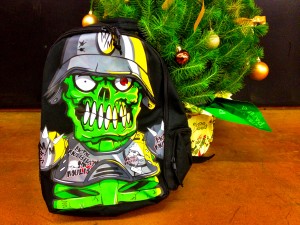 $35.99
It's Christmas break and halfway through the school year, chances are that backpack you bought your kid at the beginning of school is probably a tattered mess and smells like a combination of mildewed milk and old bologna sandwiches. A new year is upon us, so start mommy's little monsters return to school off right with a fresh backpack like this one from Metal Mulisha. The [mageProductLink sku="065-33672300" title=""]Eyegore Youth Backpack[/mageProductLink] is made from 100-percent polyester and features one large main zipper compartment with a small zippered side pocket on right and a mesh pocket on the left. And for extra comfort on those heavy homework nights, the backpack is outfitted with padded shoulders.

Nelson-Rigg Premier Cover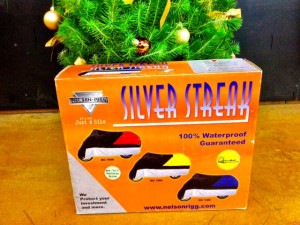 $44.99
We're in the dead of winter. For many people there's still a few more months before the Harley-Davidson, Gold Wing, or Vulcan will make it out of the garage. For those that cherish their ride, a motorcycle cover can do wonders in protecting the paint and helping a motorcycle stay clean during long periods of storage. Nelson-Rigg offers a variety of motorcycle covers to fit everything from street bikes to large touring motorcycles. The [mageProductLink sku="204-2102" title=""]Neslon-Rigg Premier Cover[/mageProductLink] has a ton of features such as side vents for ventilation and to help reduce moisture. A snug elastic bottom with oversize grommets with bungees ensures the cover stays tightly secured over the motorcycle and a soft windshield liner prevents the cover scratching windshields. The cover is made of top quality polyester that is treated with a UVEX process that blocks out harmful UV rays. Lastly, the cover comes with Nelson-Rigg's five-year No-hassle warranty.

Mini-Moto Stand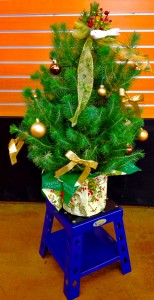 $49.99 (sale price)
Whether working on their motorcycle or just storing it in the garage between riding sessions, every dirt bike owner should have a dirt bike stand. Measuring in at 13-1/3 inches tall, the [mageProductLink sku="124-94-4013" title=""]Mini-Moto Stand[/mageProductLink] is perfect for super moto and mini bikes. With its durable, non-slip, molded rubber top pad and aircraft grade aluminum frame the stand provides a secure surface for working on a dirt bike, or just keeping it stable and upright in between motos. When out at the track the surface plates on the legs keep the stand from sinking in the sand.

Fox Racing Titan Race Knee/Shin Guards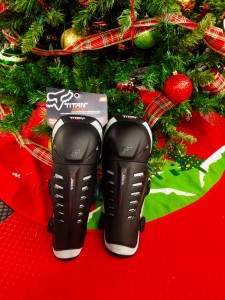 $29.95
It can be a battle out on the dirt bike track or even just on the trails when riding with buddies. Nothing can ruin a good riding day like taking a foot peg to the shin. [mageProductLink sku="04267-001-os" title=""]These Fox Racing Titan Race Knee/Shin Guards[/mageProductLink] offer knee and shin protection via their plastic molded outer shells. All day riding enjoyment is ensured with the soft vented bio-foam chassis that helps keep lower legs cool and comfortable. The one time adjustable posi-lock strap system and elastic straps with Velcro adjustments allow for a one-size fits most fitment.