Buyer's Guide: Icon Motorcycle Gear
Chaparral Motorsports
|
December 11, 2013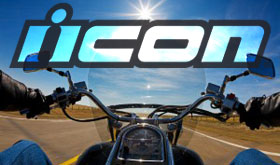 You want to buy motorcycle gear from brands that you can trust. Icon is certainly one of those manufacturers, and with an impressive collection of products for street and off-road riding, the company has almost everything required to stay safe. As one of the world's most respected brands of motorcycle apparel and accessories, Icon allows riders to look great and feel confident whether they're on the bike or off it.

Apparel And Gear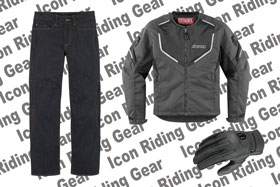 It doesn't matter whether you're on the trails or just hanging out - Icon has apparel you can wear to show your allegiance. The most basic options include motorcycle jackets for street bikes, cruisers and dirt bikes, with the clothing made from different materials based on the type of riding they are designed for. Protective pants, overpants and chaps help to complete any look.

Rain jackets are also available to shield a rider from the elements. They match perfectly with waterproof overpants and other water-resistant accessories. Reflective vests may be helpful for riders who get on their motorcycles in inclement weather or darkness.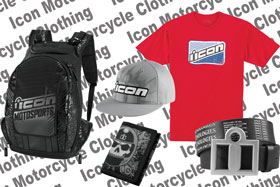 Icon also sells clothing for a rider's day-to-day life. Hats, beanies, sweatshirts and T-shirts are available for men, women and children. These items make it easy to show your allegiance to Icon no matter where you are. There are also items like wallets, belts, bandanas and backpacks that can be used for practical purposes by any rider.

Other Safety Accessories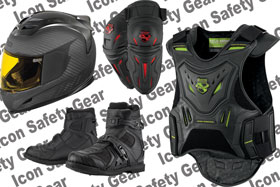 In addition to the clothing, Icon also offers a variety of accessories that riders can rock when they're on a motorcycle. Icon helmets are extremely popular. These full-face options provide comprehensive protection to go along with excellent ventilation, a high-quality exterior and attractive graphics or colors that can fit any style. Helmet accessories like pivot kits, breath guards and shields might be appealing for certain riders who want to personalize their look.

Another area of merchandise riders will want to look at is motorcycle boots. Icon offers footwear in full-length, three-fourths length, and low riding shoes. The style ranges from heavy-duty protective leather to more casual-looking boots, allowing riders to customize their appearance based on their preferences and tasks. Similarly, gloves provide protection for a rider's hands. Different lengths and materials are available for motorcyclists, but almost every option has ventilation and extra padding or armor, which only increases comfort and protection.

Those riders who want to go the extra mile to protect themselves with knee or elbow guards, chest protectors and armored vests. All of these accessories are capable of shielded different sections of the body without inhibiting the range of motion or riding ability.