Museum's Ducati Collection Heading To Auction
Chaparral Motorsports
|
November 26, 2013
[caption id="attachment_29581" align="alignright" width="280"]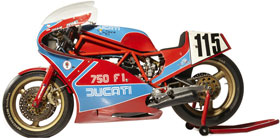 1984 Ducati 750SS TT1 raced by Pablo Real up for auction.[/caption]

The Silverman Museum has long been home to an impressive collection of classic motorcycles. Its array of bikes primarily consists of competition models, especially from big-name Italian manufacturers, and is an eye-catching selection for any fan of sport bikes. Silverman recently announced that a number of these motorcycles would be included in the upcoming Bonham's auction, with rare Ducati bikes going up for sale.

One of the machines that should be drawing some attention is a 1973 750SS Imola Short Stroke, which was among the first Ducati bikes to make an impact in the world of racing. Also going up for sale is the 1978 Ducati 900 NCR and a 1984 750SS TT1. The latter of these is in its original condition and has a documented racing history, which should drive up the price. Taking into consideration the fact that the TT1 models are quite rare, this model will likely command a large sticker price.

Bonham's already made waves when it announced that its January auction would include several Harley-Davidson bikes from the Pierce Museum. With so many high-profile motorcycles going up for sale, this auction is sure to be one that will attract many fans of cruisers and motorsports. The auction is schedule for Jan. 9 in Las Vegas.