Buyer's Guide: Alpinestars Boots
Chaparral Motorsports
|
November 20, 2013
|
Last Updated: May 8, 2020
It is well-established that motorcycle boots are among the most important pieces of gear you can have. For top-notch protection, many riders turn to Alpinestars, which is known throughout the motorcycle industry as one of the most reliable brands.

Different Types Of Boots
[caption id="attachment_29474" align="alignright" width="280"]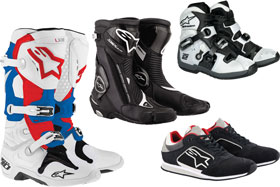 Alpinestars Motorcycle Boots[/caption]

Alpinestars boasts a large selection of ATV and motorcycle boots. The brand offers boots in a variety of lengths, allowing you to choose the size and fit that best suits your type of riding. For example, ATV owners will likely be braving the elements, which means they'll want the comprehensive coverage given by full-length boots. Created in many different designs, colors and styles, these boots are ideal for riders who want to guard against harm while also being able to properly handle the machine.

If you stick to street bikes, leather boots at a 3/4 length may be ideal, as they provide protection and flexibility. Many pairs also have the right ventilation and weather proofing that keeps riders comfortable throughout all of their adventures. Those who feel the need for a wider range of motion may instead be drawn to riding shoes, which tend to be smaller and can be worn in a casual setting.

For those that are into motocross and dirt bike riding, you'll want a boot that is lightweight, flexible, provides plenty of protection, and is highly durable. Alpinestars has a vast array of offroad boots that meet these characteristics in spades. Take the company's Tech 10 Boot for example, these boots utilize the latest technologies and materials such as shock resistant polymers in the heels for less stressful landings and dual compound soles integrated into multi-density foot base structures with built-in support for superior durability, grip, and feel while riding.

With boots available for men, women, and kids, as well as several different types of riding, Alpinestars has all of the foot protection a motorcycle or ATV fan could need.

Boot A
ccessories
[caption id="attachment_29473" align="alignright" width="280"]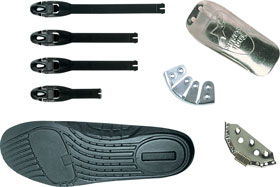 Alpinestars Boot Accessories[/caption]

While choosing the right motorcycle boot is the first step, there are a number of related boot accessories that you may also want to consider investing in. Riders who have Alpinestars boots may want to purchase an inner bootie replacement. These inner linings, which are sold in pairs, fit snugly inside an existing set of boots and provide a refreshed layer of protection that can extend the life of your boots.

Another option you should take a look at is buckles or straps. Obstacles and inclement weather you encounter during motorcycle journeys may wear down the gear on the outside of boots, but it's easy to update these ergonomic details to safely secure boots at every point in their lifespan. Related gear, such as toe caps, leather care kits and boot covers can also come in handy when you're trying to stretch the life of boots and maintain their quality.

Similarly, riders who need special soles or inserts to make their gear more comfortable are able to purchase these products from the Alpinestars brand. Not only will these accessories fit perfectly inside a specific pair of Alpinestars boots, but they also will have the high quality and affordable price that you expect.