Monster Moto: The Gunbus 410
Chaparral Motorsports
|
November 11, 2013
[caption id="attachment_29369" align="aligncenter" width="300"]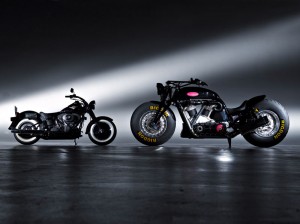 The Leonhardt Gunbus intimidates the Harley-Davidson Fat Boy[/caption]

This is not an optical illusion. You're looking at a 1,400 pound, 11.3 foot-long cruiser motorcycle powered by a 410ci v-twin engine. Oh and on the left is a normal sized Harley-Davidson Fat Boy-looks like a mini bike compared to the German-built Gunbus doesn't it? The Gunbus was built by Clemens F. Leonhardt of Leonhardt Manufacturing, which says it has built the world's largest road legal motorcycle. And while it might look like you need a step ladder to mount the machine, the bike actually has a modest 31.5 inch seat height-only 2.5-inches taller than a Honda Gold Wing. Good luck finding motorcycle tires for it however, as the 38-inch front and 42-inch tires were specifically made by Rigdon for this bike.

[caption id="attachment_29371" align="alignright" width="300"]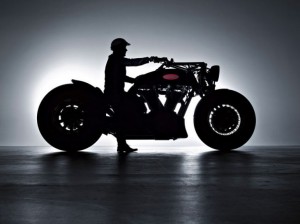 With a 3.5-inch seat height, most riders will be able to find sure footing, but some may find getting the 1,400 pound behemoth off the side stand the real challenge.[/caption]

With its monstrous size, this is definitely one motorcycle cagers wouldn't be able to use the excuse "I didn't see him." And with the engine churning out a claimed 510 pounds-foot of torque and 350 horsepower you'd have no problem dealing with most other vehicles on the road, especially compact cars, you could pretty much just ride right over them. And lane-splitting wouldn't be an issue either because people would absolutely get out of your way. Thankfully the Gunbus comes with a 3-speed transmission with reverse; otherwise it would take all your riding buddies just to help you back out of a parking space. This wasn't a just a one-time custom build either, Leonhardt plans on producing a small number of Gunbus models and even plans on adding a sidecar version as well.

Think you might want to add a Gunbus to your collection? You just need to shell out $350,000. No big deal right? We suggest getting a motorcycle alarm to help protect your monstrous investment.



Related articles