Previewing The MotoGP Finale In Valencia
Chaparral Motorsports
|
November 7, 2013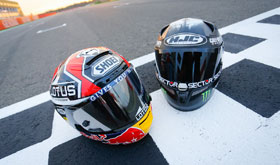 Everyone in the world of motorsports will have their attention turned to Valencia this weekend as two riders duke it out for the MotoGP championship. Rookie Marc Marquez, the current leader in the standings, will have to fend off defending champion Jorge Lorenzo, who currently sits close behind in second place.

Marquez currently has a lead of 13 points over Lorenzo. To hold on to the No. 1 spot and claim the championship, he needs to place fourth or higher in the final round of the 2013 MotoGP at the Valencia track.

"We've had good races in Valencia, I've always tried to give it my best there," said Marquez in a statement. "... Obviously we know what is at stake in this final Grand Prix of the year, but we will, as ever, approach it as we have done every other race and work hard from the Friday, and do our best."

If there is one person who could challenge Marquez - other and Lorenzo - it is his Honda teammate Dani Pedrosa. The Spaniard has won six races in Valencia throughout his career, including three in the MotoGP class.