2013 World Superbike Jerez Results
Chaparral Motorsports
|
October 23, 2013
Tom Sykes Claims Superbike Championship In Spain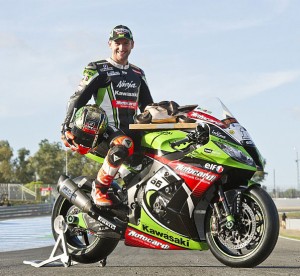 It came down to the wire, but Tom Sykes made sure the final round of the 2013 World Superbike season was an exciting one. The British rider didn't win either of the motos at Spain's Jerez circuit, but he performed well enough to clinch the No. 1 spot in the standings and claim the sport bike championship.

This is the first title for Sykes, a second-year rider in the World Superbike series, and it is the first championship for Kawasaki in 20 years as well. Eugene Laverty challenged Sykes until the final lap, winning both of the motos at Jerez and tying Sykes for nine overall victories on the year, but his late-season wins were not enough to overcome Sykes' consistency throughout the season. In the end, Laverty finished 23 points behind the leader in second place.

"Words cannot describe how I feel," Sykes said after the race. "... It was good for the championship to be decided in the final round again, especially here with these great fans. My team is mostly Spanish so it is a home round for them. The championship has not fully sunk in yet, but it will soon, I'm sure."

The win is especially sweet for Sykes after last year's events. He only missed out on the 2012 title by half of a point and had to bounce back from that disappoint this season, according to BBC Sport.

Kawasaki Rider Tom Sykes And The Ninja ZX-10R Claim 2013 World Superbike Championship
Sykes is the first Ninja rider since American Scott Russell to claim the World Superbike crown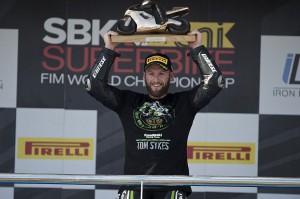 After missing the 2012 World Superbike title by one-half point, Kawasaki Ninja pilot Tom Sykes would not be denied the 2013 championship. Entering the final round in Jerez, Spain, Sykes knew he needed to put his Kawasaki Ninja ZX-10R on the podium in the first race of the doubleheader to claim the World Superbike Championship and he did just that, finishing third.

Sykes began extending his points lead at Laguna Seca in late September. The fun-loving British rider won the first race of that double header and then finished fourth in the second race to pad his lead to 23 points in World Superbike's return to Monterrey, California after a 10-year absence.

American road racing legend Scott Russell was the last Kawasaki Ninja rider to win the World Superbike Championship, taking the title 20 years ago aboard his Muzzy Kawasaki ZX-7RR. The two had statistically similar seasons as Sykes road his ZX-10R to 9 wins, 18 podium finishes, 8 pole positions and 13 fastest laps, while Russell collected 5 wins, 18 podiums, 4 pole positions and 3 fastest laps.

Sykes has now concluded the 2013 championship season with 447 points and 23 markers.

Source: Kawasaki

Tom Sykes The SBK World Champion For Kawasaki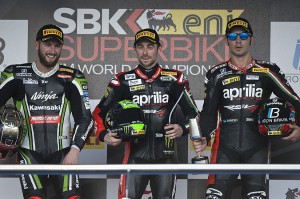 Tom Sykes (Kawasaki Racing Team) took his first Superbike World Championship title today as the first Kawasaki rider to take the top prize in production-based racing since Scott Russell in 1993.

Sykes knew that at the test track of most of his rivals he would have his work cut out to win but he also knew that he did not have to take race victories to take the championship title.

In race one Tom rode to a solid third place and in doing so he took a large enough advantage to make his championship win safe. He received his trophy for the title win after this race but he still had a second 21-lap race, in warm conditions, to complete.

Tom gathered his concentration and pushed on to lead 13-laps of the second race and finished second in the race, with a final championship advantage of 23 points. Tom also took the new lap record at Jerez today with a 1'41.691 in race two. Sykes also led for 255 laps over the whole season, more than twice the total of the next best rider.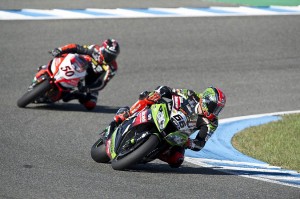 Although Loris Baz (Kawasaki Racing Team) did not race today he finished the championship in 8th place.

Mark Aitchison (Kawasaki Team Pedercini) made great improvements at this round, finishing tenth in race one and ninth in race two, for 18th in the championship.

Kawasaki Team Pedercini rider Federico Sandi was 16th in race one but fell from contention early in race two, rejoining shortly afterwards to finish 15th. He ended his season 17th overall.

Tom Sykes:
"Words cannot describe how I feel. I am very level headed but since Magny Cours there are moments where my mind started dreaming. When I was dreaming I had goose bumps and it was magical to even dream I could be world champion. But that was maybe 2% of what I am feeling now after winning the title. In race two it was my intention to do well, even though it would be difficult to top race one as all my energy had kind of gone after the first one. I hoped to be closer to the front but I did not expect to win. I think this was just Eugene's race, although my Ninja ZX-10R was working very well. All things considered I have to be very happy today. World Champion, podium in the races and it has been an absolute pleasure to race with these guys this year. It was good for the championship that it got decided at the final round again, especially at this beautiful circuit, with these great fans. My team is mostly Spanish so it is a home round for them. The championship win has not fully sunk in yet but it will do soon, I'm sure."
Source: Kawasaki Racing Team

Jerez Overview And Point Standings
2013 World Superbike Jerez Image Gallery (Click for full size images)


World Superbike Results - Race 1

























































































































































| Pos. | Rider | Team | Bike | Time |
| --- | --- | --- | --- | --- |
| 1 | Eugene Laverty | Aprilia Racing Team | Aprilia RSV4 Factory | 36'00.919 |
| 2 | Marco Melandri | BMW Motorrad GoldBet SBK | BMW S1000 RR | 36'01.137 |
| 3 | Tom Sykes | Kawasaki Racing Team | Kawasaki ZX-10R | 36'07.600 |
| 4 | Sylvain Guintoli | Aprilia Racing Team | Aprilia RSV4 Factory | 36'10.246 |
| 5 | Toni Elias | Red Devils Roma | Aprilia RSV4 Factory | 36'21.365 |
| 6 | Davide Giugliano | Althea Racing | Aprilia RSV4 Factory | 36'28.552 |
| 7 | Chaz Davies | BMW Motorrad GoldBet SBK | BMW S1000 RR | 36'29.540 |
| 8 | Leon Camier | Fixi Crescent Suzuki | Suzuki GSX-R1000 | 36'30.467 |
| 9 | Xavi Fores | Team Ducati Alstare | Ducati 1199 Panigale | 36'30.883 |
| 10 | Mark Aitchison | Team Pedercini | Kawasaki ZX-10R | 36'37.900 |
| 11 | Jules Cluzel | Fixi Crescent Suzuki | Suzuki GSX-R1000 | 36'37.927 |
| 12 | Sylvain Barrier | BMW Motorrad GoldBet SBK | BMW S1000 RR | 36'44.098 |
| 13 | Ayrton Badovini | Team Ducati Alstare | Ducati 1199 Panigale | 36'48.179 |
| 14 | Max Neukirchner | MR-Racing | Ducati 1199 Panigale | 36'53.073 |
| 15 | Lorenzo Lanzi | Mesaroli Transports A.S. | Ducati 1098R | 36'53.831 |
| 16 | Federico Sandi | Team Pedercini | Kawasaki ZX-10R | 36'55.333 |
| 17 | Michel Fabrizio | Pata Honda World Superbike | Honda CBR1000RR | 37'03.028 |
| 18 | Broc Parkes | Monster Energy Yamaha - Yart | Yamaha YZF R1 | 37'03.487 |
| NC | Vittorio Iannuzzo | Grillini Dentalmatic SBK | BMW S1000 RR | 37'26.486 |
| RT | Leon Haslam | Pata Honda World Superbike | Honda CBR1000RR | 33'25.707 |
World Superbike Results - Race 2
| Pos. | Rider | Team | Bike | Time |
| --- | --- | --- | --- | --- |
| 1 | Eugene Laverty | Aprilia Racing Team | Aprilia RSV4 Factory | 36'05.989 |
| 2 | Tom Sykes | Kawasaki Racing Team | Kawasaki ZX-10R | 36'08.700 |
| 3 | Sylvain Guintoli | Aprilia Racing Team | Aprilia RSV4 Factory | 36'11.699 |
| 4 | Toni Elias | Red Devils Roma | Aprilia RSV4 Factory | 36'21.498 |
| 5 | Chaz Davies | BMW Motorrad GoldBet SBK | BMW S1000 RR | 36'27.819 |
| 6 | Leon Camier | Fixi Crescent Suzuki | Suzuki GSX-R1000 | 36'32.547 |
| 7 | Lorenzo Lanzi | Mesaroli Transports A.S. | Ducati 1098R | 36'36.829 |
| 8 | Jules Cluzel | Fixi Crescent Suzuki | Suzuki GSX-R1000 | 36'39.045 |
| 9 | Mark Aitchison | Team Pedercini | Kawasaki ZX-10R | 36'42.288 |
| 10 | Davide Giugliano | Althea Racing | Aprilia RSV4 Factory | 36'46.856 |
| 11 | Max Neukirchner | MR-Racing | Ducati 1199 Panigale | 36'50.297 |
| 12 | Broc Parkes | Monster Energy Yamaha - Yart | Yamaha YZF R1 | 36'58.472 |
| 13 | Sylvain Barrier | BMW Motorrad GoldBet SBK | BMW S1000 RR | 36'59.663 |
| 14 | Michel Fabrizio | Pata Honda World Superbike | Honda CBR1000RR | 37'26.305 |
| 15 | Federico Sandi | Team Pedercini | Kawasaki ZX-10R | 36'37.139 |
| RT | Leon Haslam | Pata Honda World Superbike | Honda CBR1000RR | 7'04.803 |
| RT | Ayrton Badovini | Team Ducati Alstare | Ducati 1199 Panigale | 3'37.385 |
| RT | Xavi Fores | Team Ducati Alstare | Ducati 1199 Panigale | |
| RT | Vittorio Iannuzzo | Grillini Dentalmatic SBK | BMW S1000 RR | |
| NS | Marco Melandri | BMW Motorrad GoldBet SBK | BMW S1000 RR | |
World Superbike Rider Point Standings ( Race 27 of 27 )


Tom Sykes - 447 / 2013 Champion

Eugene Laverty - 424

Sylvain Guintoli - 402

Marco Melandri - 359

Chaz Davies - 290

Davide Giugliano - 211

Michel Fabrizio - 188

Loris Baz - 180

Jonathan Rea - 176

Jules Cluzel - 175

World Superbike Manufacturer Point Standings ( Race 27 of 27 )


Aprilia - 550

Kawasaki - 501

BMW - 443

Suzuki - 243

Honda - 236

Ducati - 185

Yamaha - 8