Weekend Warrior: 2014 Polaris RZR XP 4 1000 EPS
Chaparral Motorsports
|
October 19, 2013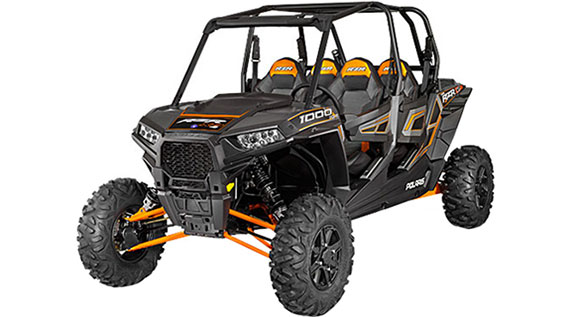 2014 Polaris RZR XP 4 1000 EPS: Bigger And Better Than Ever Before
Anyone who enjoys riding four-wheeled machines has probably been waiting for the release of the Polaris RZR XP 4 1000. This side-by-side certainly lives up to the hype that has been circling for weeks, and the UTV is poised to become one of the best options on the market. The RZR XP 1000 models are already some of the best-selling options available, and the upgrades installed on the 2014 Polaris RZR XP 4 1000 should continue to attract new motorists.

Engine And Chassis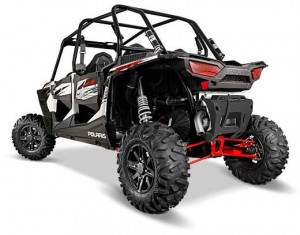 Riders can get up to 107 horsepower with the help of the engine, which boasts a displacement of 1,000 cc. This motor has been constructed with performance in mind, and as a result it is more than capable of accelerating quickly and providing the power needed to keep riders in control on the trails. It also has enough torque to get through any scenario, even when four passengers are riding in the Polaris machine.

Of course, all of that power would be nothing without a solid frame and suspension. Right off the bat, you'll notice that the 2014 Polaris RZR XP 4 1000 has an aggressive, imposing appearance. The tubular chassis keeps weight down while still providing a low center of gravity and 13.5 inches of ground clearance, as well as great response and handling. It is bigger than its predecessors and features a new interior design that ensures everyone is comfortable.

One of the biggest advantages is the Walker Evans Position Sensitive Anti-Bottoming Needle Shocks, which are located on all four corners of the machine and help to create a smoother ride for all on board.

An Excellent Interior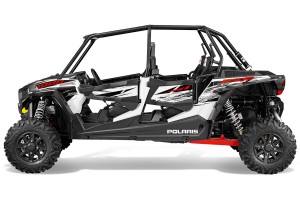 As soon as you sit in the driver's seat of the 2014 Polaris RZR XP 4 1000, you'll reap the benefits of the makeover given to the machine. The instrument board is laid out in a clean, intuitive manner, giving you easy access to all of the essential controls. A new steering wheel, blue backlighting, removable floor drains and revamped containment seats are all major advantages to the 2014 model, as is the weatherproof cellphone holder.

Final Thoughts - Ideal For Groups
All of the additional features work with the basic set up of the Polaris RZR XP 4 to create a machine that is ideal for families or riders who love to cruise off-road trails in groups.

2014 Polaris RZR XP 4 1000 EPS Image Gallery
(Click for full size images)