USA Trophy Team Earns 2nd Overall At ISDE
Chaparral Motorsports
|
October 9, 2013
[caption id="attachment_28966" align="alignright" width="300"]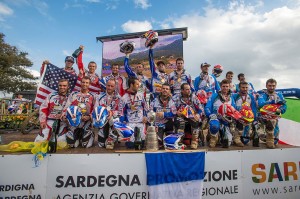 2013 International Six Days Enduro Winner's Podium - Photo: Shan Moore[/caption]

The USA Trophy Team earned 2nd overall at the International Six Days Enduro (ISDE) held on the island of Sardinia. This marked the first 2nd place position for Team USA since 1982.

The six-rider team consisted of KTM dirt bike riders Kurt Caselli, Mike Brown and Charlie Mullins as well as Thad Duvall, Zach Osborne and Taylor Robert. The team members started off on day one with great times and remained consistent throughout the week with top results.

At the end of day five, the team was sitting in 2nd position and just needed a few good motocross results in order to secure their podium position. Osborne went out and won the first E1 moto, Mullins secured 3rd overall in the E2 class and Brown finished the day off with a moto win in the E3 segment to clinch the 2nd place position for the team.

"It was a positive vibe all week long," stated Caselli. "All of us worked really hard leading up to this event and we were able to push ourselves through the end to get our countries best result in 31 years."

[caption id="attachment_28965" align="alignleft" width="300"]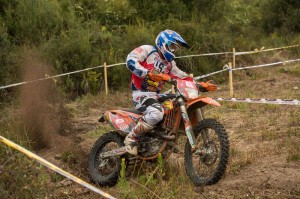 Mullins was the highest ranked Team USA KTM rider - Photo: Shan Moore[/caption]

Mullins had a great week and was the highest ranked Team USA KTM rider finishing 8th overall in the E2 class. He had quick test times and even managed to stay on his minute on day five after losing 8 spokes on his rear wheel shortly into the first couple tests. He added spokes at a check and zip-tied the rest and finished the day in one piece.

"It was definitely a stressful day when I had the spoke issues," stated Mullins. "My team always had everything ready for me when I came in and we watched the clock to make sure I didn't receive any penalties."

USA Trophy Team Manager, Antti Kallonen, commented, "We have come a long way in the past two years since we restructured the program and our hard work is now paying off. We have some progress to still be made but we are slowly inching closer to the top step of the podium."

2013 International Six Days Enduro Image Gallery
(Click for full size images)
Trophy Team Results


France

USA

Italy

Overall Results - E1 Class


Cristobal Guerrero - KTM

Jeremy Joly

Lorenzo Santolino

Thomas Oldrati

Giacomo Redondi - KTM

Zach Osborne (USA)

Rudi Moroni - KTM

Thad DuVall (USA)

Simone Albergoni

Luis Oliveria

Overall Results - E2 Class


Daniel Milner

Alexandre Renet

Johnny Aubert - KTM

Ivan Cervantes - KTM

Taylor Robert (USA)

Loic Larrieu

Josh Strang

Charlie Mullins - KTM (USA)

Kurt Caselli - KTM (USA)

Alex Salvini

Overall Results - E3 Class


Antoine Meo - KTM

Mathias Bellino

Mike Brown - KTM (USA)

Manuel Monni - KTM

Deny Philippaerts

Aigar Leok

Fabien Planet

Oriol Mena

Daniel McCanney