The Dirt Bike Guy: 2013 Beta RR125 4T Motard LC
Chaparral Motorsports
|
September 29, 2013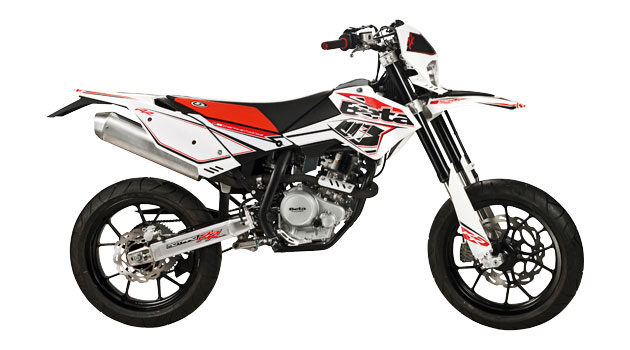 2013 Beta RR125 4T Motard LC: A Dirt Bike With Attitude
This summer I've been spending more time with my bike out on the trails. I get to see a lot of different machines while I'm riding, and recently a few have been catching my eye. One of the dirt bikes I haven't been able to get out of my head is the 2013 Beta RR125 4T Motard LC, which features a unique style and tight ergonomics that create a great riding experience.

At the heart of this Beta dirt bike is a four-valve, four-stroke, single-cylinder engine. This liquid-cooled motor only has a displacement of 125cc but has plenty of punch with a capability of 15 horsepower. It also has a double radiator for better heat dissipation and better performance stability - meaning that, even though the engine has a relatively tame output, it certainly reaches its potential quickly and effectively. The engine also works with the six-speed transmission to keep the dirt bike running over any type of terrain, while the wet multi-disc clutch makes shifting gears easy.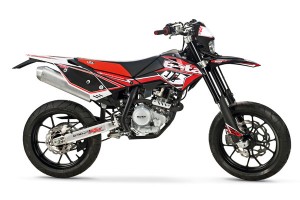 It's easy to tell that the Beta RR125 was created with agility in mind. You'll definitely notice that racing was one of the things this bike was made for - between the ergonomics and aggressive style, the Beta constantly looks like it's ready to beat you to the finish line. What's strange is there is no singular aspect that sticks out about the design. Overall the bike is quite basic in its nature, from it's supermoto tires to it's four-stroke engine, but it has an attitude that's hard to miss.

Of course, just because the Beta supermoto bike looks straightforward doesn't mean the machinery isn't impressive. The light steel cradle double frame and other materials used throughout the motorcycle have all been tinkered with to lower the weight, which rests at just under 225 pounds.

Additional features like the digital dashboard make it easy to monitor the bike, and with gear like front and rear disc brakes and aluminum rims with forged spokes, the ride is sure to be enjoyable.

At the end of the day, the 2013 Beta RR125 4T Motard LC is an impressive dirt bike that can be used to dominate the trails. With a nice combination of speed and sophistication, this is a motorcycle that will be keeping dirt bike enthusiasts happy for some time.

2013 Beta RR125 4T Motard LC Image Gallery
(Click for full size images)