Harley-Davidson Unveils 'Captain America' Motorcycle
Chaparral Motorsports
|
September 17, 2013
|
Last Updated: June 26, 2020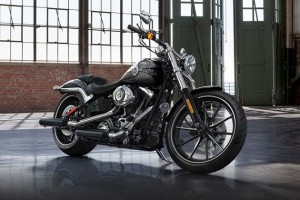 Harley-Davidson has provided motorcycles for some of the biggest names in both pop culture and motorsports, but few are as impactful as Captain America. The fictional character has dominated comic books and films for years, and its next Hollywood installment will feature a new Harley-Davidson motorcycle. Movie goers will catch the iconic Steve Rogers riding a brand new Harley-Davidson cruiser when "Captain America: The Winter Soldier" debuts in theaters next spring.
"Captain America and Harley-Davidson have had a long and glorious association dating back to the introduction of the character in 1939," said Dino Bernacchi, the marketing communication director for the brand. "He's ridden different Harleys throughout the history of the character, and his bike for 'Captain America: The Winter Soldier' needed to fit the modern day setting of this story."
To acclimate to modern times, Captain America will be riding a Harley-Davidson Softail Breakout. The bike, which debuted to the public in March, has a long, low design with plenty of modern fixtures, but it still encapsulates the retro style of the brand and of the superhero himself. As of now, there's no word on if the character will don any of the brand's top motorcycle accessories in the film.
Fans can catch a glimpse of the Harley-Davidson when the film premieres April 4, 2014.