Federal Funding Designated To Revamp OHV Trails
Chaparral Motorsports
|
September 11, 2013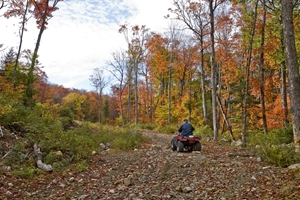 Quad riders
across the U.S. are in line to see some of their favorite trails revamped thanks to some newly allocated federal funds. The national government has designated up to $82.4 million for use in the Recreational Trails Program in 2014. These funds will go toward upkeep and revitalization of off-highway trails in 49 states, upgrading public motorsports locations that are typically populated with dirt bikes, ATVs, side-by-sides, snowmobiles and other off-highway vehicles.

"As a federal grant program that provides funds to develop and maintain recreational trails, RTP is vitally needed to continue expanding and maintaining off-highway opportunities for riders," said Wayne Allard, vice president of government relations for the AMA. "In fact, RTP funds come from excise taxes generated by fuel purchased for off-highway vehicle recreation ... so that is money that rightfully belongs to trail users."

Florida was the only state to opt out of receiving RTP funds. While there are some restrictions on how the other 49 states use the money - 30 percent must go toward motorized trails, 30 percent to nonmotorized paths and 40 percent to mixed trails - all areas will be allowed some flexibility when decided which specific trails to improve.